GDOME has developed the worlds first affordable, universal, waterproof dome housing for smartphones and action cameras.
---
---
Introducing the GDome Mobile Dome Port System
ORDER NOW AND WE WILL THROW IN A FREE
ALUMINIUM THUMB SCREW TIGHTNER ($9.99)
WATER DROPLET PREVENTOR ($2.99)
SURVIVAL CAMERA WRIST SAFETY STRAP ($8.00)

---
---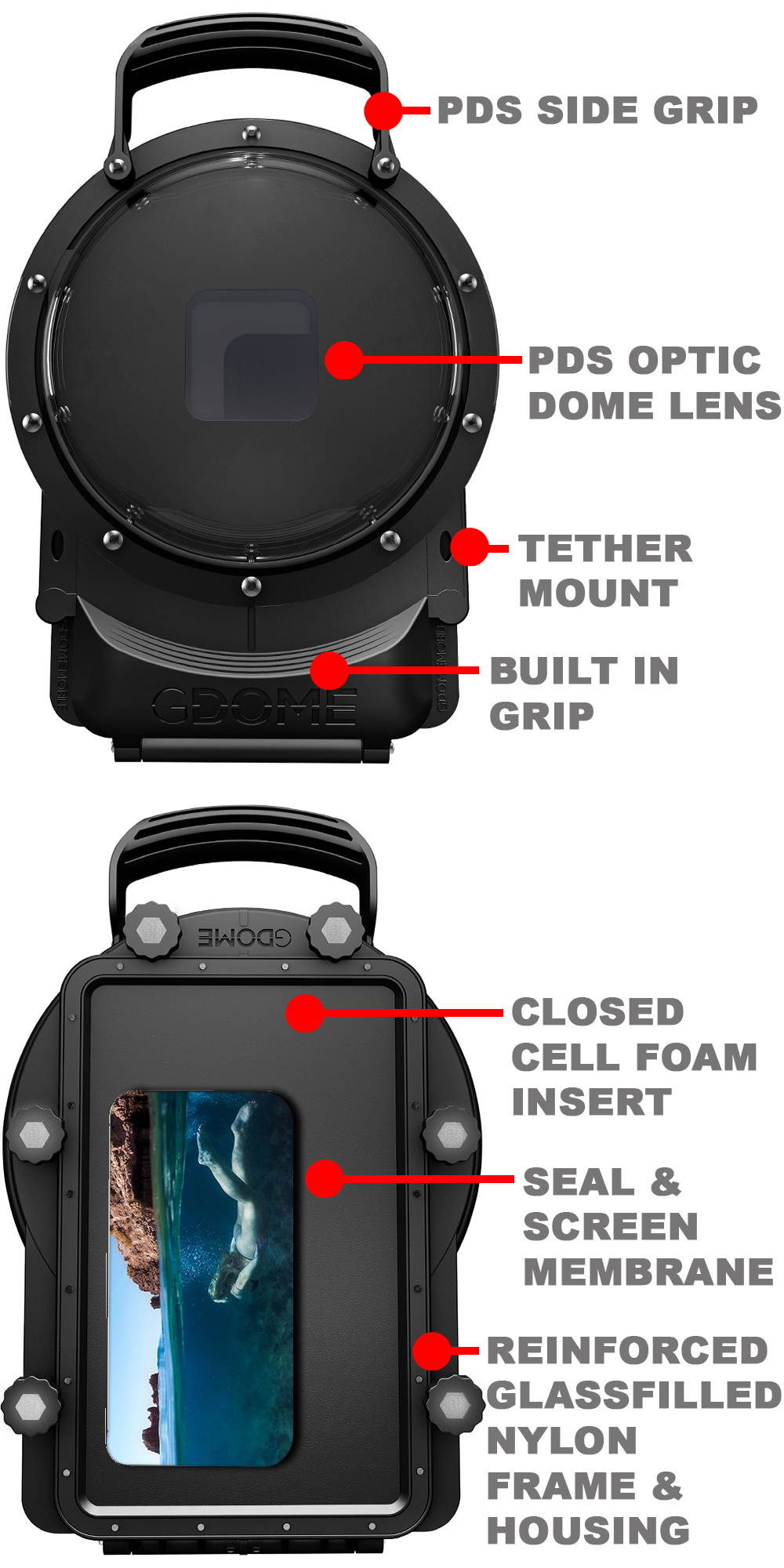 Product Features

✅ Works with hundreds of different smartphones

✅ Compatible with action cameras

✅ Capture portrait shots

✅ Capture 3D images

✅ Rear touch functionality

✅ Works with 3rd party external filters and lenses

✅ Compatible with multiple lenses camera phones

✅ Go LIVE on social media

✅ Individually pressure tested

✅ Floats

✅ Waterproof to 15 feet

---
Making a dome housing is one thing. Making it universal so that it works with all leading smartphones across different brands, with different lens configurations is another.
---
Will my phone or external lens fit in the GDome Mobile?

The GDome Mobile will fit with ALL iPhone Models to date, including the iPhone Pro, Max and Plus variants.
iPhone | iPhone 3G | iPhone 3GS | iPhone 4 | iPhone 4s | iPhone 5 | iPhone 5s | iPhone 5C | iPhone 6 | iPhone 6 Plus | iPhone 6S | iPhone 6s Plus | iPhone SE | iPhone 7 | iPhone 7 Plus | iPhone 8 | iPhone 8 Plus | iPhone X | iPhone XR | iPhone XS | iPhone XS | iPhone XS Max | iPhone 11 | iPhone 11 Pro | iPhone 11 Pro Max | iPhone SE (2nd generation) | iPhone 12 mini | iPhone 12 | iPhone 12 | iPhone 12 Pro | iPhone 12 Pro Max | iPhone 13 mini | iPhone 13 | iPhone 13 Pro | iPhone 13 Pro Max.
The GDome Mobile is also compatible with 99.99% of all Samsung and Huawei phones and many many more phones and brands!  
We know that there are thousands of different phone models and brands, the GDome Mobile should fit almost all of them!
Use this diagram if you would like to confirm if your phone, external lens, action camera ect will fit in our dome housing.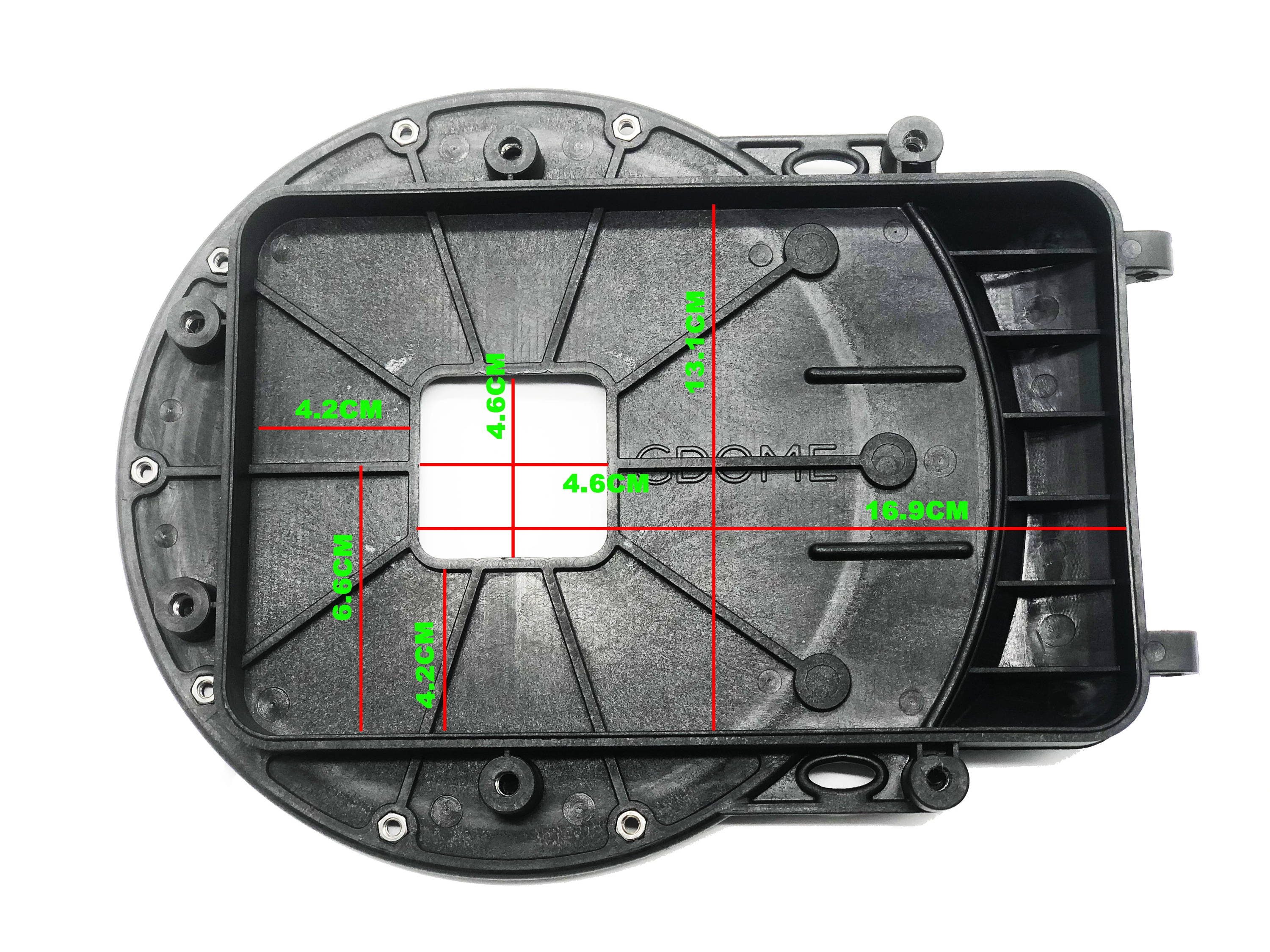 #GDomeMobile on Instagram  
The First Future Proof Dome System
Your phone changes all the time, the dome system you use shouldn't have to!
Why invest hundreds of dollars in a phone housing that is only compatible with a specific phone model or brand?
By choosing GDome Mobile, you can share your housing with family and friends even if they are using a completely different phone brand.
Installation is as easy as this
*2 x foam inserts included
---
Images so good you wouldn't think they were shot through a dome
Shot with an iPhone X in Portrait Mode in the GDome Mobile Housing
Finding the solution for improving our already great optics posed a challenge from the get-go. We finally got this right by adding to our unique mix of ingredients to give us the perfected GDome optic lens. This V1 dome lens has been successfully used on all of our PDS systems to date. With the release of GDome Mobile we took this mix and improved on its makeup. The new V2 lens will go to the market with each unit. The new V2 lens will be implemented across our existing range as soon as we start shipping.
With our open lens design, you can get the perfect portrait shot (focused subject & blurred background)
Go Live on Social Media with GDome Mobile
Go live on your favourite social platform while capturing amazing split-shots!
As long as a portion of the GDome remains out of the water, you will be able to share some incredible footage directly to your friends, family, and followers.
With our open lens design, the sky is the limit!
Use wide-angle lenses, ND filters, CPL filters and more. Filters are an awesome accessory allowing you the freedom to get creative. Adjust the light hitting your camera lens by using a wide range of different lenses and filters. Filters allow you to capture wider apertures for greater depth or adjust shutter speeds for time-based effects. Capture twice the image with wide-angle lenses while the image remains crisp & straight with no fisheye distortion.  
Watch this video if you want to learn more about external filters and their benefits.
The intention of the GDome Mobile is to be as user-friendly as possible. With a built-in handgrip support, the GDome Mobile is very easy to use and feels extremely comfortable in hand. We have made it modular so you can easily add extra items to take the standard setup into a professional rig. Start building yours today!
While the GDome Mobile works with action cameras, we tested it with the GoPro Hero 8 / 7 / 6 / 5 Black, Silver and White as well as the DJI Osmo Action and managed to get some awesome shots. 
Once the phone has been placed in position and the backplate secured it's as easy as point, touch and capture.
GDome Mobile
2 x Foam Inserts
Side Grip
Spares Kit
Carry Bag
Specs, Materials and performance testing
Glass-filled nylon body
Optically correct 6.1-inch dome lens (excluding flange)
Marine-grade stainless steel screws and bolts
Total assembled weight 800 grams
Length 25cm (9.85 Inches), width 18cm (7 inches) & height 7.5cm (2.95 inches)
Our robust glass-filled nylon housing is made structurally rigid, its torsional rigidity allows the housing to maintain its seal as one descends deeper. Our V2 Dome was developed for specifically for the Mobile, with better optics and more scratch resistance, it is a major step up for us. 
We have spent years and thousands of dollars developing our products. 
In order to protect our designs and concepts we have filed for the following full & or design patents:
US Patent Appl No. 16/562,662
South African Patent Application No. 2019/05878
F2016/00946
2018/07018
A2018/01882
F2018/01883
For absolute peace of mind
We guarantee all of our products and our reviews stand testament to this. All units are hand-assembled, pressure tested and have to pass our quality control measures. We manufacture all of our products in house to ensure the best care is taken right from raw material inspection to final product testing.
The GDome Mobile is a waterproof housing made to be used on the surface of the water. Although we have dived to 30ft plus with the GDome Mobile, this was purely for testing purposes regardless of the fact it did not leak or damage the phones.
The use of the touch membrane was not designed with great depths in mind.
The GDome Mobile was designed with the intention of being a surface waterproof housing for depths that are not deeper than 5ms or 15ft.
Shipping, Customs & Duties
International distribution is something we have learned to overcome with great shipping partners.
International freight does come with its own set of challenges. As a business who has acquired all of the necessary permissions and licensing we abide by all laws and legislation. With this in mind, we cannot mark any item as a 'gift' or as other items. It is illegal to do so.
For our USA and Australian customers there are NO duties or taxes for orders under $600.
For other countries please note that there could be import duties and taxes and that these are NOT INCLUDED in our price.
These charges vary by country and are not in our control.
We ship the GDome Mobile all over the world and it is impossible for us to build the various customs charges into our website.
You can use this tool to estimate additional costs.
http://www.importcalculator.com
Remember, we are the creators of GDome and GDome Mobile and not international customs, we make no money off local taxes and duties.
You can use this tool as estimates when determining additional costs in receiving our products.
Team
They say Teamwork makes the Dreamwork.
Our team makes the GDome dream possible.
We pride ourselves on our customer service, innovation and truly stand behind the products we take to the market.
Other Ways You Can Help
GDOME has established itself in the dome housing market over the last 4 years.  
Please share our content and engage with us - it helps us continue to grow!
We would love to hear from you and see your awesome GDome Mobile shots in the near future.
GDome Mobile: The Universal Smartphone & Action Camera Dome System