The world's first universal semi-rigid modular surf housing
Semi-rigid BackDoor that allows you to have access to your rear controls.
The perfect housing for any beginner looking to get their DSLR or mirrorless camera into the waves for the first time
The GDome XL Surf Housing will work with almost any mirrorless or DSLR camera right out of the box
Fully customisable to your camera and lens needs

THE WORLD'S FIRST SEMI-RIGID UNIVERSAL HOUSING FOR DSLR AND MIRRORLESS CAMERAS
USING PATENTED TECHNOLOGY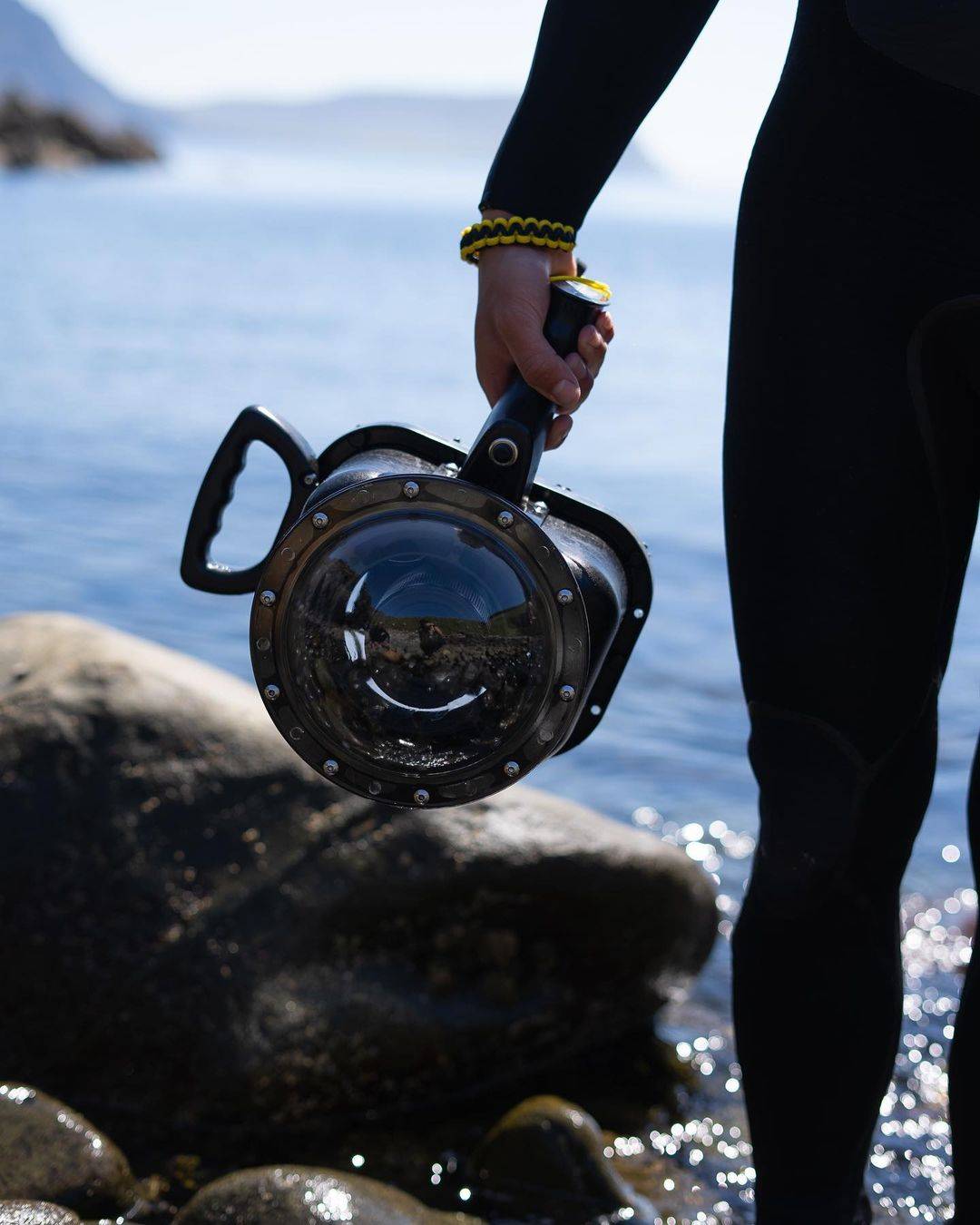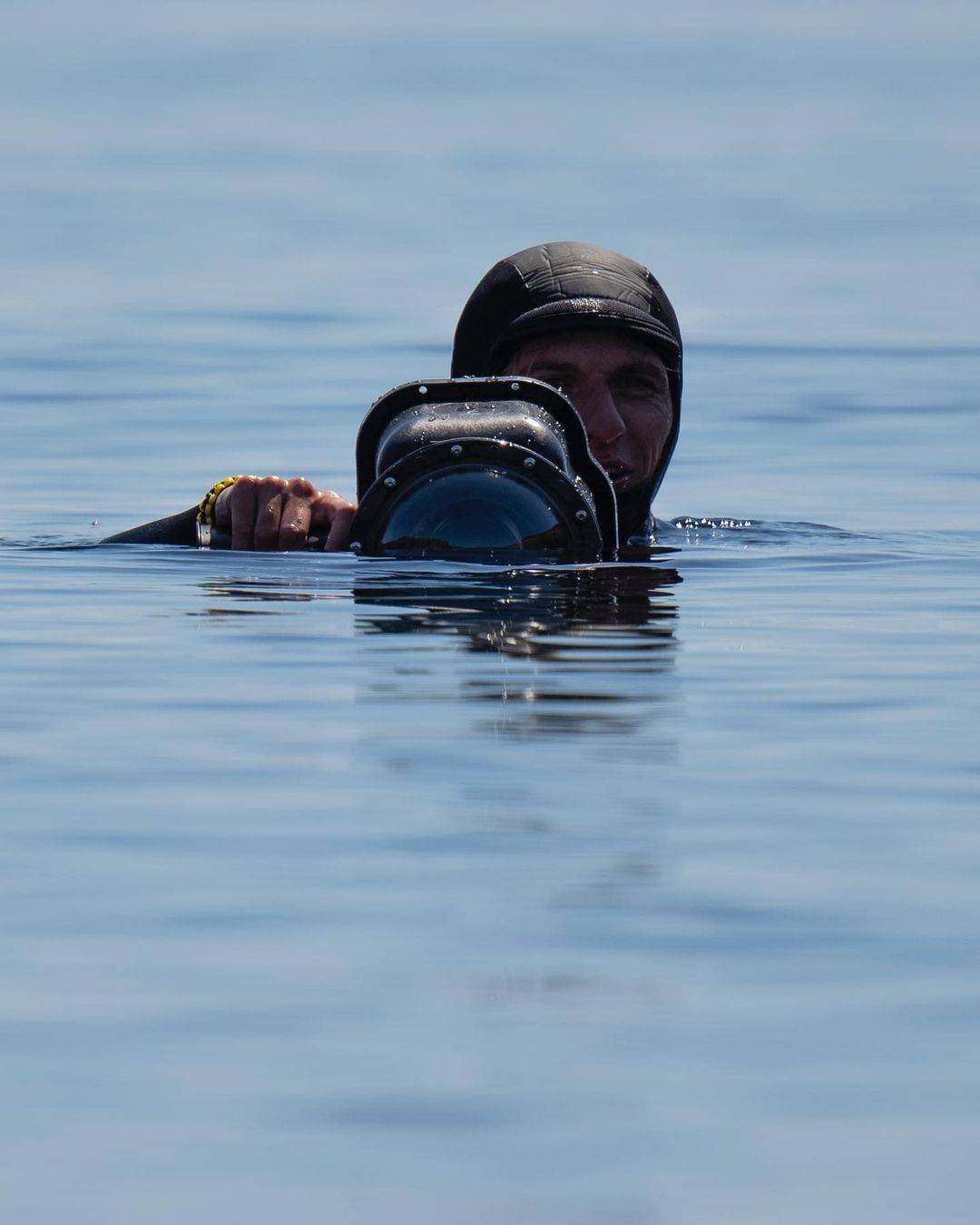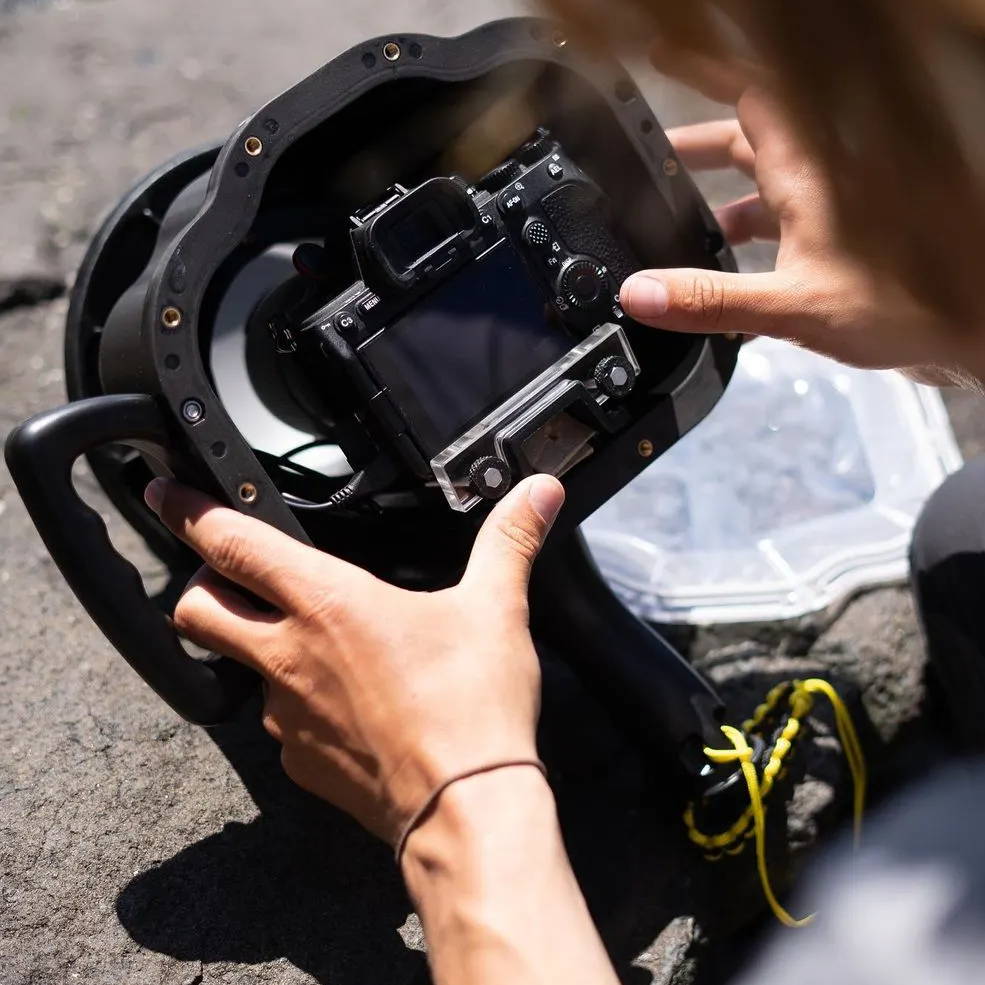 We have designed our housing to work with a number of different camera bodies and lenses.
As long as your camera has a non-proprietary wired shutter input and fits within the dimensions of our housing, it will work!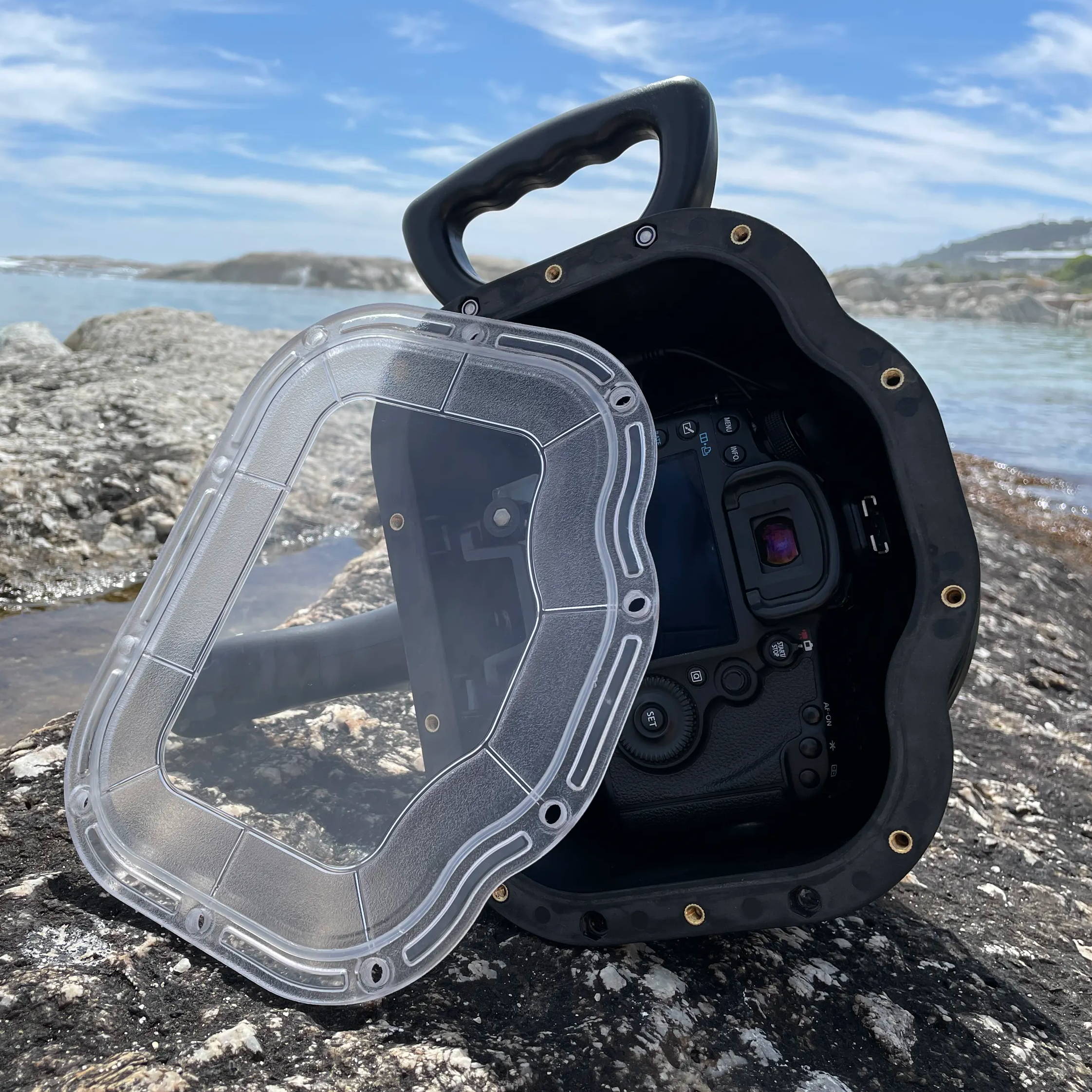 Looking to shoot in heavy conditions?
Our solid BackDoor can take a beating with a metal hammer! So we know it will handle your local shorebreak!
Furthermore, we individually pressure test each housing with the solid BackDoor to 18m.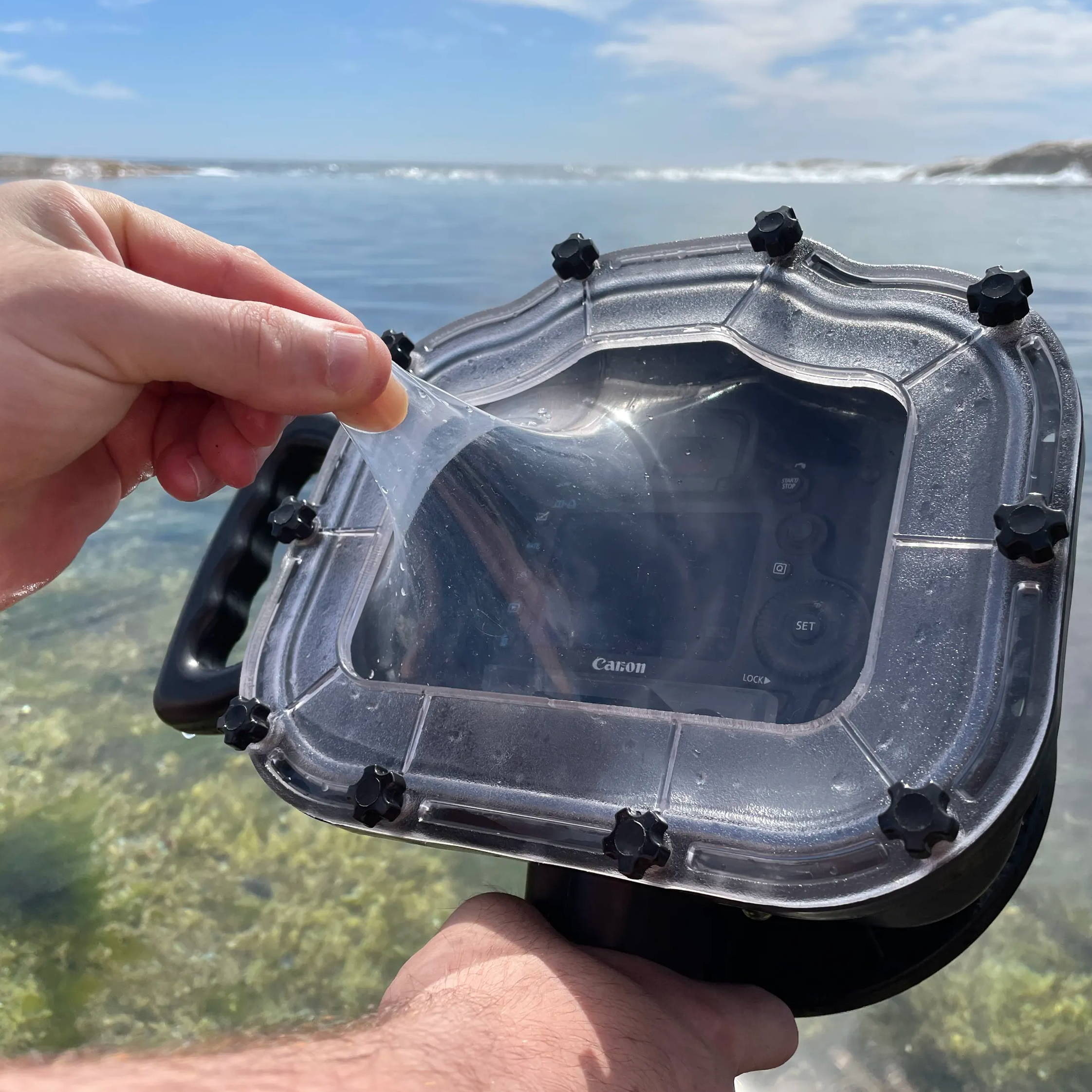 Need to adjust settings, preview shots, or change the shooting mode?
No problem at all; we also include the "flexible BackDoor" which gives you full access to the back functionality of your camera through our ultra-flexible rear membrane.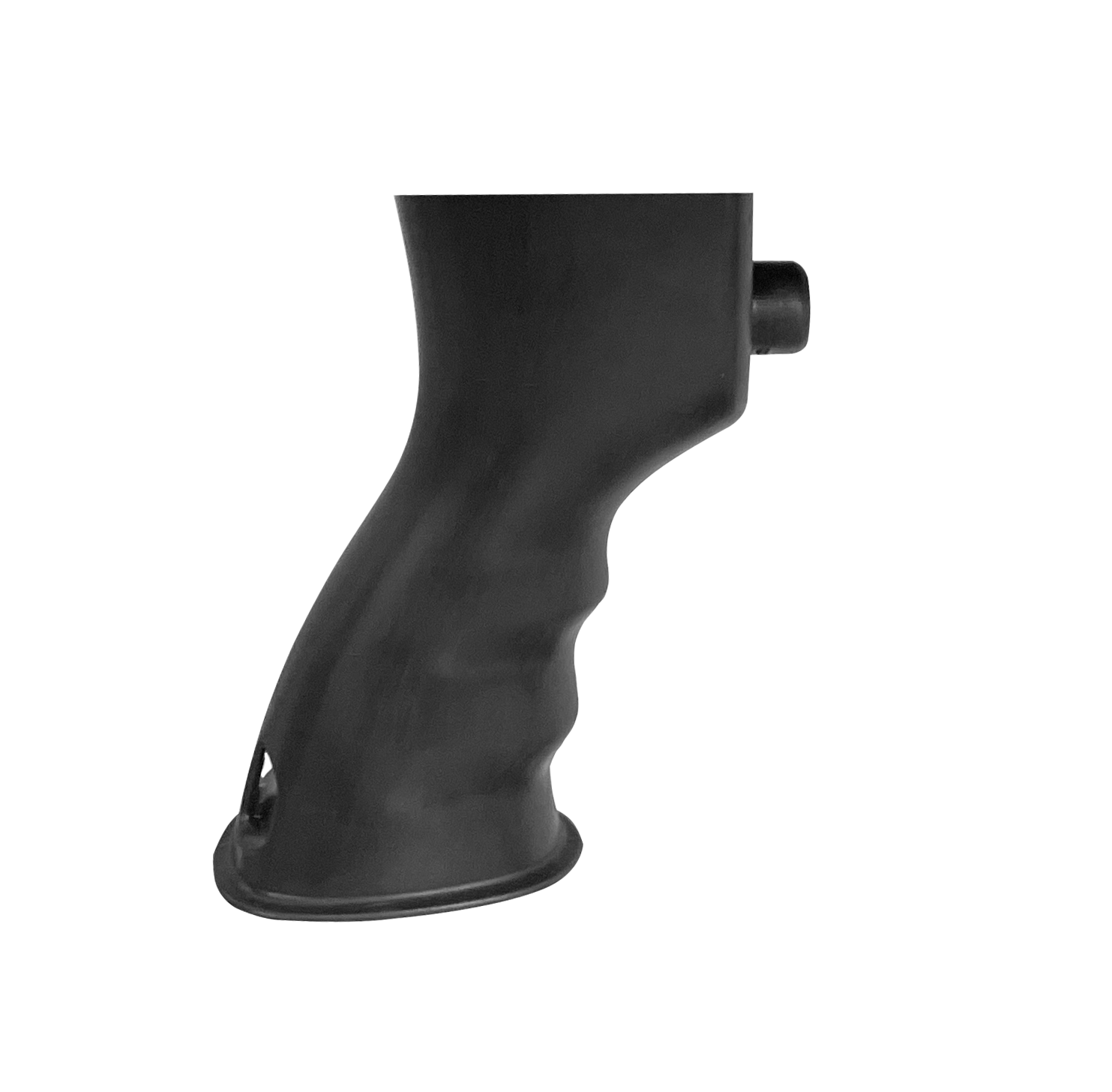 Our new V2 handle is fitted with an IP69K waterproof button that triggers the camera's shutter via a wireless shutter hub. The wireless shutter hub has a female 2.5mm aux jack, and the male 2.5mm camera-specific jack attaches directly and is connected to the camera's 'remote' port.
A pistol grip allows you to hold (and trigger) the camera with only one hand, which makes it easier to swim with your housing, especially in heavy surf conditions.
The V2 comes with an adjustable two stage pistol grip.
Featuring a half press to focus and a full press to fire the shutter.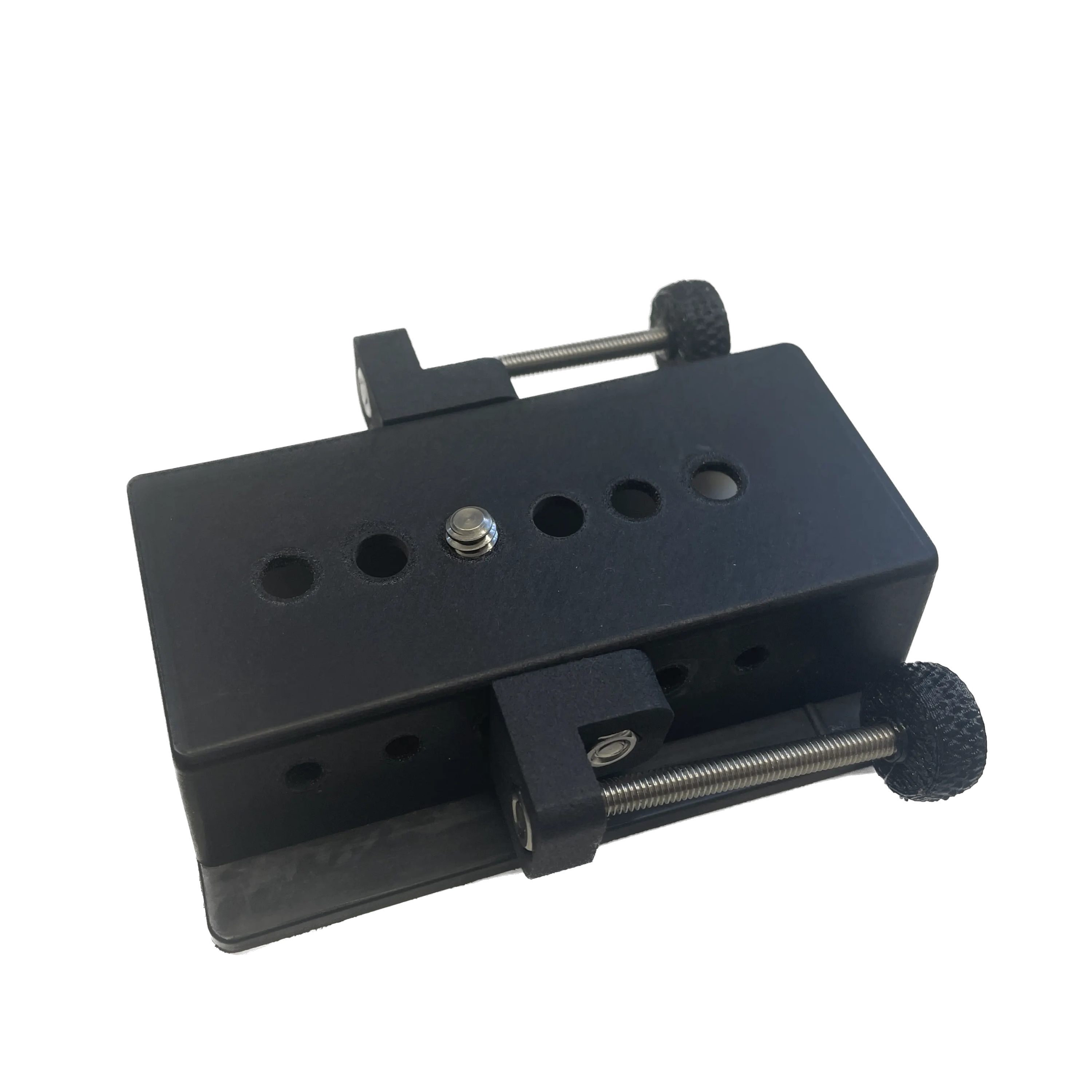 Our mounting plate has multiple holes that allow you to position the camera backward and forward.
As these are holes and not slots, the camera cannot slide backwards or forwards in heavy surf conditions (like it would if it were a slot hole design).
This allows the users to move the camera in order to adjust distance from the back of the dome or flat port.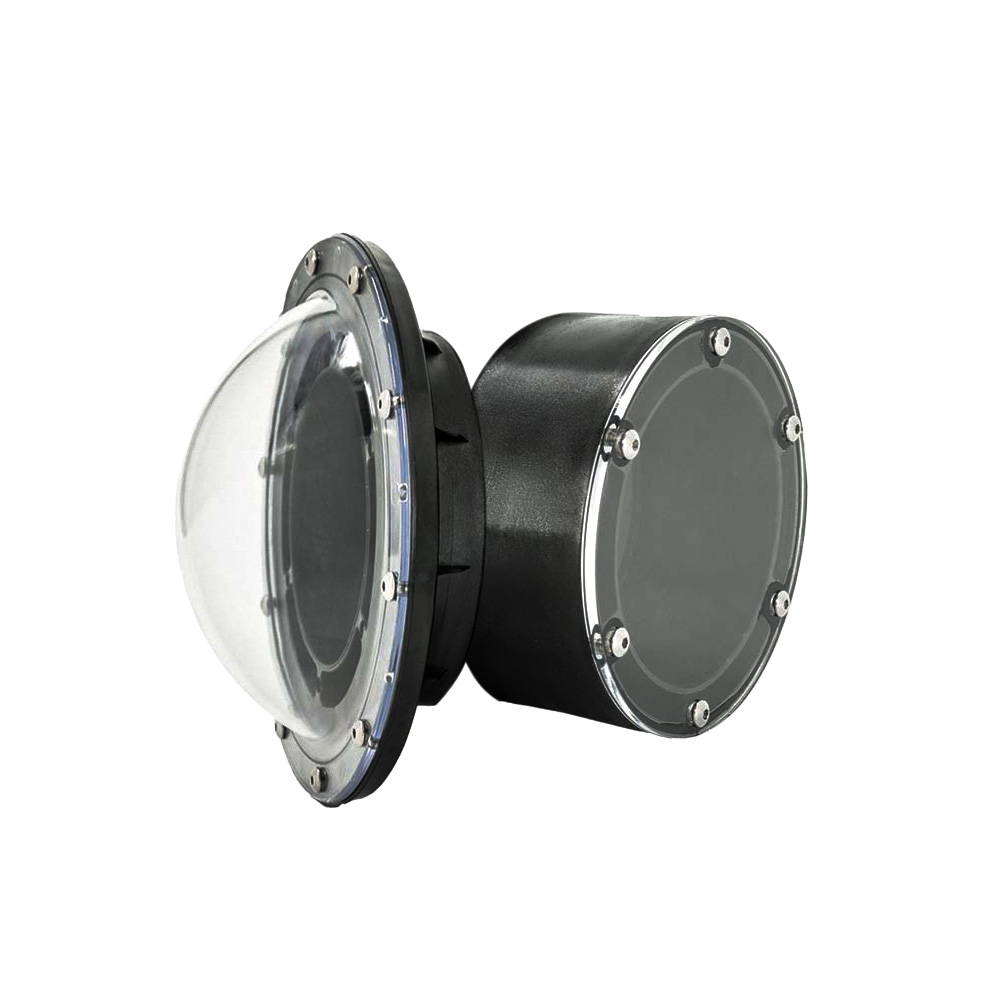 COME WITH DOME, FLAT LENS & PORTS
Looking to shoot the perfect split shot?
Then you need our dome port.
Want a capable all-rounder for the surf and underwater?
Our 55mm port and flat lens are for you.
Unlike our competitors, we give you both ports and lens elements with your housing.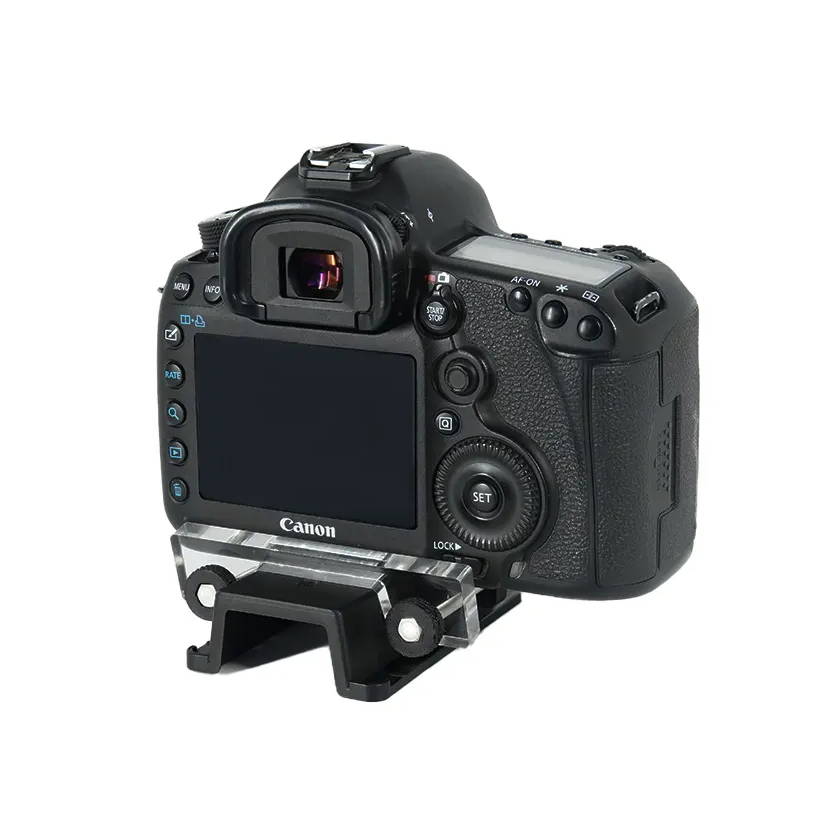 Ever taken a hit by a huge wave and your camera moves slightly off to the left or right?
Not with our rear anti-movement bar; it locks your camera in a horizontal plane.
You don't have to overtighten the bottom baseplate screw or worry about your camera moving off-plane while in the water.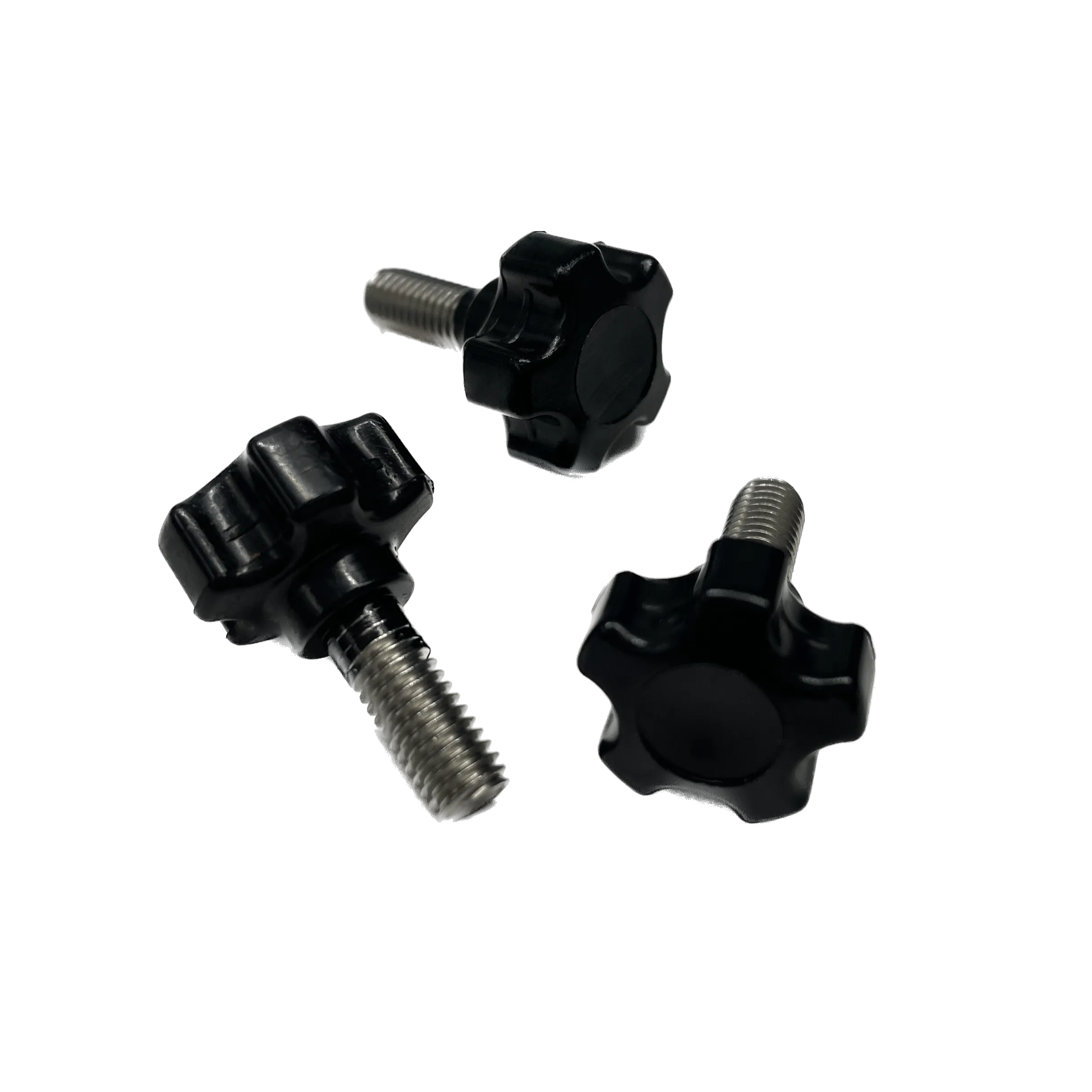 TOOL-FREE BACKPLATE THUMBSCREWS
Close your housing quickly with our included tool-free thumbscrews for the XL's backplate.
We know how difficult it is to loosen thumbscrews with wet, cold hands.
We have included a laser-cut thumbscrew loosening tool for your convenience.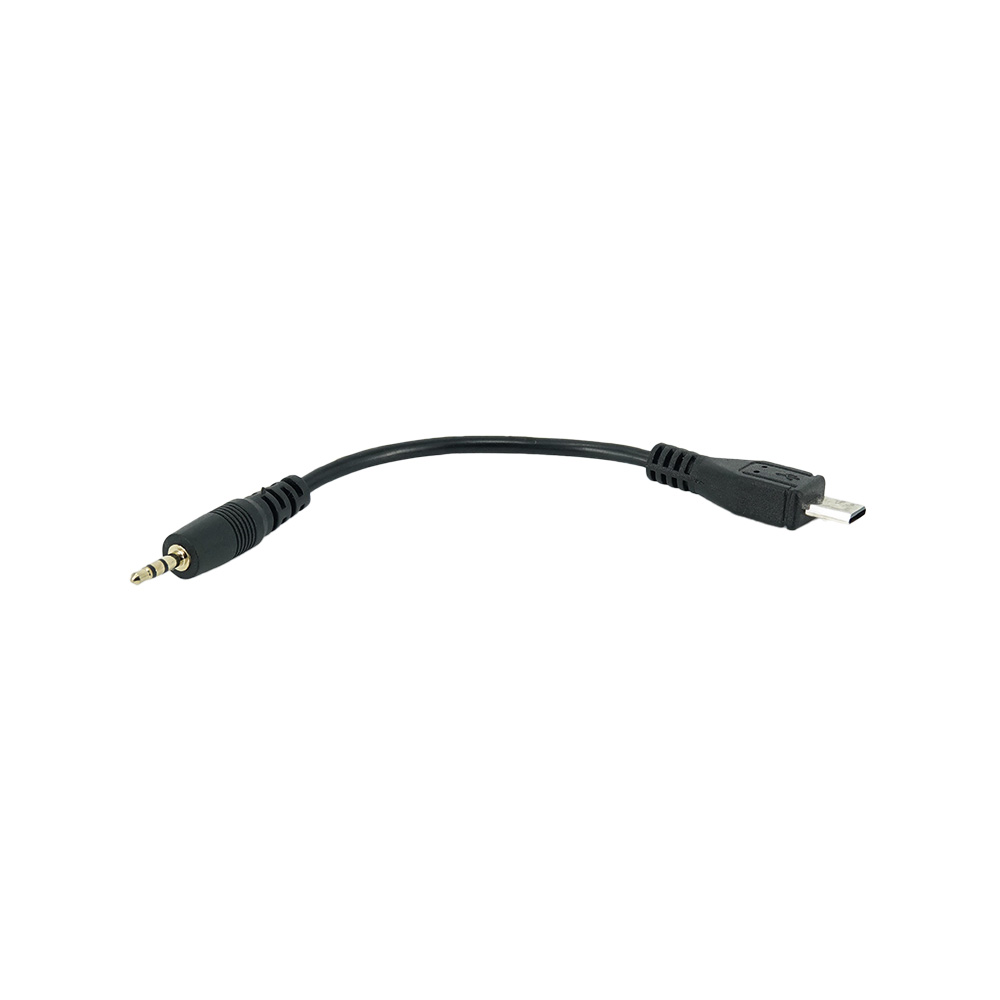 Firstly, we supply our housings with the cables that you need for your camera.
Ever want to change cameras?
There is no need to import expensive proprietary cables that could take weeks to ship.
Our trigger box takes off-the-shelf 2-pin (TRS) 2.5mm male jacks.
WATERPROOF SURF HOUSING FOR DSLR & MIRRORLESS CAMERAS
The GDome XL Surf Edition V2 is focused on water-based content creators that need to shoot with a pistol or trigger grip (one-arm operation) in extreme conditions.
The GDome XL Surf Bundle is the perfect housing for any surf or water-based photographer looking for a universal water housing for their DSLR or mirrorless camera without breaking the bank and yet getting a comprehensive surf-focused water housing kit that can be used for a number of different camera brands and lenses. As our housing is universal, you will not have to buy new water housings or ports as you upgrade your cameras and lenses (as long as they will fit in our housing).
Advanced underwater photographers and videographers that already have professional kits could use the GDome XL for unique, specialized camera bodies or lenses that are not compatible with their current housings or port configurations.
Rental houses or individuals will be able to rent out the GDome XL, and given the current rental rate charged for underwater housings, this could be extremely profitable.
The world's first universal semi-rigid modular underwater housing
Yes, this is a loaded description, so we will need to break it down for you so that you can really see the value of this universal underwater housing.
When we say that the GDome XL is a universal water housing, we really do mean it! The GDome XL will work with almost any mirrorless or DSLR camera right out of the box (check the internal sizing chart to confirm this, as cameras like the Canon 1D could be too tall for our housing).
You might think this is not unique, as there are a number of housings that can do this. These housings are either completely "soft" (made from a rubberized or PVC material), meaning that you cannot add dome ports, lens extensions, or even lights and GoPros to the housing. where the 'hard' housings have extremely limited functionality (no ability to change settings or functions).
Our housing is considered semi-rigidmolded, as the housing and ports are injection molded, and only the rear screen is made from a flexible membrane. We also include a solid backdoor that is individually pressure tested to 18 m before leaving our office. Having a flexible rear screen allows us to give the user full access to the camera's rear functionality.
When it comes to modularity, the NEW GDome XL Surf V2 is fully modular, as you can interchange ports, the side handles, and even remove the bottom pistol grip and use the optional side trigger system.
Included in the box is a 55mm port adapter with a flat lens element as well as a 40mm dome port extension adapter and dome lens element. Our 80mm extension port (Optional Extra) is fully compatible with the dome port adapter if you need a further extension to your GDome XL. This port is stackable, so you could add two or even three of them depending on the length of your camera lens.
CONSTRUCTION
Our housings and ports are injection-molded with glass-filled nylon, which is one of the strongest engineering materials on the planet.
Our backplates are injection-molded from high-impact polycarbonate.
All of our bolts are 316 stainless steel to protect against salt water corrosion.
SAFETY
Our seals are custom-molded specifically for us from silicone. Silicone has close to zero memory, excellent resistance to weathering and UV exposure, and lasts approximately four times longer than rubber.
We do not use glued seals in the GDome XL.

Clips are convienient and efficient, however, the bolts we use are failproof in rough conditions and cannot be accientally opened when in the water.
We have never had an XL leak due to a product fault as all of the parts are precision molded (so there is no room for errors), we do not glue our seals, and we pressure test each housing with the solid backdoor to 18 m before leaving the office.
The only real chance of a leak is if you do not tighten up the screws on the ports or backplate when using the housing.
Another key feature of our housing is that the camera sits on a heightened baseplate, so even if water did get in the housing, the camera is lifted away from contact with the water, allowing you to get out the water and get your camera out without damage.
WEIGHT
With pistol grip, base plate and dome port and accessories = approx. 1.5 kg
FREQUENTLY ASKED QUESTIONS
Limitations
1) Our housing does have 10 rear bolts. Undoing these do take time in order for you to open and close the housing to get to your camera. While other housings may use fewer bolts (2-4) or latch systems, making it much quicker to open and close the housing, we have opted for a much lighter, thinner injection moulded backplate frame in order to reduce the weight, cost and production time of making the housing. While we could have used fewer bolts we opted to rather use more in order to ensure that your housing is sealed fully without a doubt.
2) When your camera is inside the GDome XL, you will not be able to control the zoom on your lens. Thus you will need to set the zoom when you put the camera into the housing before you close it up.
3) The GDome XL with flexible rear membrane is rated for 5m | 15ft max depth, we know it can go deeper however we limit the rating for the safety of your camera. The GDome XL is not a dive housing and should not be treated as a dive housing due to the flexible rear membrane. You can use the solid backdoor to go deeper but your functionality will be limited.
If you can accept the above limitations then the GDome XL is definitely the perfect housing for you.
Delivery Info
All orders for GDOME customers are manufactured and shipped from South Africa.
You'll get an automated tracking number when your order has been dispatched.
Delivery times are faster for metro areas than regional. The shipping times above are estimates and some orders can take longer due to factors outside of our control.
Duties
Please note international shipments could be charged vat, tax or customs duties depending on the destination country.
We are not responsible and do not cover these charges. This includes Local VAT.
If you are ordering from United States of America, import duties will not be charged for orders under $800.
If you are ordering from Australia, import duties will not be charged for orders under A$1000.
Can you ship to me?
We ship awesome water housings to most countries...
We do not currently ship to Brazil, Russia, Ukraine or Belarus.

Express COURIER:
We deliver directly to your home or office, anywhere in the world with DHL.
We are currently averaging 3-9 working days for express international deliveries.
ABOUT OUR SHIPPING
We offer a reliable delivery services via trusted DHL Express courier services around the world.
Shipping is calculated automatically by DHL on checkout before you have to make payment.
DHL will also give you a live view of the estimated delivery time.
We also offer FREE shipping options to select locations, these do take slightly longer than or express options.
We'll need your daytime address and cellphone number for door-to-door delivery and, once sent, provide you with the tracking number for the parcel.
All Prices exclude your local taxes and duties, please check your local taxes and duties before placing your order.
Shipping costs do not cover your local taxes (such as VAT and Customs Duties).
GDome ships exclusively through DHL International and TUNL for International orders.
By purchasing items from GDome, you acknowledge that GDome is not responsible for lost or stolen packages.
Please refer to your tracking number to get details of where your shipment is. If your package shows it was successfully delivered, and you did not receive it, please contact us immediately.
Insurance for packages is charged separately by DHL and TUNL, we offer the option to insure your package with Shipping Protection on checkout.
By deselecting Shipping Protection, GDome is not liable for items that are lost, damaged, or stolen during shipping.
For absolute peace of mind
We guarantee all of our products and our reviews stand testament to this. All units are hand-assembled, pressure tested and have to pass our quality control measures. We manufacture all of our products in house to ensure the best care is taken right from raw material inspection to final product testing.
WILL MY CAMERA & LENS FIT IN THE GDOME XL?
We have made a short list of some of the cameras that we know fit the GDome XL - there are many many more that fit! Please use the measurements below to see if your camera & lens will fit:
Sony
A7 / A7MarkII / A7MarkIII / A7R / A7RMarkII / A7RMarkIII / A7RMarkIV/ A7S / A7SMarkII / A7SMarkIII / A9 / A58/ A68/ A3000 / A3500 / A5000 / A5100 / A6000 / A6100 / A6300 / A6400 / A6500 / A6600 / HX50 / HX60 / HX80 / HX300 / HX400 / NEX-3N / RX10 /RX10MarkII / RX10Mark III / RX10MarkIV/ RX100 / RX100MarkII / RX100MarkIII / RX100MarkIV/ RX100MarkV/ RX100Mark VI / RX100MarkVII ... and more!!
Nikon
D7200 / D7100 / D7000 / D5500 / D5300 / D5200 / D5100 / D5000 / D3300 / D3200 / D3100 / D810 / D800 / D800E / D750 / D700 / D610 / D600 / D500 / D300 / D300s / D200 / D100 / D90 / D80 / D70s / P7700 / P7800 ... and more!!
Canon
EOS 1300D / 1200D / 1100D / 1000D / 650D / 550D / 500D / 450D / 400D / 350D / 300D / 90D / 80D / 70D / 60D / 50D / 40D / 30D / 20D / 20Ds / 10D / 7D Mark II / 7D / 6D / R5 / R6 / 5D / 5D Mark II / 5D Mark III / 5D Mark IV / SX50HS / Powershot G10 / G11 / G12 / G15 / G1x / G1x Mk II ... and more!!
Fujifilm
Finepix S1 / S3 PRO / S5 PRO / X30 / X70 / X100F / X100T / X-100V / X-A1 / X-A2 / X-A3 / X-A5 / X-A7 / X-A10 / X-E1 / X-E2 / X-E2S / X-E3 / XF10 / X-H1 / X-M1 / X-Pro2 / X-Pro3 / X-Q1 / X-Q2 / X-T1 / X-T2 / X-T3 / X-T4 / X-T10 / X-T20 / X-T30 / X-T100 / X-T200 .. and more!!
Panansonic
GH6 / GH5 / GH4 / GH3 .. and more!!
Pentax
K-5 II / K-5 IIs / K-5 / K-7 / K10 / K20 / K50 / K100 / K200 / K500 and more!!
Samsung
GX10/GX20 and more!!
Again, the general rule of thumb is if your camera body is the same size or smaller than a Canon 5D MK4 then it will fit the the GDome XL!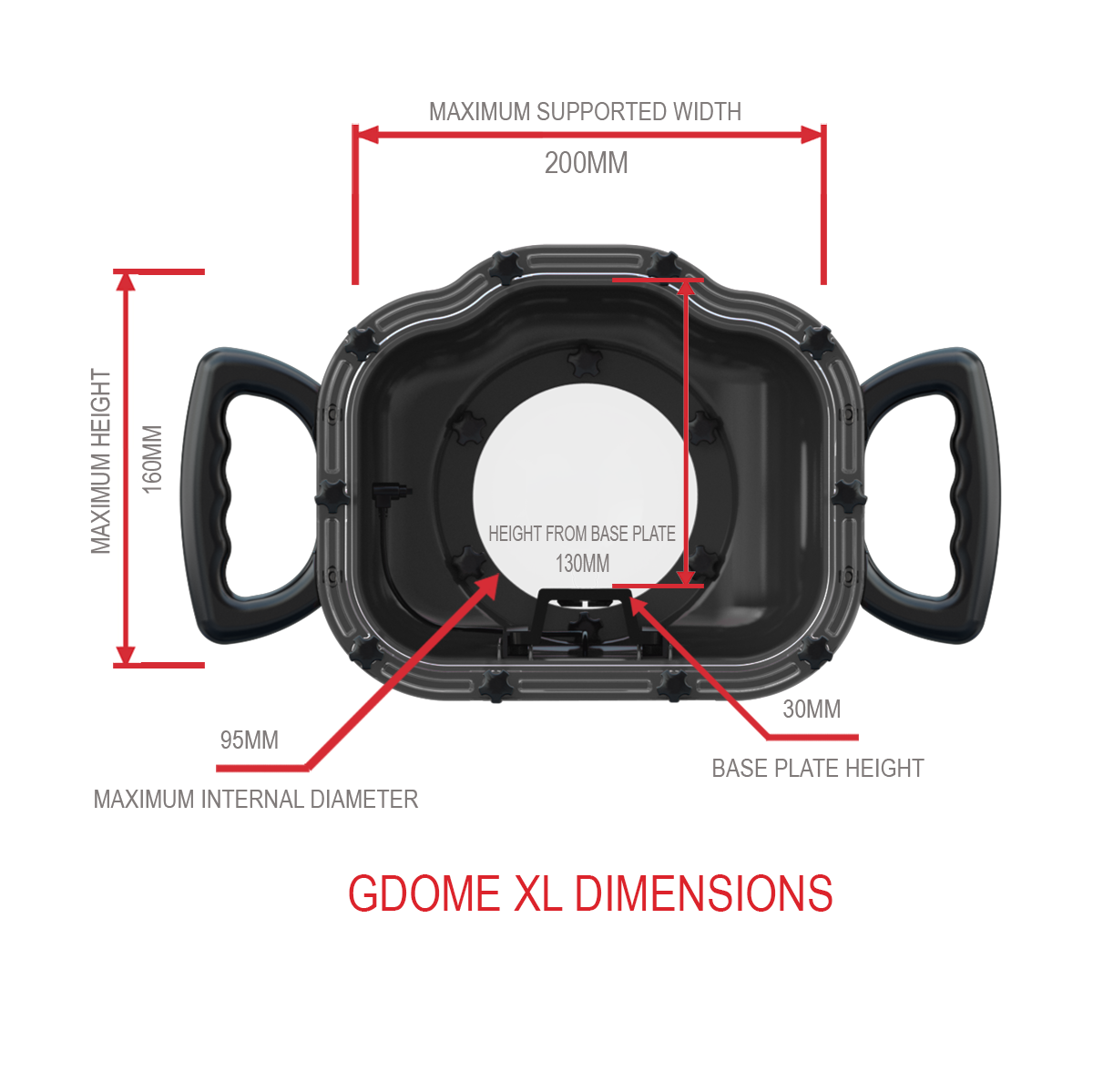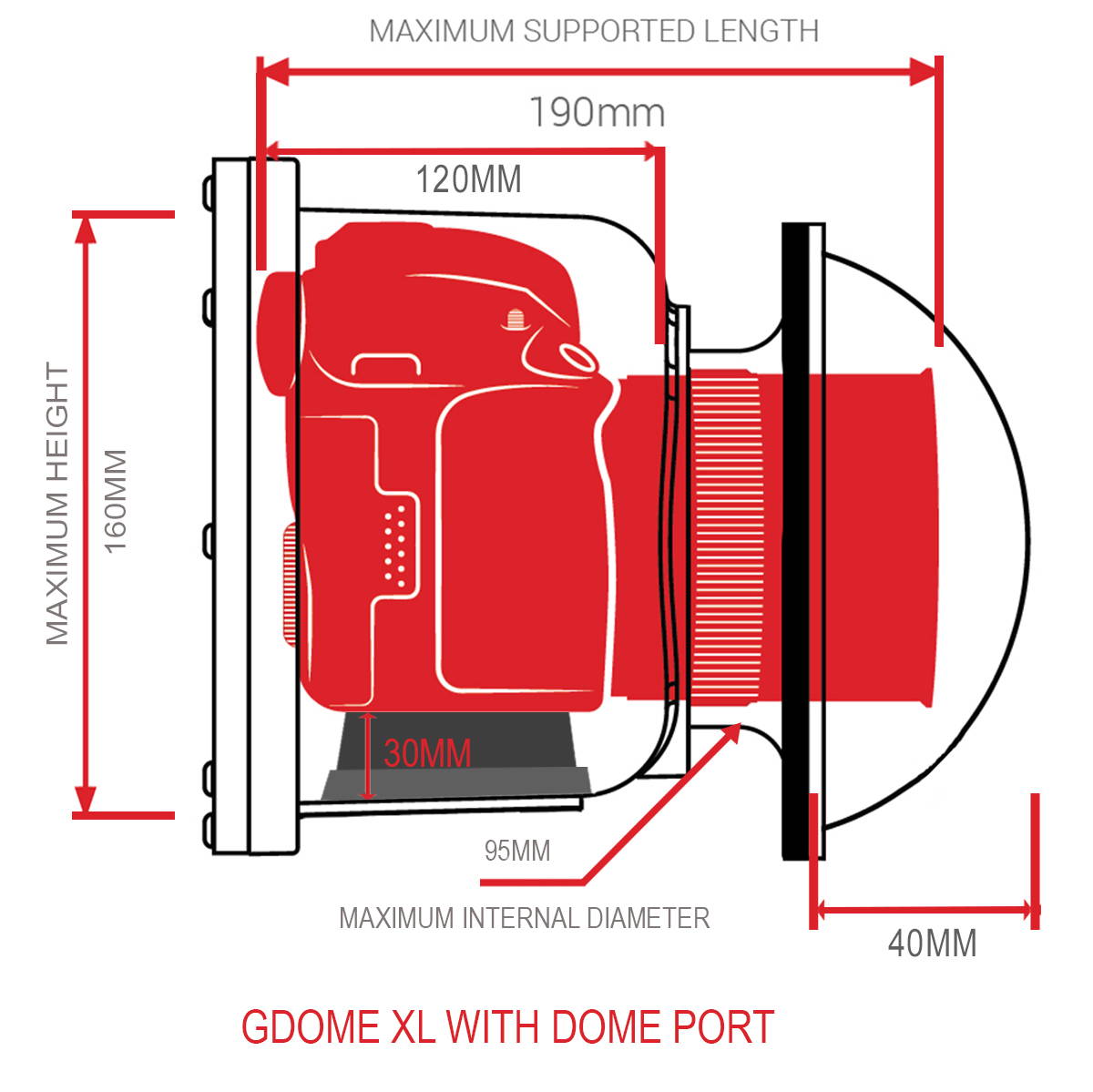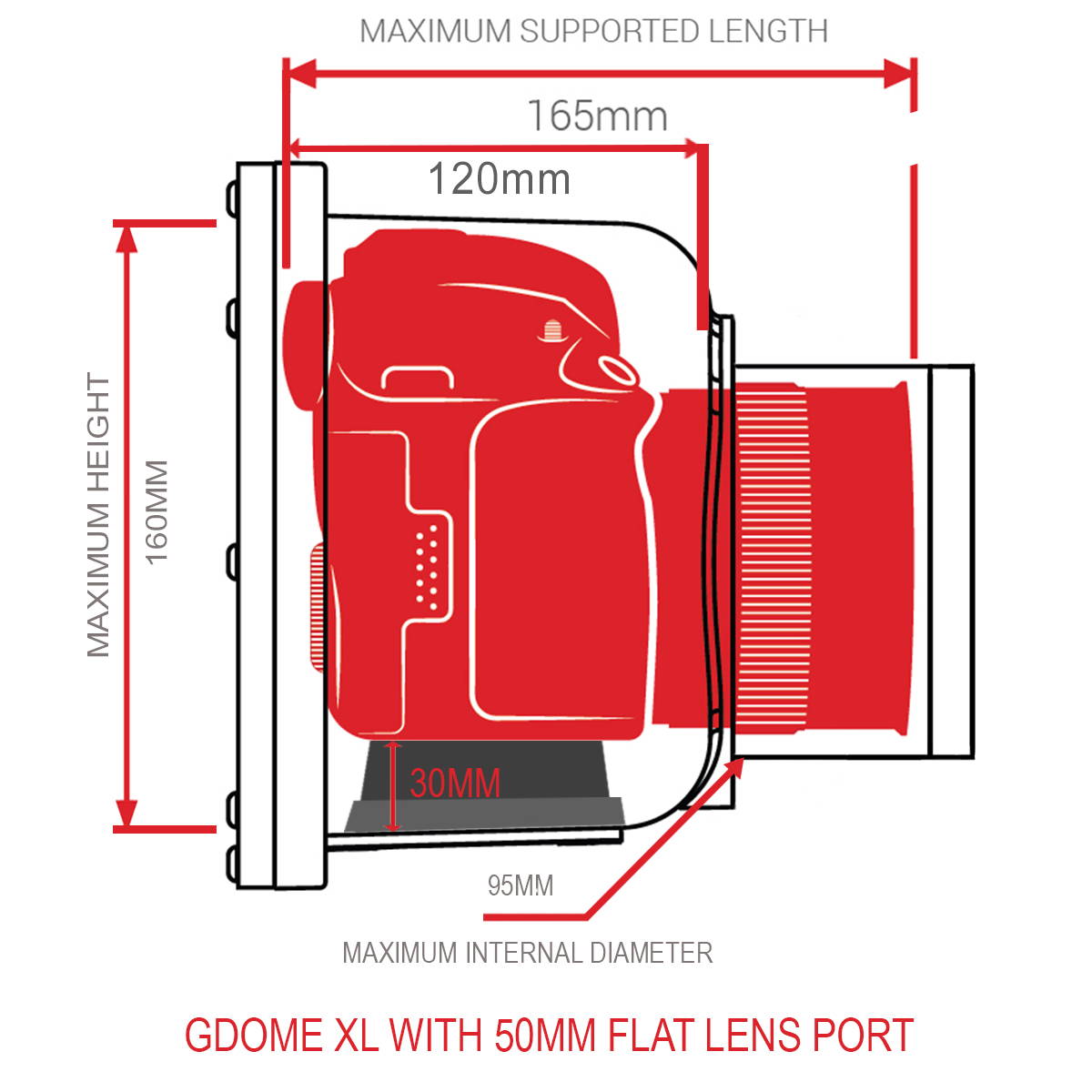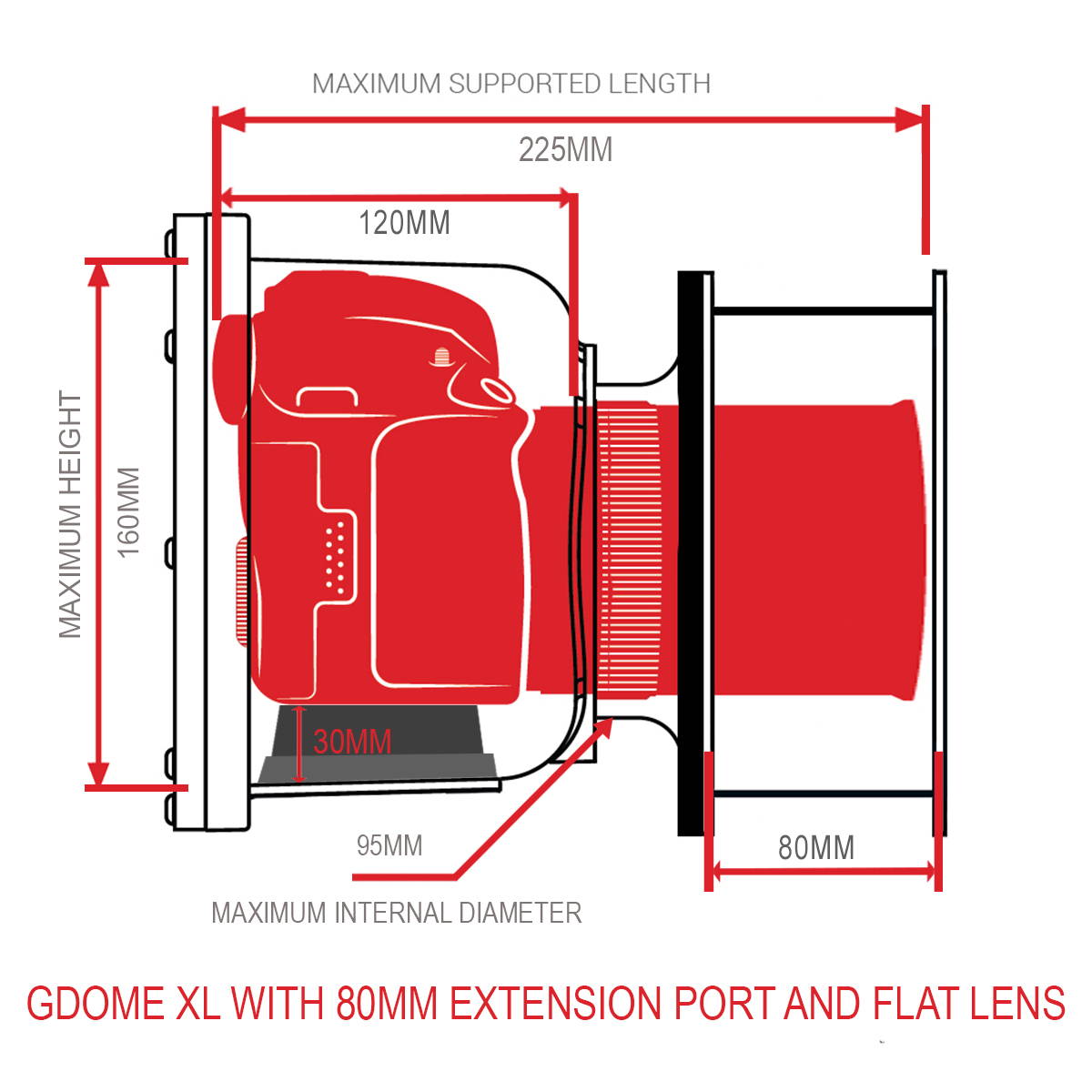 HOW FLEXIBLE AND STRONG IS THE SOFT BACKDOOR?
Our flexible rear membrane is unbelievably strong and flexible, as they are custom-molded specifically for us from silicone. Silicone has close to zero memory, excellent resistance to weathering and UV exposure, and lasts approximately four times longer than rubber.
Please keep in mind that they are not made to withstand impact or pressure from sharp edges or points.
We suggest storing the silicone screens in a ziplock bag when not in use or in transit.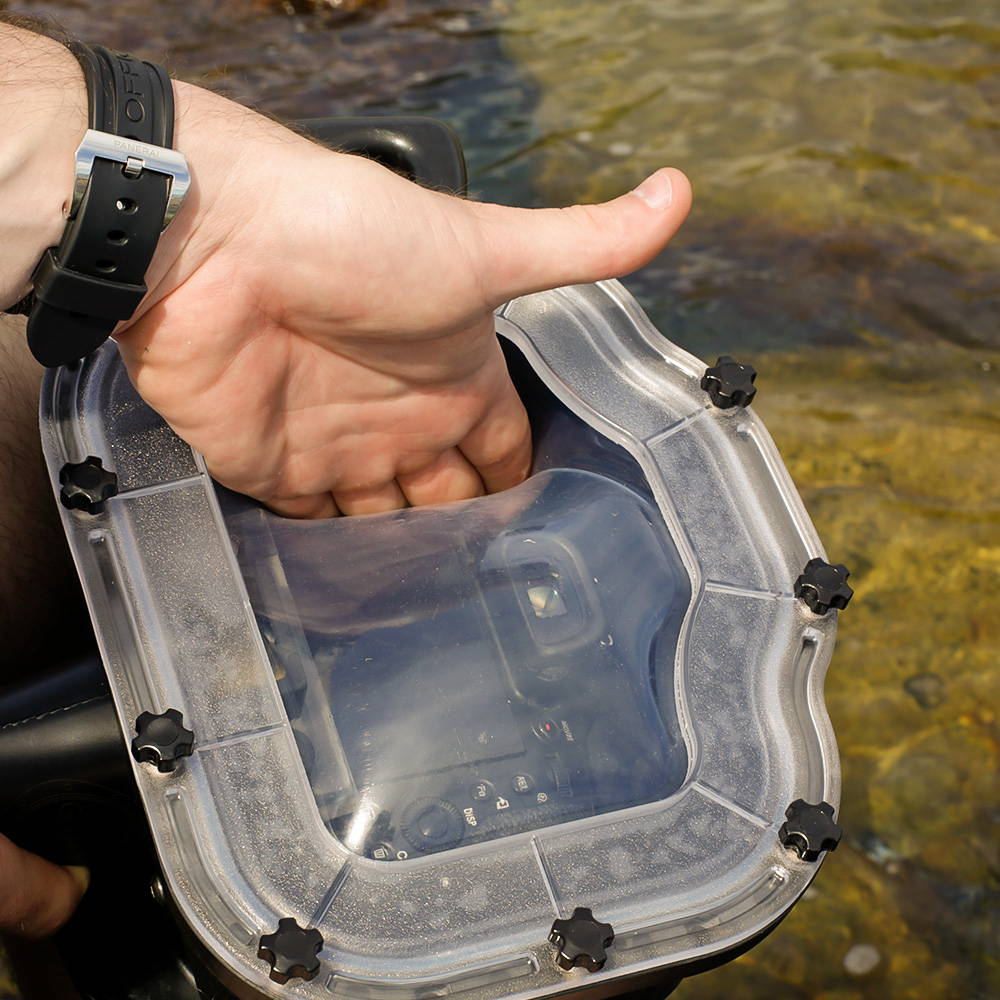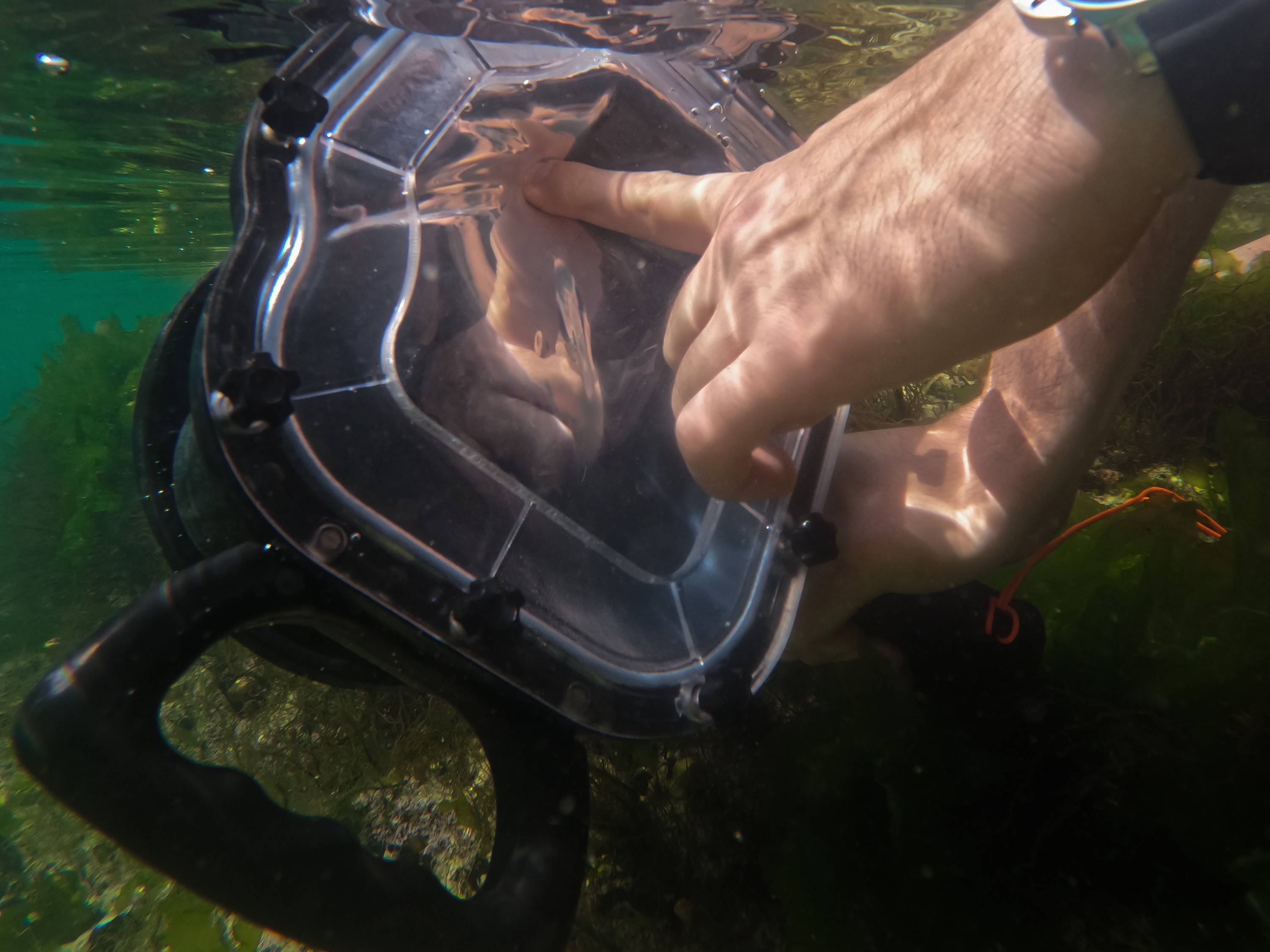 CAN I STILL ACCESS MY CONTROLS ONCE MY CAMERA IS IN THE HOUSING?
If you are using the flexible rear membrane screen, it will give the user full access to the camera's rear functionality.

If you use the solid back door, you will not be able to change settings. You will have to set up your camera before closing the backdoor.
WILL I BE ABLE TO USE VARIOUS CAMERAS & LENSES IN THE HOUSING?
As our housing is universal, you will not have to buy a new housing or ports as you upgrade your cameras and lenses (as long as they will fit in our housing).

We also have the 80mm extension ports available (these are stackable). If you need a longer port for your lens, we have you sorted.

If you change camera brands, you will simply need to get the correlating 2.5mm remote cable.
Although the XL waterproof housing is universal, remote cables are specific to your camera.
HOW DEEP CAN I GO WITH THE GDOME XL?
The GDome XL is rated to 5m/16ft housing with the flexible rear membrane.
The GDome XL is rated to 25-30 feet max depth with the solid BackDoor.
We do individually pressure test each housing with the included solid BackDoor to 18m / 59ft.
The GDome XL can handle any size surf you have the balls to swim into.
These are not dive housings and they should not be treated as such.
This housing is intended for surface use.
HOW DO YOU ENSURE THAT THE FRONT OF THE LENS IS THE CORRECT DISTANCE FROM THE BACK OF THE DOME?
Our mounting plate has multiple holes that allow you to position the camera backwards and forwards.
Take a look at it here: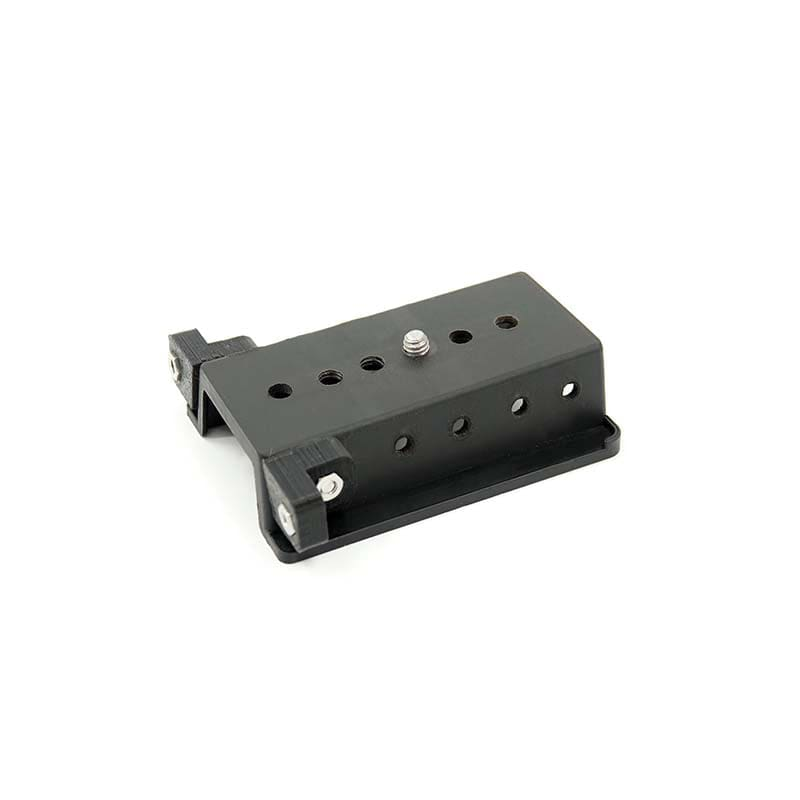 While a user might not get it correct to the micron, like you would for camera specific housings, the adjustability allows the users to get it pretty close, if not spot on with a bit of tinkering.
WHY USE A PISTOL TRIGGER GRIP?
What is a pistol trigger grip for surf photography?

A handle known as a pistol grip is fastened to the housing's base. A button on the handle activates the shutter of the camera by connecting a cable to the device's "remote" connection.
Why use a pistol-grip trigger when shooting?

It is simpler to swim with your housing and to position yourself into key wave sections for the finest shots when you shoot with a pistol grip because you can hold (and trigger) the camera with just one hand.

With fisheye or wide-angle lenses, where you might not always be looking through your viewfinder when shooting, a pistol-grip trigger is frequently employed. Even though some photographers prefer to utilize the top shutter button for a more comfortable hold when peering through the viewfinder, you can still use a pistol grip when using longer lenses.

What distinguishes a "single-stage pistol grip" from a "two-stage pistol grip"?

A "one-press" button is present on the single-stage handgun grip. With a single press, this button activates focus and the shutter.

The "half-press to focus" and "full-press to fire" buttons are part of the two-stage pistol grip. With the pistol grip, it is quite simple to use one-handed autofocusing because there is a tactile click at the halfway point and another click at the full push.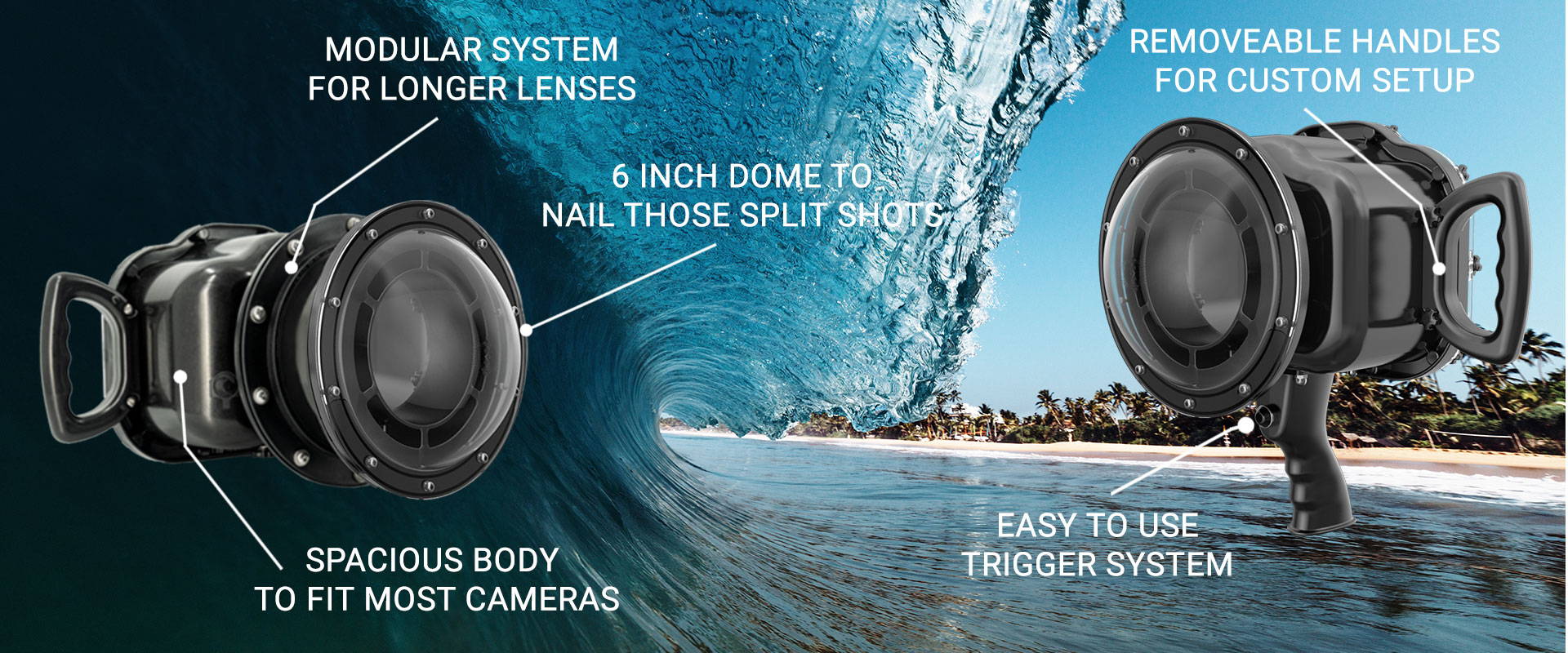 ORDER NOW AND GET THE FOLLOWING ACCESSORIES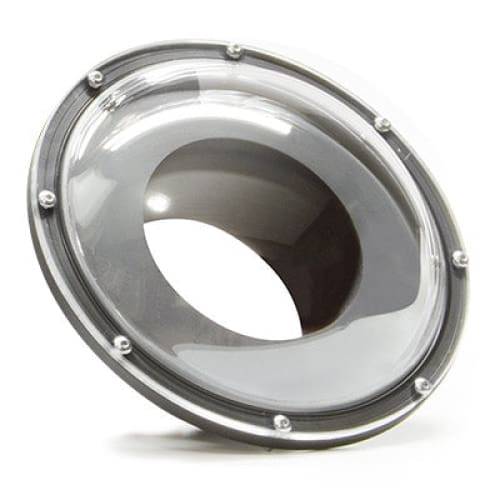 DOME PORT WITH DOME ELEMENT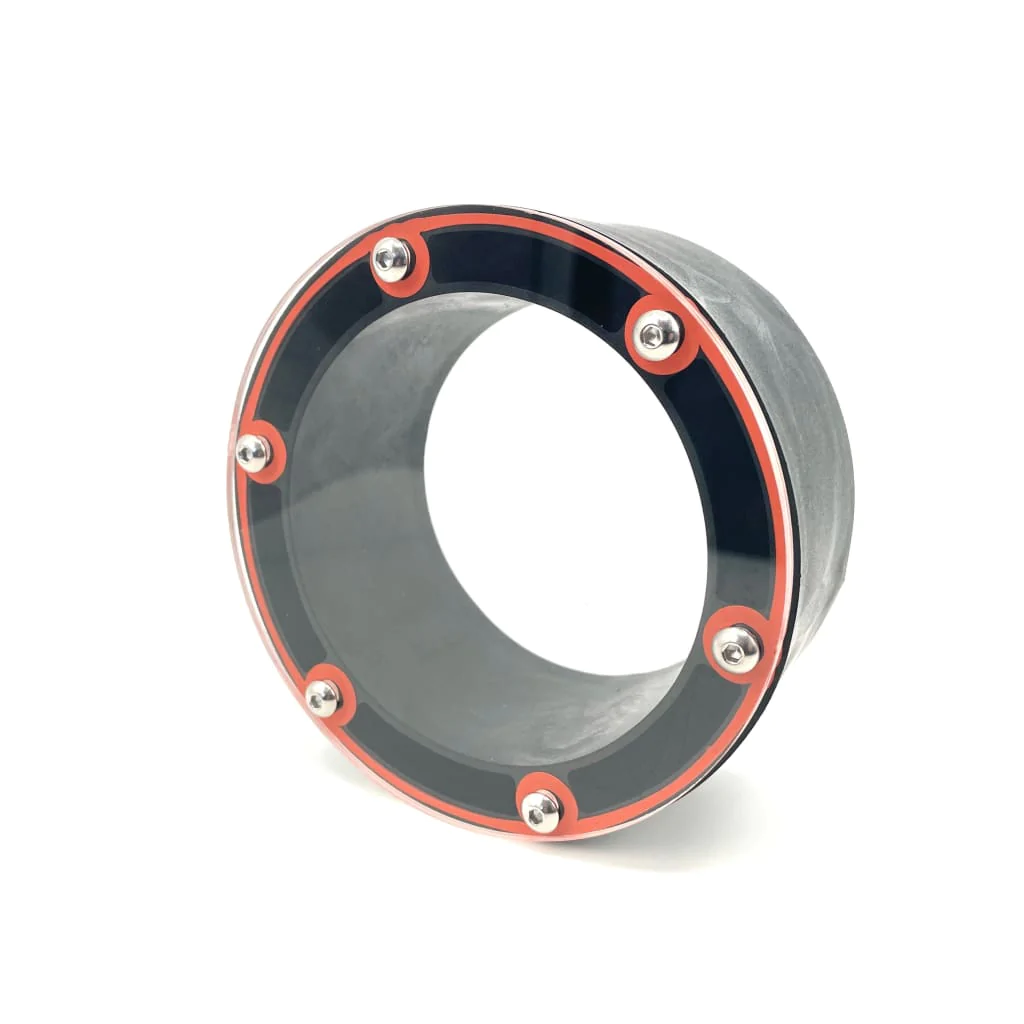 FLAT PORT WITH FLAT LENS ELEMENT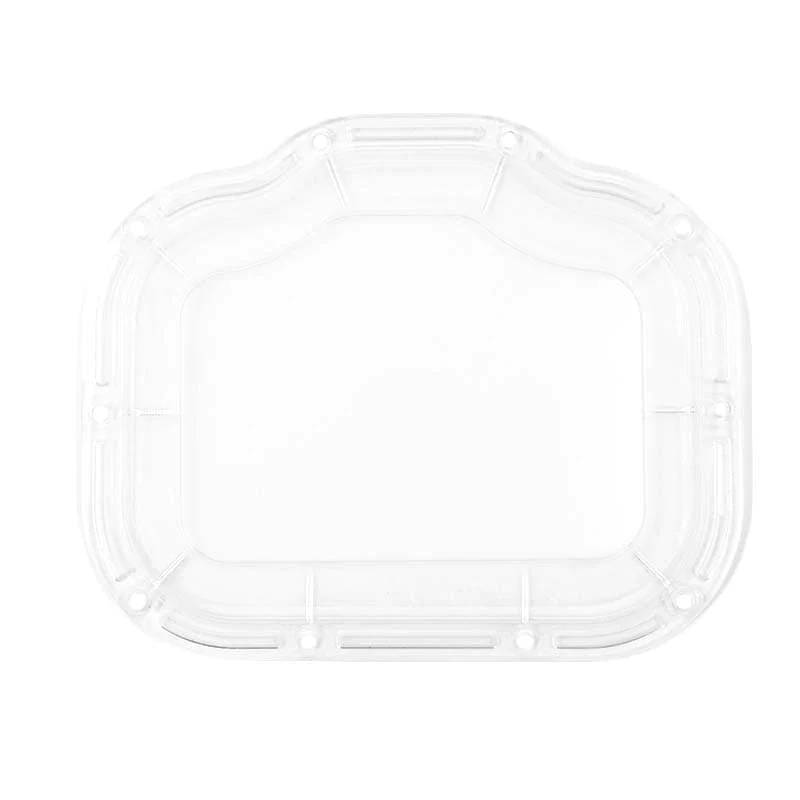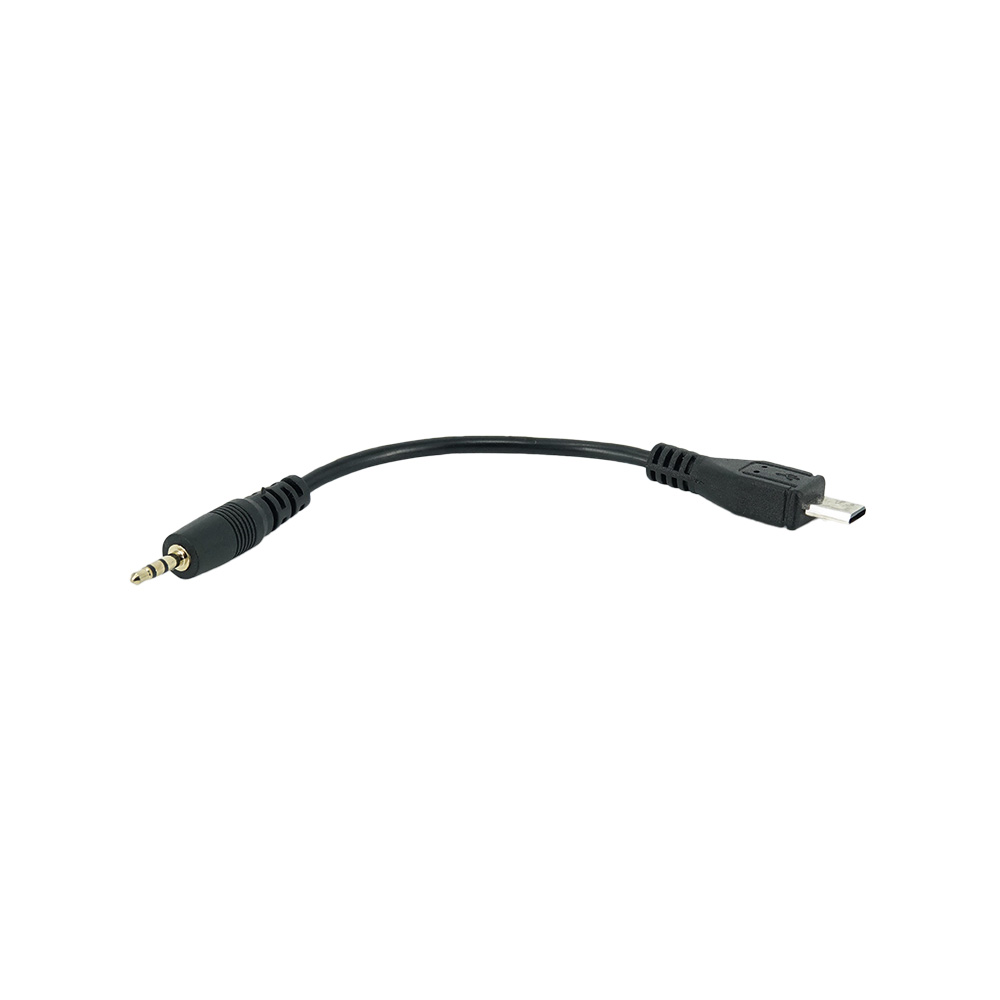 2.5MM CAMERA SHUTTER CABLES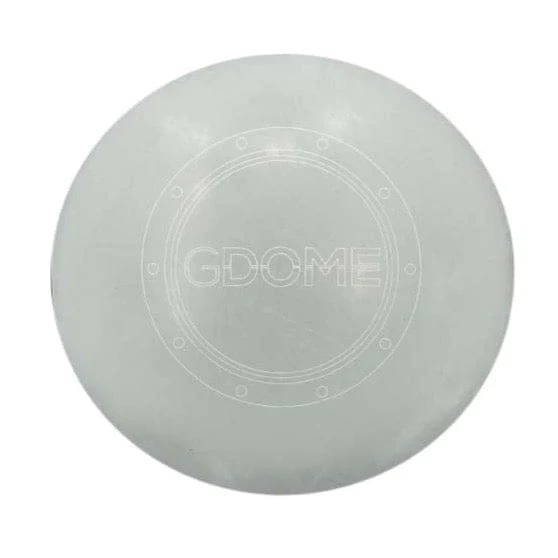 (CLEAR) SNAP ON DOME LENS COVER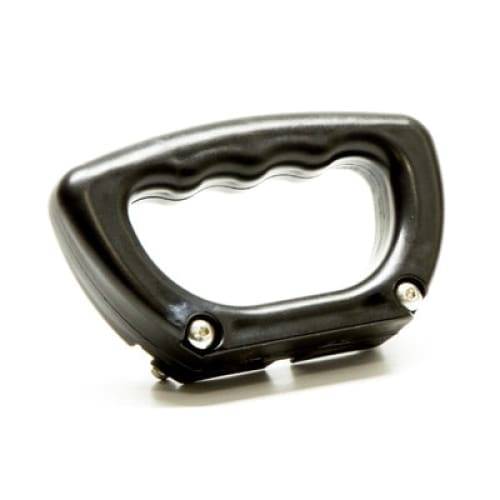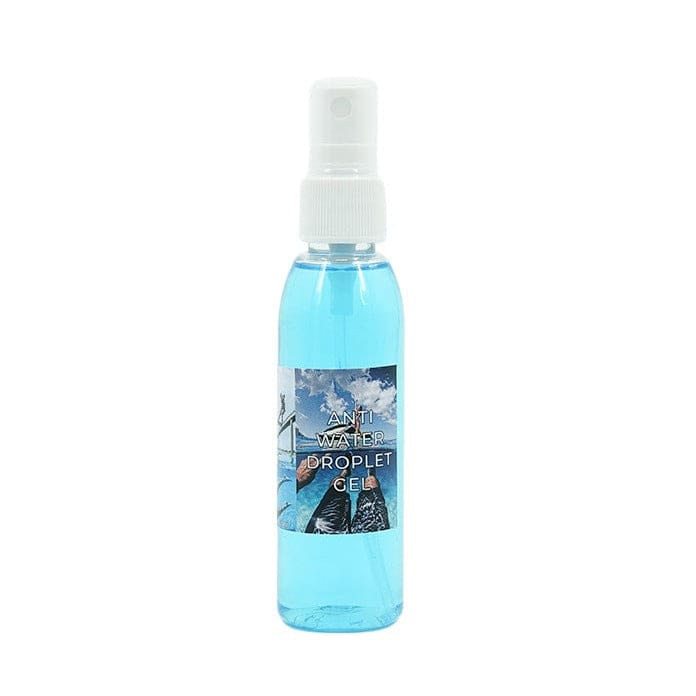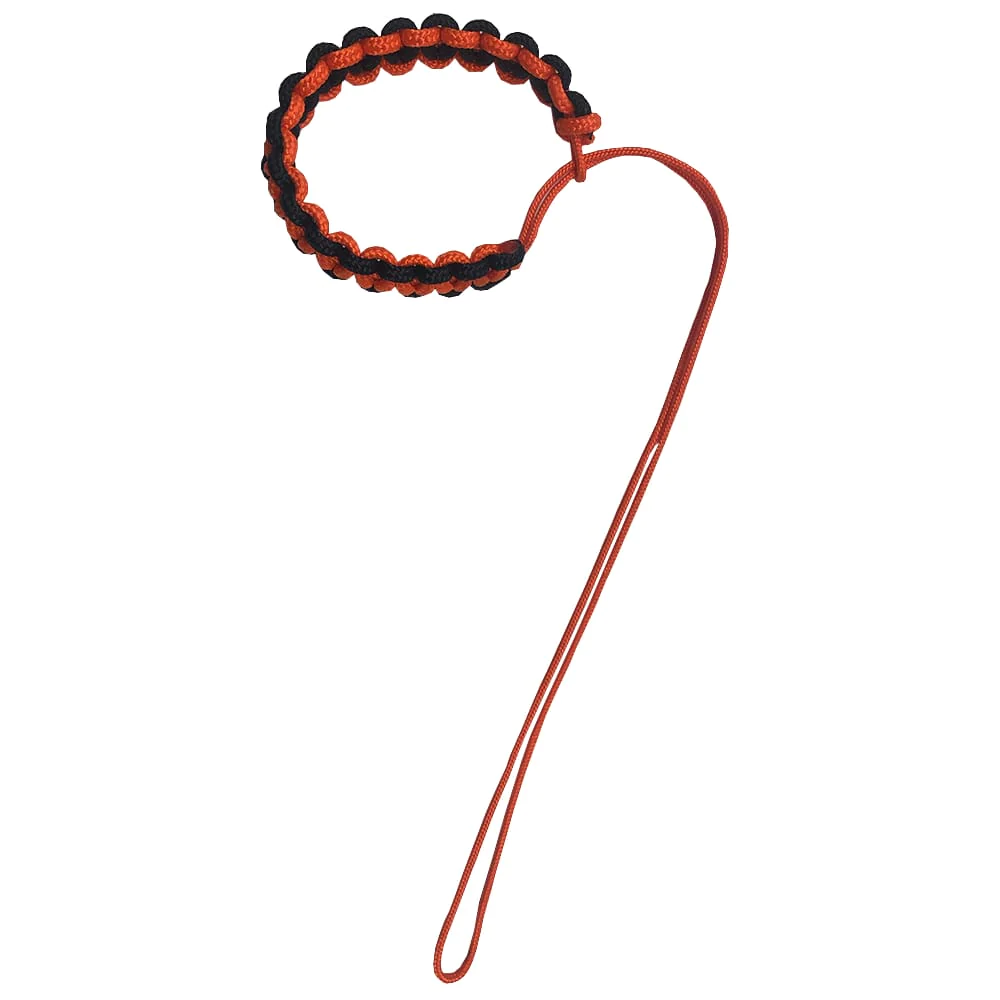 BASEPLATE STABALISER SYSTEM
WHAT EXACTLY IS INCLUDED WITH YOUR XL SURF V2?
✅ Camera housing with removable pistol grip and 2 stage shutter trigger
✅ Dome port with dome lens element
✅ Flat port with flat lens element
✅ Wireless shutter hub
✅ Solid BackDoor
✅ Flexible BackDoor
✅ 2 x flexible membranes
✅ GoPro mount and safety tether
✅ Ambidextrous side grip
✅ Anti-water droplet gel
✅ Wrist tether strap
✅ Removable baseplate with stabaliser wings
✅ Dome lens cover
✅ Anti-movement backplate
✅ 2.5mm camera shutter cables (we will contact you to confirm your camera and cable prior to shipping)
✅ Finger thumbscrews for rear backplate
✅ Finger thumbscrew loosening tool
✅ BackPlate stabaliser and thumbscrews
✅ All the required seals and screws
✅ Seal lubrication gel
✅ 3m Tape
✅ Thank you card
✅ Scannable QR code for instructions
SOME OF OUR USERS SHOOTING WITH THE GDOME XL: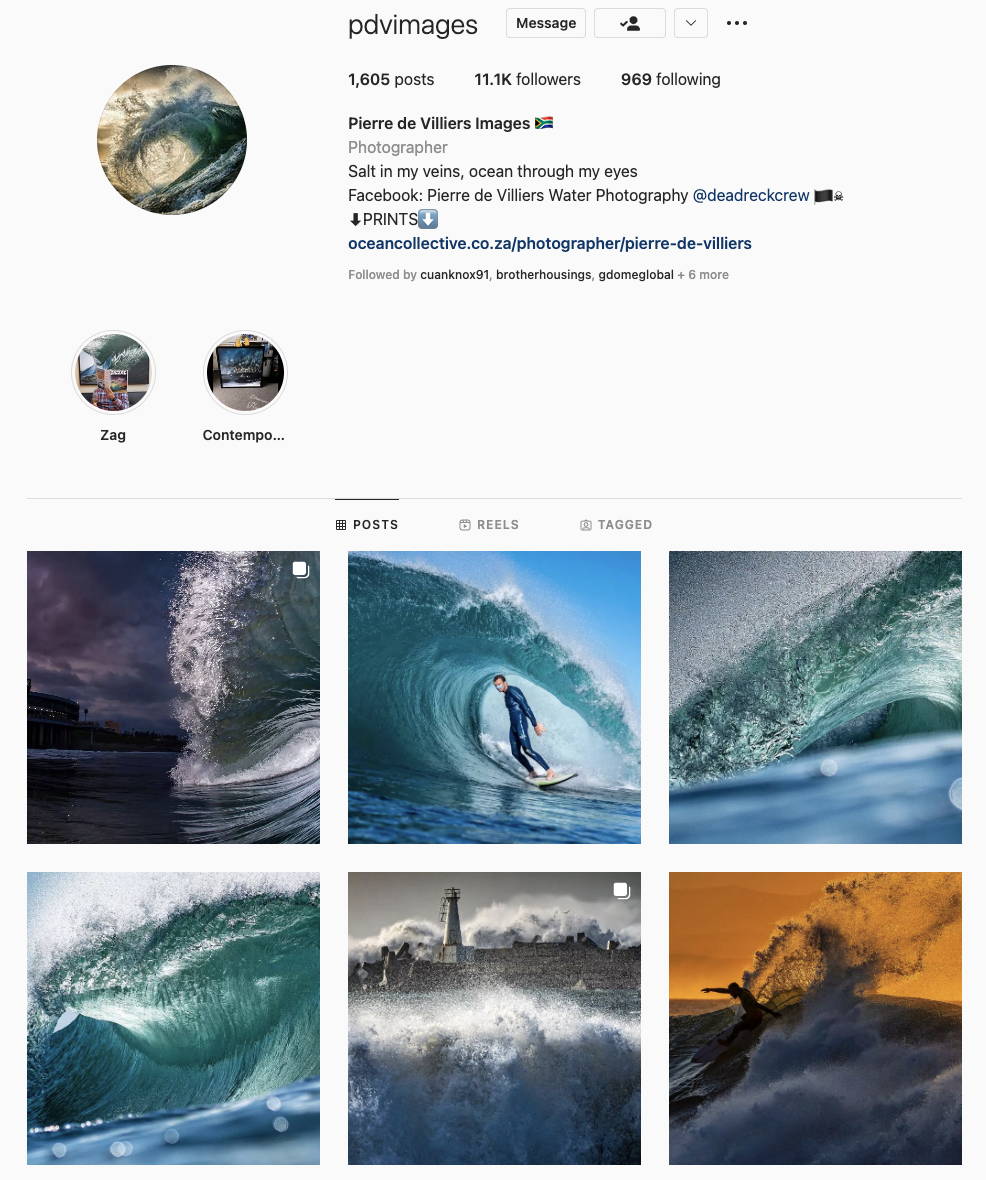 Check out these accessories for your GDome XL
Use longer lenses with the 80mm lens extension port.
Stackable - you can mount multiple 80mm extensions on each other.
Reduces reflection by acting as a lens hood.
Drastically improves split shots without having to use wide-angle lenses by pushing the water further away from the camera lens.
Get Split-Shots with the inclded flat port.
---
---
This high-quality wrist/arm leash lanyard is designed to keep your valuable underwater housing within reach and prevent it from getting lost or damaged in the water.

Crafted from a coiled, slim, and lightweight cord, this safety leash is incredibly durable and can withstand even the toughest surf conditions.

The coiled design also means that it won't get in your shot, tangled or snagged, giving you the freedom to move and capture your content with ease.

Features a super comfortable neoprene cuff that is designed to prevent blistering and chafing.

The cuff is secured with a strong double Velcro locking strap that provides a snug and secure fit, ensuring that your leash stays in place no matter what.
---
---