The GDome XL is the perfect housing for any photographer looking for a universal water housing for their DSLR | Mirrorless camera without breaking the bank and yet getting a comprehensive water housing kit that can be used for a number of different camera brands and lenses.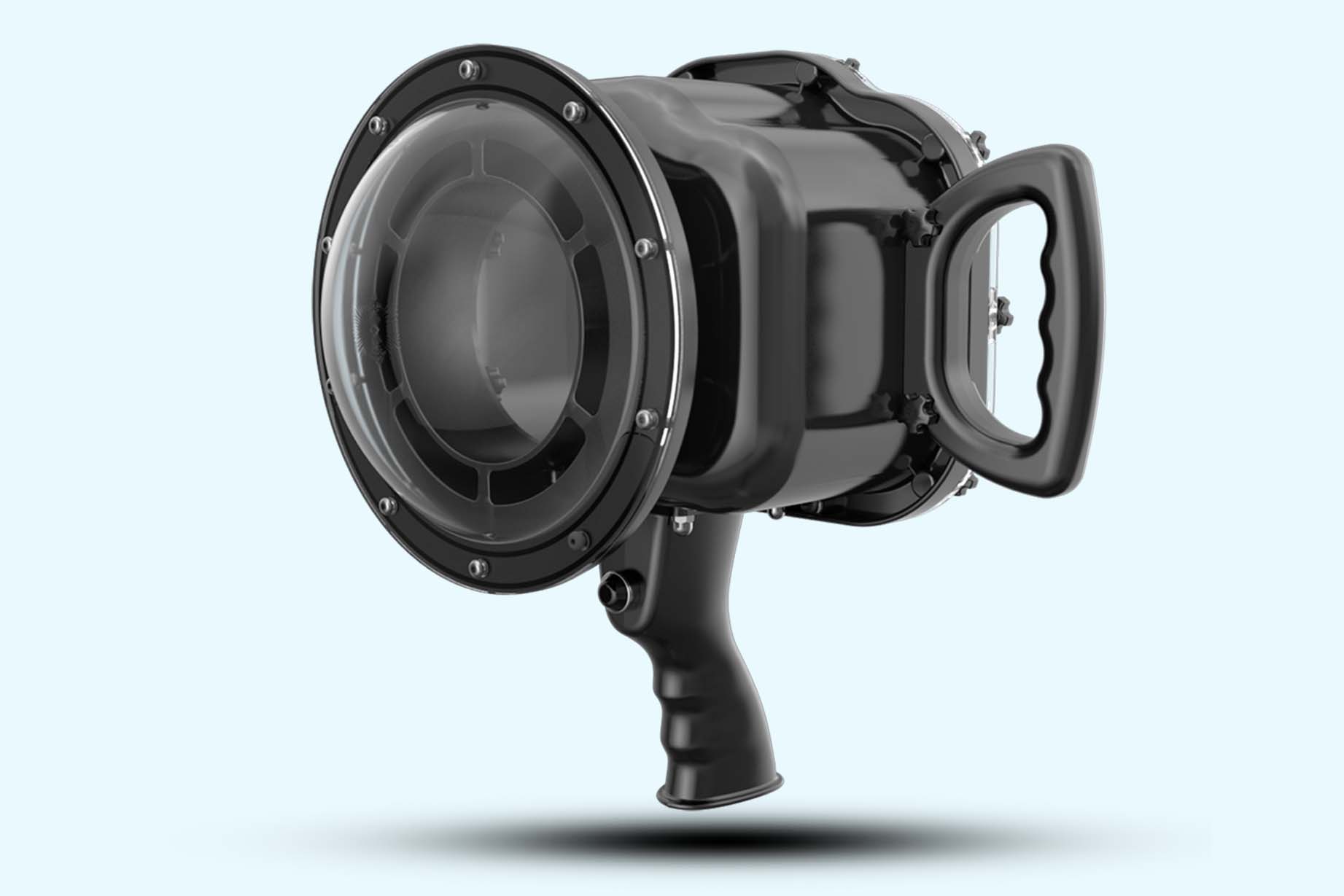 Class Leading Dome Ports and Waterproof Cases
for GoPro, DSLR, Mirrorless, iPhone®, Samsung and other Smartphones.

YOUR EXPERTS IN WATER HOUSINGS AND DOME PORTS
---
Our love of dome ports began back in 2015, and since then we've expanded our line of dome ports to work with, GoPro, DJI, iPhone, Samsung, DSLR, Mirrorless Cameras and more. The worlds best videographers and content creators rely on our gear day in day out in order to capture amazing shots. From a professional who wants add a new dimension to their content, to a mother looking to capture fun photos in the pool, you'll find knowledgeable staff members ready to assist with your next GDome Water Housing purchase. We also carry various camera accessories from kite lines and board mounts to dive trays, triggers, water droplet gel and cases so that you can pick up everything you need to get shooting right away. We also think you'll enjoy offers of free shipping, free international warranties and one of the largest selection of dome ports in the world.
---
We've been considered as the market leader in dome port technology for action cameras over the past 7 years. With the introduction of the GDome Mobile in 2019 and now the GDome Mobile PRO Edition and the GDome XL underwater housing for DSLR and Mirrorless cameras, anyone with a iPhone, gopro, DSLR or mirrorless camera can now capture incredible dome port content. If you still have questions, give us a call and talk to our dome port specialists for personal recommendations.

Traditional DSLR dome ports can cost in excess of $2000 with limited camera functionality. Our dome housings are made from ultra tough and durable glass filled nylon for maximum strength at depth and in the shore break. The PDS dome lenses are optically correct, precision moulded, machined and individuality inspected to ensure every dome port comes out with industry leading optics. Not only do our domes housings work with popular action cameras like the GoPro Hero 9 Hero 10 Black and DJI Action, the GDome Mobile is compatible with almost all smartphones, including the iPhone 11, iPhone 12 and even iphone 13 Pro, Huawei Mate 40 Pro and Samsung Note 20 to name a few. You can see why we love dome ports and why our dome ports become more popular each year.
BENEFITS OF A DOME PORT WATER HOUSING

---
Split shots are unbelievably easy to get with a dome port.
There is a gap created by the dry dome port, which allows the camera to capture shots that are over and under the water at the same time. Without a dome this is normally impossible as the water will be millimetres from the lens, meaning the shot will either be completely over or completely under the water.

Content (images and video) become cleaner and sharper.
The gap between the camera lens and dry dome port keeps water particles further away from the camera's lens. This results in less pincushion distortion, blurring of detail and color fringing.

Field of view is drastically improved
All flat ports suffer from strong refraction when light passes through the flat water/air interface at an angle. The greater this angle (i.e. the wider the lens sees) the worse the problems become. The main optical problems of a flat port in water are a FOV reduction by about 33%.

Improves shots above the water
Water spray or droplets that would have covered most of the lens (ruining the shot or video) are now just small dots in the field of view.
GDOME WATER HOUSING VIDEOS

Game changer. Forget about the average shot above the waterline. With the Gdome it takes it to the next level. More cost effective than most decent underwater camera housings👌🏼

I enjoy radio controlled submarines. Using GDome helped add a creative dimension to the hobby. This is a 1/72 scale Gato class submarine and was taken at the Big Bend of the Colorado.
GDome ships all products from Cape Town, South Africa and processes orders at 12pm and 4pm each day M–F. Free shipping is available on all orders over $79. VAT & Duties are not included for International orders.
The purchase of a GDome product comes with a 12-month warranty policy covering against any defects and manufacturer failures. If you are having issues please do not hesitate to contact support or begin live chat with a representative.
We're available via Live Chat and Email every day of the week for your support, and we take great care in listening to customer feedback. Welcome to the GDome community!