THE WORLD'S FIRST UNIVERSAL DOME HOUSING FOR SMART PHONES & ACTION CAMERAS
USING PATENTED TECHNOLOGY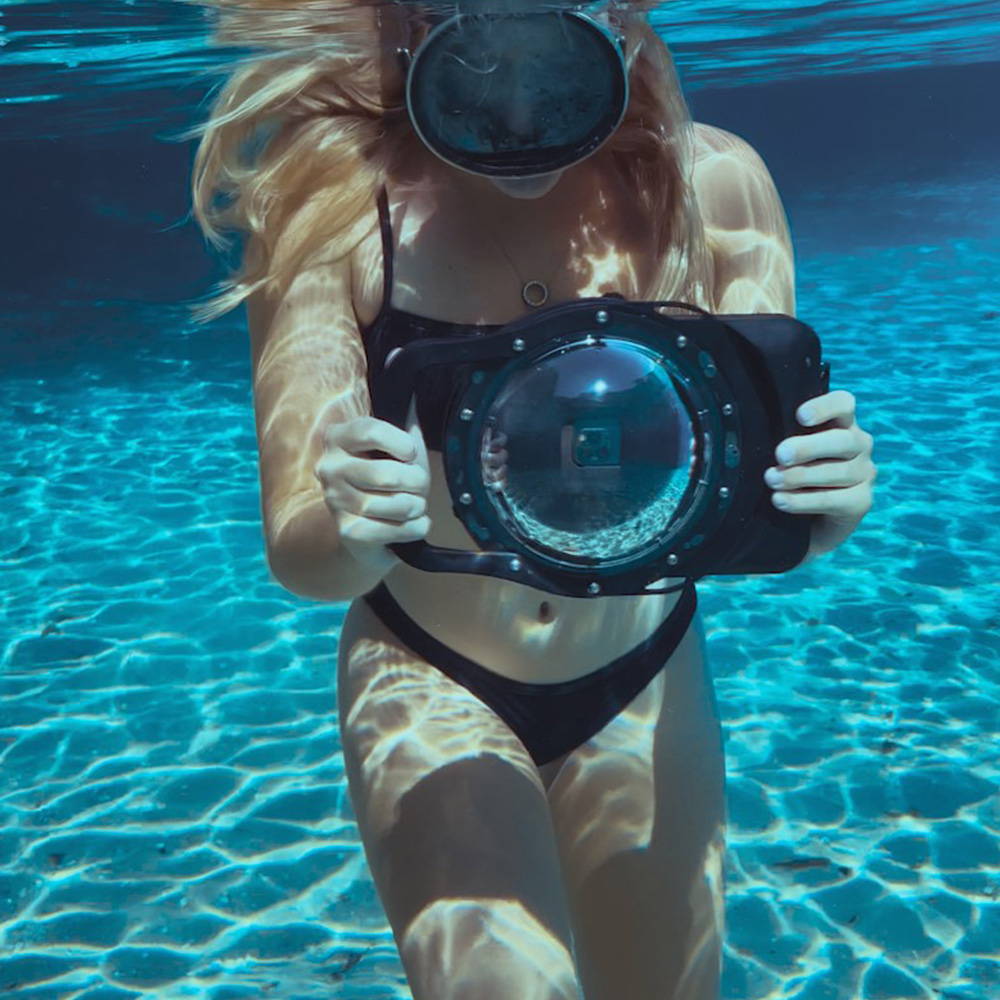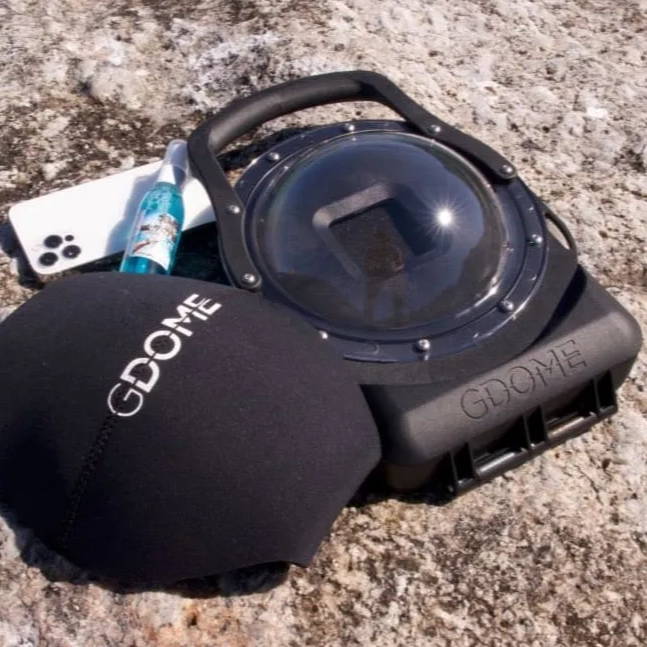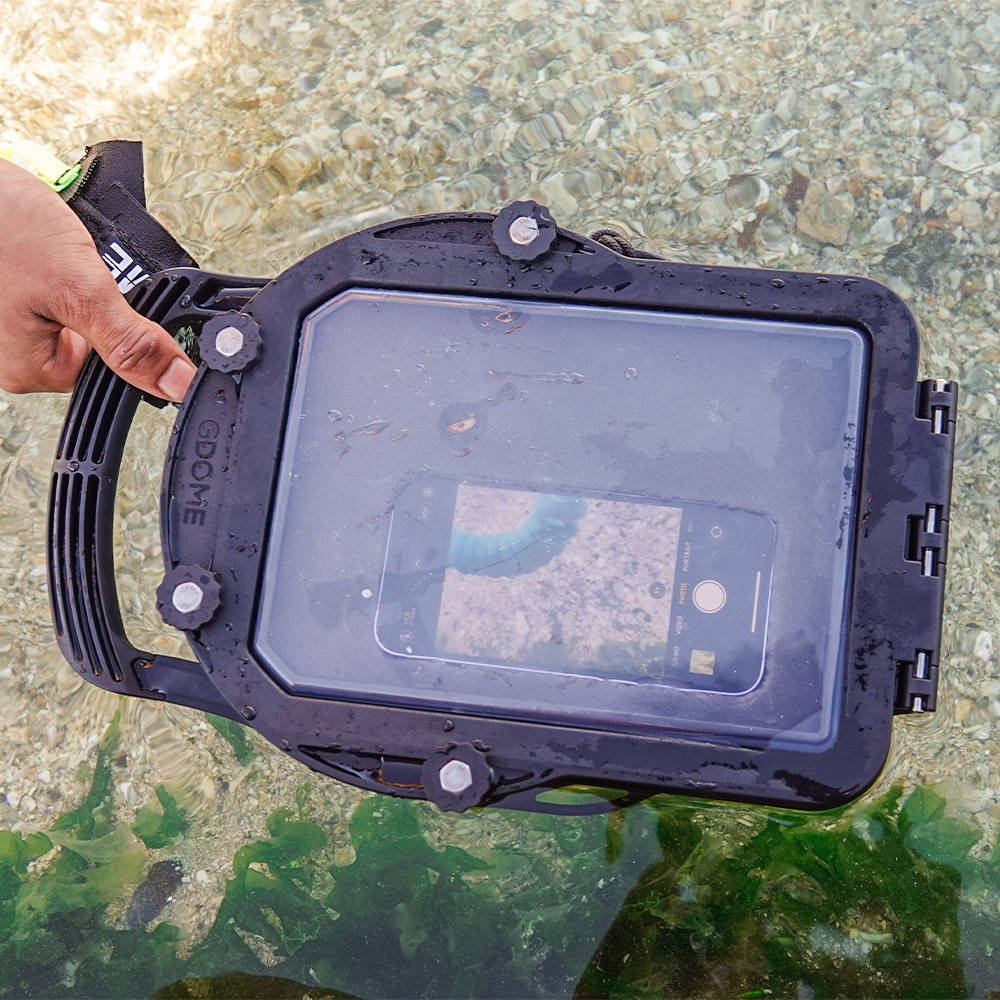 Why invest hundreds of dollars in a phone housing that is only compatible with a specific phone model or brand?
We have made one housing to work seamlessly with multiple devices, we do not limit you to specific devices and force you to upgrade housings when you change devices.
Phones and action cameras change all the time, your housing shouldn't have to!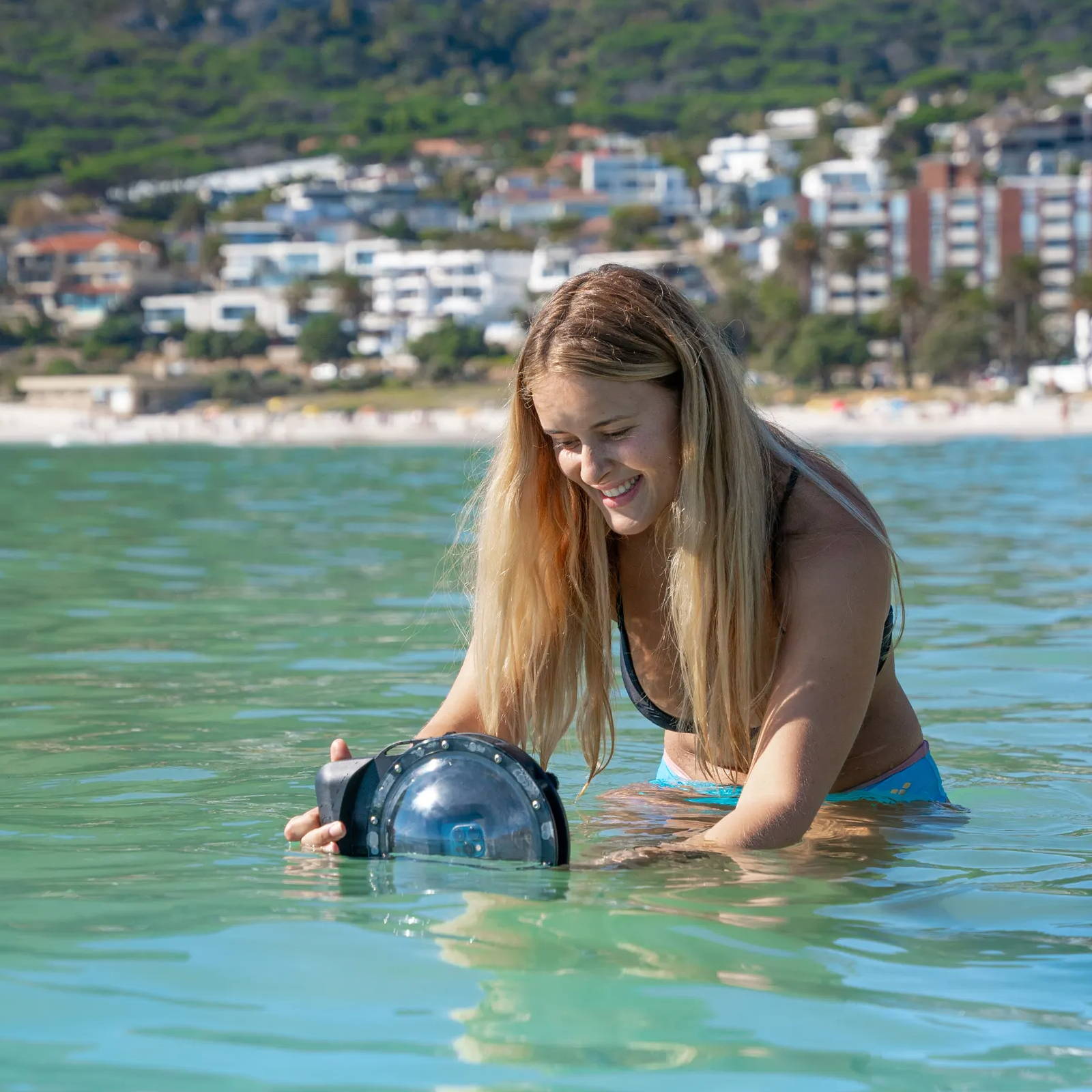 CAPTURE SPLITSHOTS LIKE A PRO
There is a gap created by the Mobile Pro dome port lens, which pushes the water further away from the camera lens, allowing your device to capture shots that are over and under the water at the same time.
Without a dome this is normally impossible as the water will be millimetres from the lens, meaning the shot will either be completely over or completely under the water.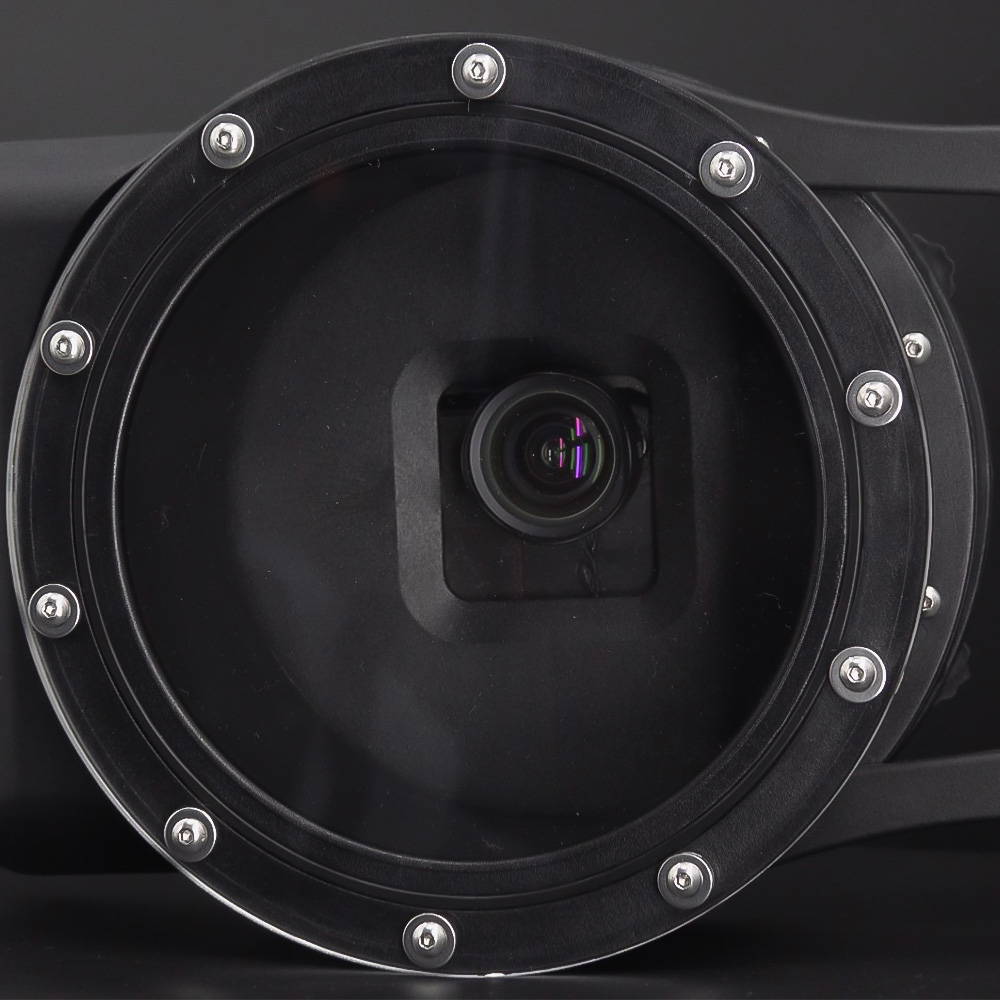 WORKS WITH 3RD PARTY LENSES
With our open lens design, the sky is the limit!
Use wide-angle lenses, ND filters, CPL filters and more.
Filters allow you to capture wider apertures for greater depth or adjust shutter speeds for time-based effects.
Capture twice the image with wide-angle lenses while the image remains crisp & straight with no fisheye distortion.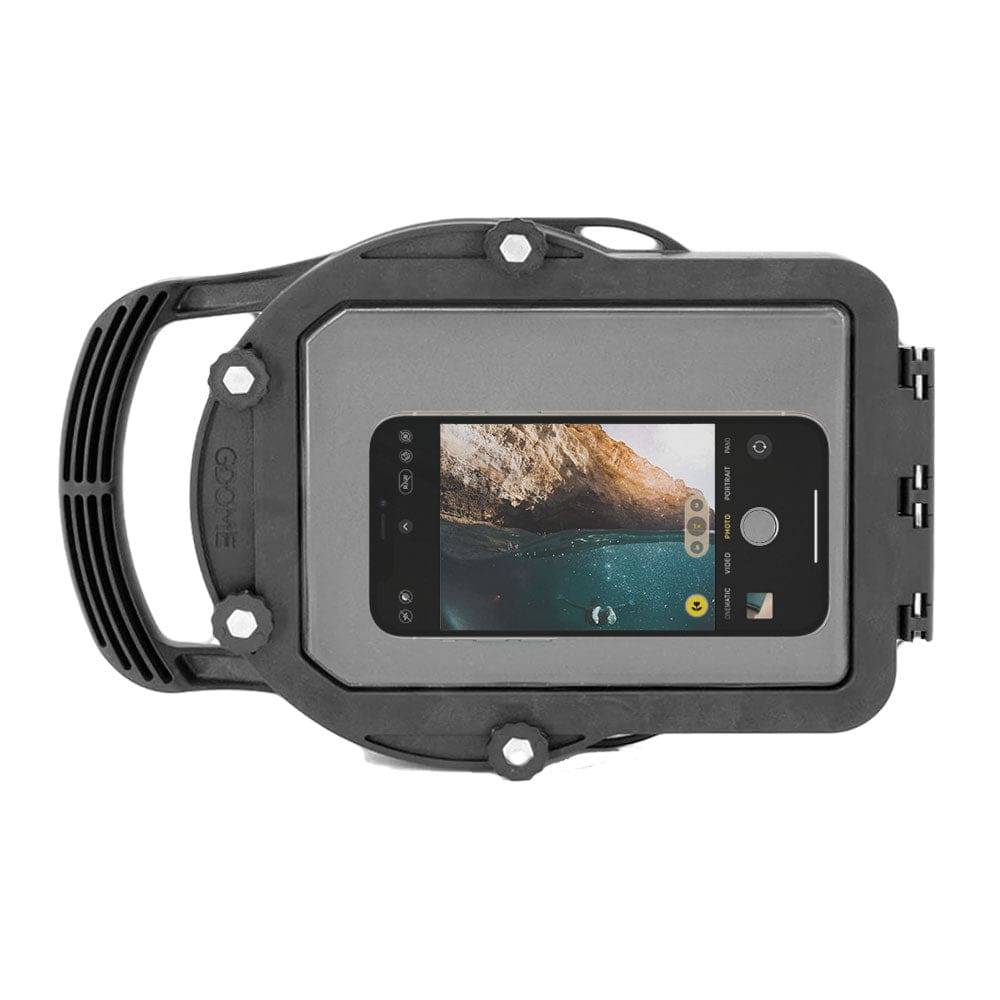 We have designed our housing to work with basically every smart phone on the market!
If it fits, it will work in the Mobile Pro!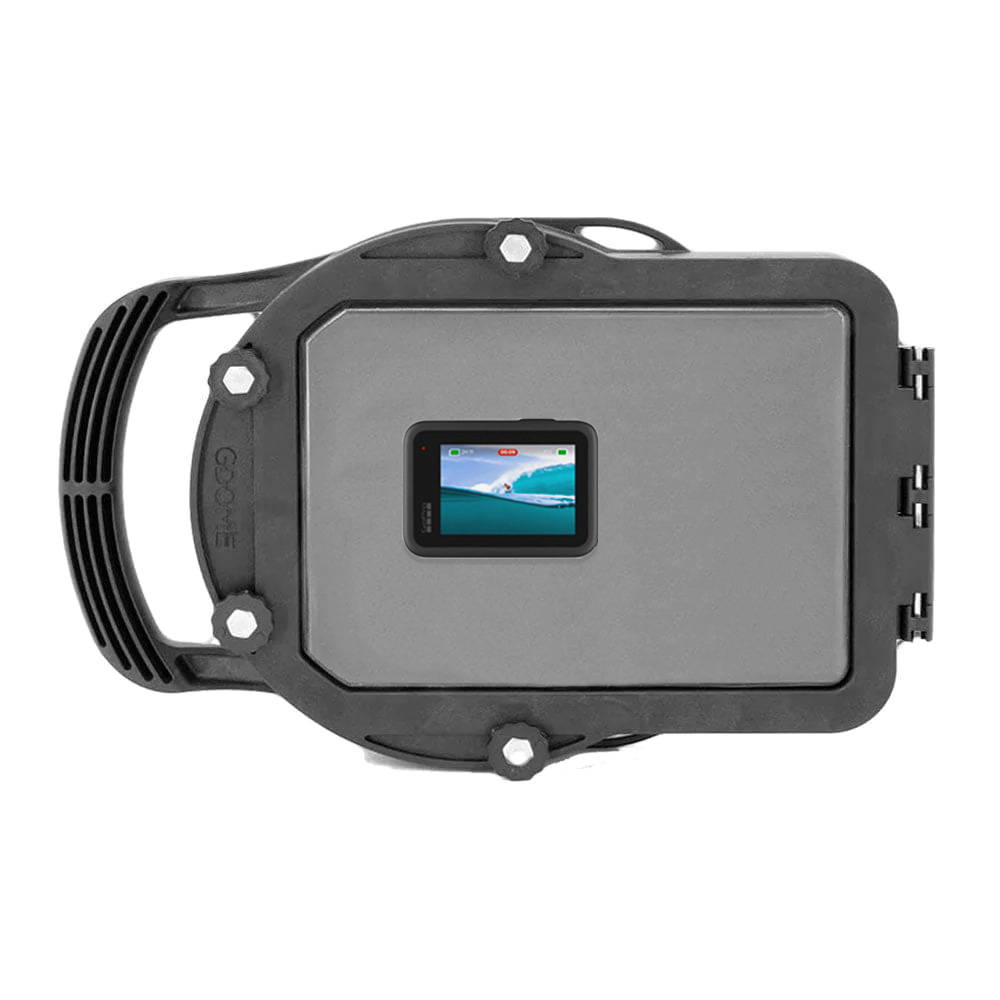 WORKS WITH ACTION CAMERAS
The GDome Mobile Pro works with GoPro, Insta 360, DJI and many other action cameras.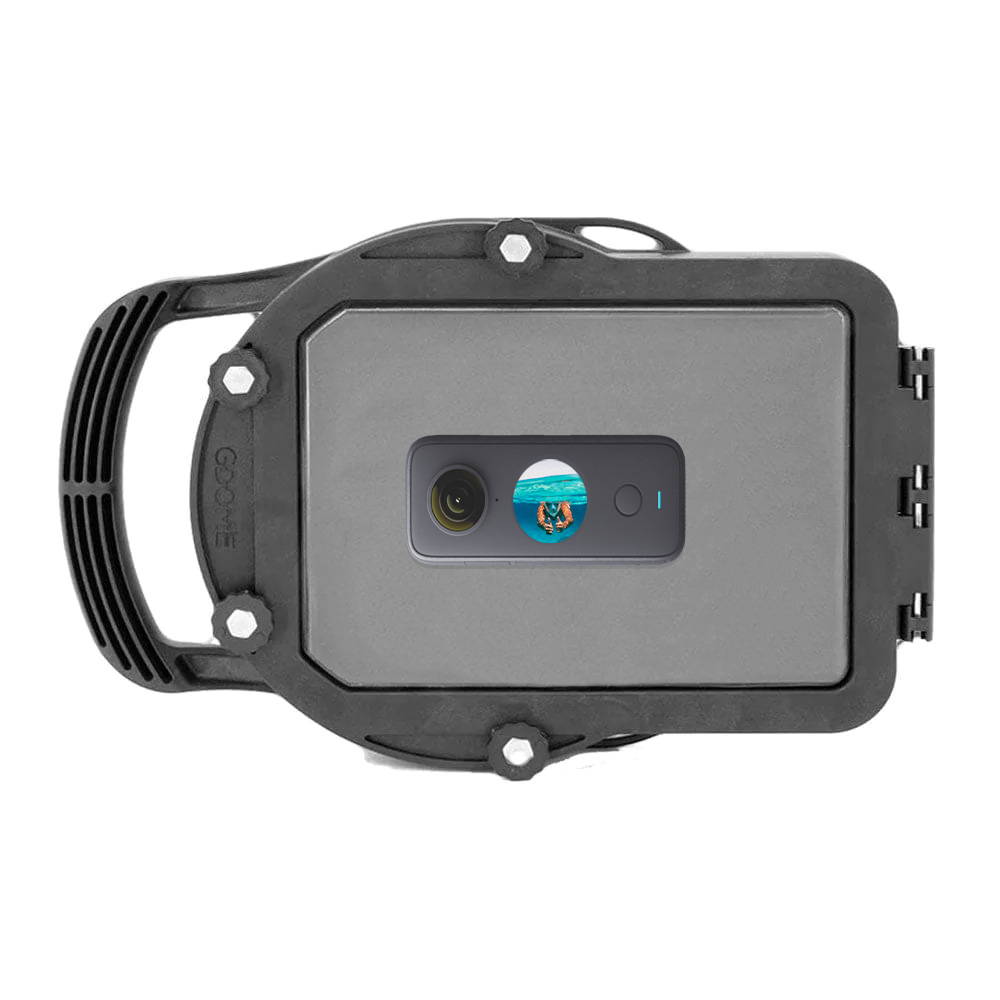 Looking to get a split shot with your 360 camera?
The GDome Mobile Pro works with 360 camera in single lens "HERO mode"
An absolute "no brainer" for content creators
We took our extremely popular GDome Mobile and completely REDESIGNED it from the ground up in order to improve functionality, compatibility, ease of use and a whole load more! This is the best of the best. The GDome Mobile Pro water housing is another level of AWESOME... Our ultimate universal housing, ready to shoot out of the box.
Meet the dome water housing that you won't want to leave at home all summer, whether it's to the beach, lake or swimming pool, the GDOME MOBILE PRO Pro Edition is the dome that will get you the shot. We took everything great about the GDOME Mobile and made it just that much better. With its 6.1 inch dome and flat port/extension port options, the possibilities are endless.
The GDome Mobile Pro Edition works amazingly well with action cameras and most Smartphones including iPhone, Samsung and other leading brands.
NEW FEATURES OF THE V2 INCLUDE:
• Quicker to install with a NEW side seal system and 2 fewer thumbscrews for sealing up the unit perfectly every time without the use of tools or force.
• Drastically improved touch functionality with full responsive touch on capacitive touch screens (as found in the iPhone 12/13/14).
• Improved screen clarity - making it easier to frame your shots in bright sunlight.
• Increased internal phone storage capacity (will now fit phones up to 7.3 inches* without making the footprint of the housing any bigger).
• NEW ultra-sleek handle compatible with dive gloves.
CONSTRUCTION
The GDome Mobile Pro is injection moulded with some of the strongest engineering materials on the planet.
Our dome lenses are from high-impact polycarbonate.
All of our bolts are 316 stainless steel to protect against saltwater corrosion.
SAFETY
Our rear screen and seals are custom moulded specifically for us, from silicone.
Silicone has close to zero memory, excellent resistance to weathering, and UV exposure and lasts approximately four times longer than rubber.
We do not use glued seals in the GDome Mobile Pro.

 

Clips are convenient and efficient, however, the bolts we use are failproof in rough conditions and cannot be accidentally opened when in the water.
WEIGHT
With side grip, foam insert, dome port and accessories = approx. 800g
 
KEY PRODUCT FEATURES



• Works with hundreds of different smartphones

• Optimised touch functionality for capacitive touch screens




• Compatible with action cameras including all GoPro Cameras

• Comes standard with a dome port

• Protects your device from corrosion

• Comes standard with a spare foam insert to cut out for a secondary device

• Compatible with our 80mm extension lens


• Capture portrait shots, wide angle shots and more

• Capture 3D images




• Drastically improved rear touch functionality compatible with capacitive touch screens




• Works with 3rd party external filters and lenses




• Compatible with multiple lenses camera phones




• Go LIVE on social media




• Individually pressure tested




• Floats




• Depth Rated to 5m / 15 feet
WHAT EXACTLY IS INCLUDED WITH YOUR MOBILE PRO?
Items Included:
- Camera housing with flexible membrane

- Dome lens element

- 2 x Foam Inserts (1 pre-installed inside the GDome)

- Side grip

- Allen key

- All the required seals and screws

- Finger thumbscrews for rear backplate

- Thank you card

- Scannable QR code for instructions
ORDER NOW AND GET $80 WORTH OF FREE ACCESSORIES  
FREQUENTLY ASKED QUESTIONS
WILL MY PHONE FIT IN THE GDOME MOBILE PRO
The Mobile Pro Edition will fit with ALL iPhone Models to date, including the iPhone Pro, Max and Plus variants.
iPhone | iPhone 3G | iPhone 3GS | iPhone 4 | iPhone 4s | iPhone 5 | iPhone 5s | iPhone 5C | iPhone 6 | iPhone 6 Plus | iPhone 6S | iPhone 6s Plus | iPhone SE | iPhone 7 | iPhone 7 Plus | iPhone 8 | iPhone 8 Plus | iPhone X | iPhone XR | iPhone XS | iPhone XS | iPhone XS Max | iPhone 11 | iPhone 11 Pro | iPhone 11 Pro Max | iPhone SE (2nd generation) | iPhone 12 mini | iPhone 12 | iPhone 12 | iPhone 12 Pro | iPhone 12 Pro Max | iPhone 13 mini | iPhone 13 | iPhone 13 Pro | iPhone 13 Pro Max | iPhone 14 | iPhone 14 Plus | iPhone 14 Plus | iPhone 14 Pro | iPhone 14 Pro Max.
The GDome Mobile Pro is also compatible with 99.99% of all Samsung and Huawei phones and many many more phones and brands! If your phone fits this footprint, it will be compatible: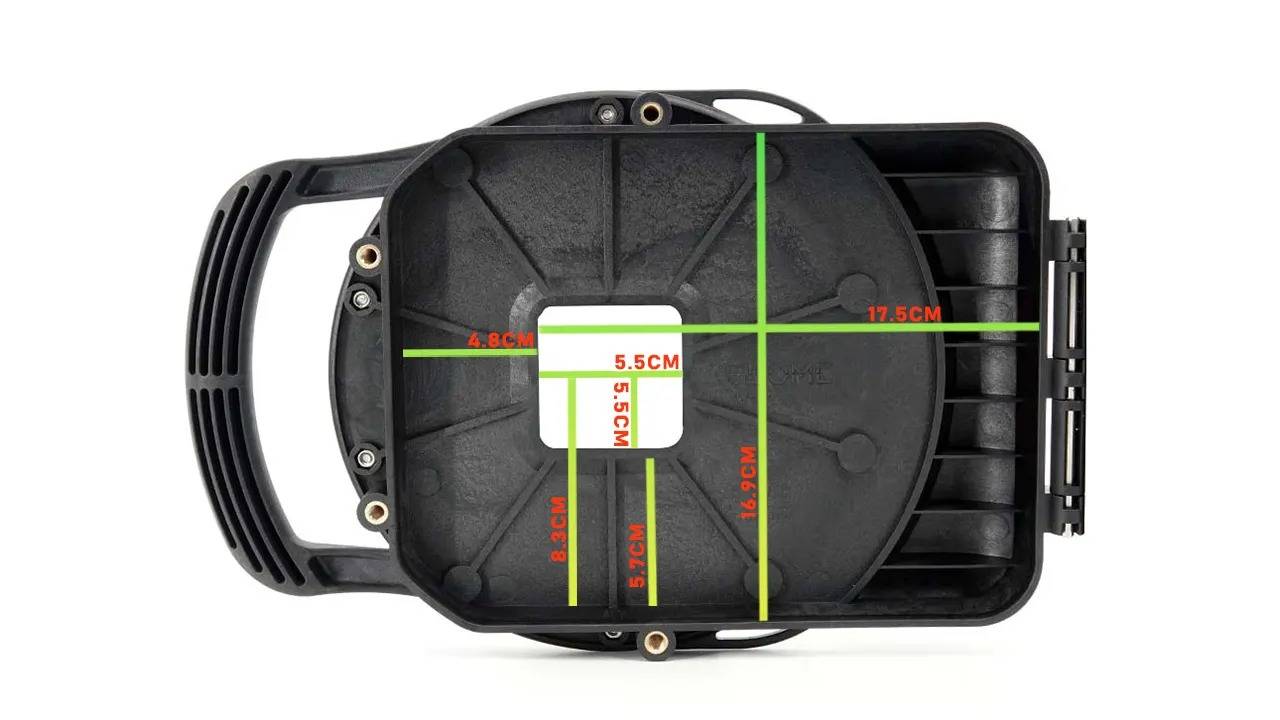 Some essential shooting modes for the GDome Mobile Pro Edition are Slow-Mo, Burst Mode and Portrait Mode.
It is all about playing around with your GDome Mobile Pro Edition, learning what works, what doesn't for the shots and video you are trying to achieve.
HOW TO PREVENT REFLECTION
There are several shooting tips you should keep in mind to help you get that perfect eye-catching split shot! A dome port is a highly reflective surface and you need to keep a few things in mind in order to capture the perfect content without any reflection.

The biggest tip that any professional will tell you, is to avoid shooting directly into the sun. We love capturing light rays, but any dome housing is prone to reflections, if you have a reflective lens or surface (such as the back of your phone - especially if it is white. You will need to make a simple matte tape mod to help you get the shot).

The GDome has a matte finish on the front face to prevent reflections, but occasionally I'll see the reflection of the camera lens(s) in the centre of your shots with certain angles and light conditions. Always try to shoot with the sun directly behind or above.

You can also make a custom matt sticker or use a water based matte paint that will prevent reflection from your cameras reflective surfaces (see below video).
With the GDome Mobile, some clients have drastically offset their camera lens away from the centre point of the dome, this can actually reduce reflection when shooting in non ideal light conditions.
HOW DEEP CAN I GO WITH THE MOBILE PRO
The GDome Mobile PRO Edition is rated to 5m/16ft housing with the flexible rear membrane.
We do individually pressure test each housing to 10m / 1 bar before shipping.
 
The GDome Mobile PRO Edition can handle any size surf you have the balls to swim into.
 
These are not dive housings and they should not be treated as such.
 
This housing is intended for surface use.
 
HOW LONG DOES SHIPPING TAKE?
We use DHL for all of our EXPRESS shipping, which averages 3 - 9 working days.
Free shipping is available to select countries, we cover up to the first $30 of this shipping*
Free shipping average 10-20 working days for delivery.
LEARN MORE ABOUT THE GDOME MOBILE PRO HERE:
THE BEST ADD-ONS FOR THE PRO
HERE IS WHAT OTHERS HAVE TO SAY