THE WORLD'S FIRST SEMI-RIGID UNIVERSAL HOUSING FOR DSLR AND MIRRORLESS CAMERAS
USING PATENTED TECHNOLOGY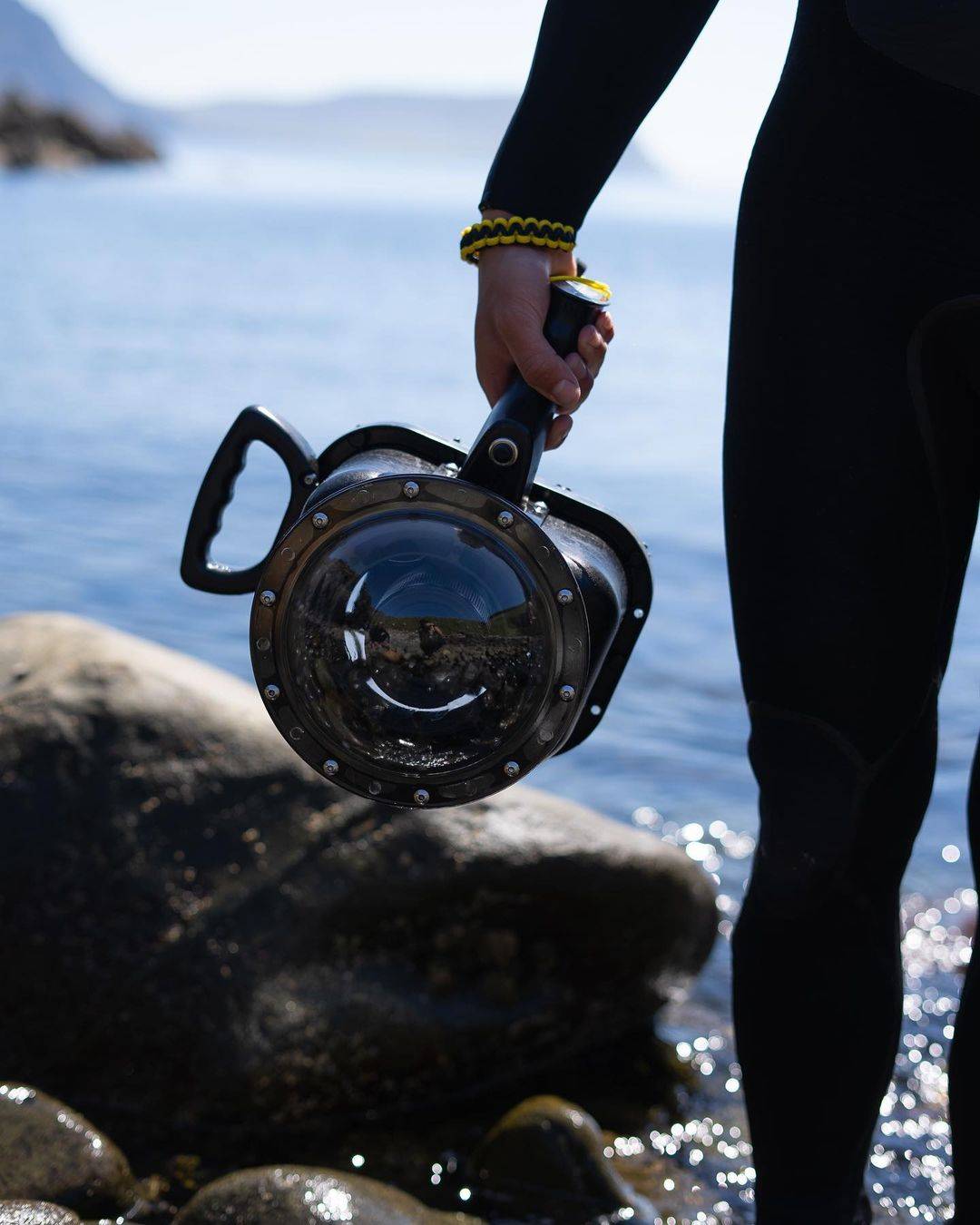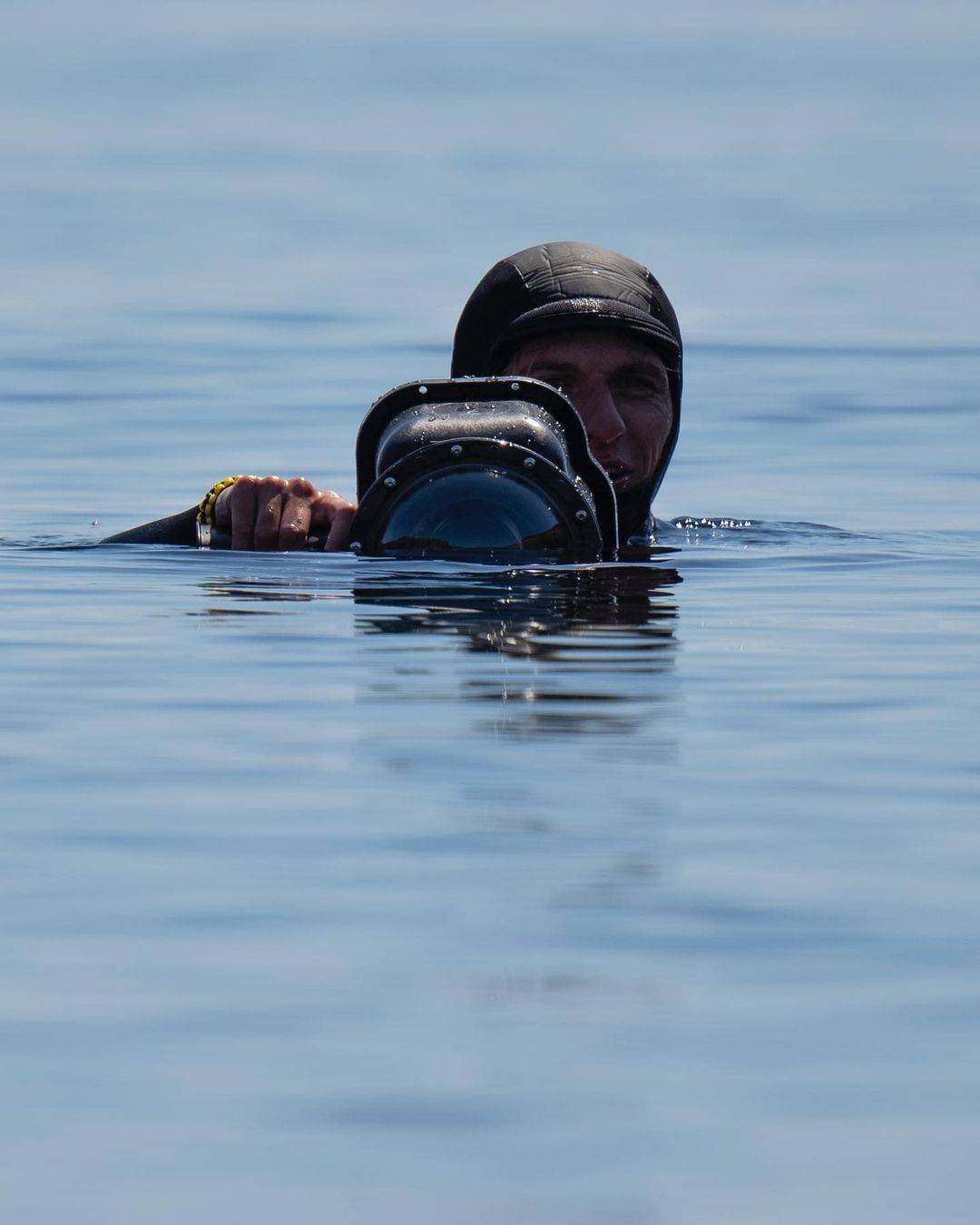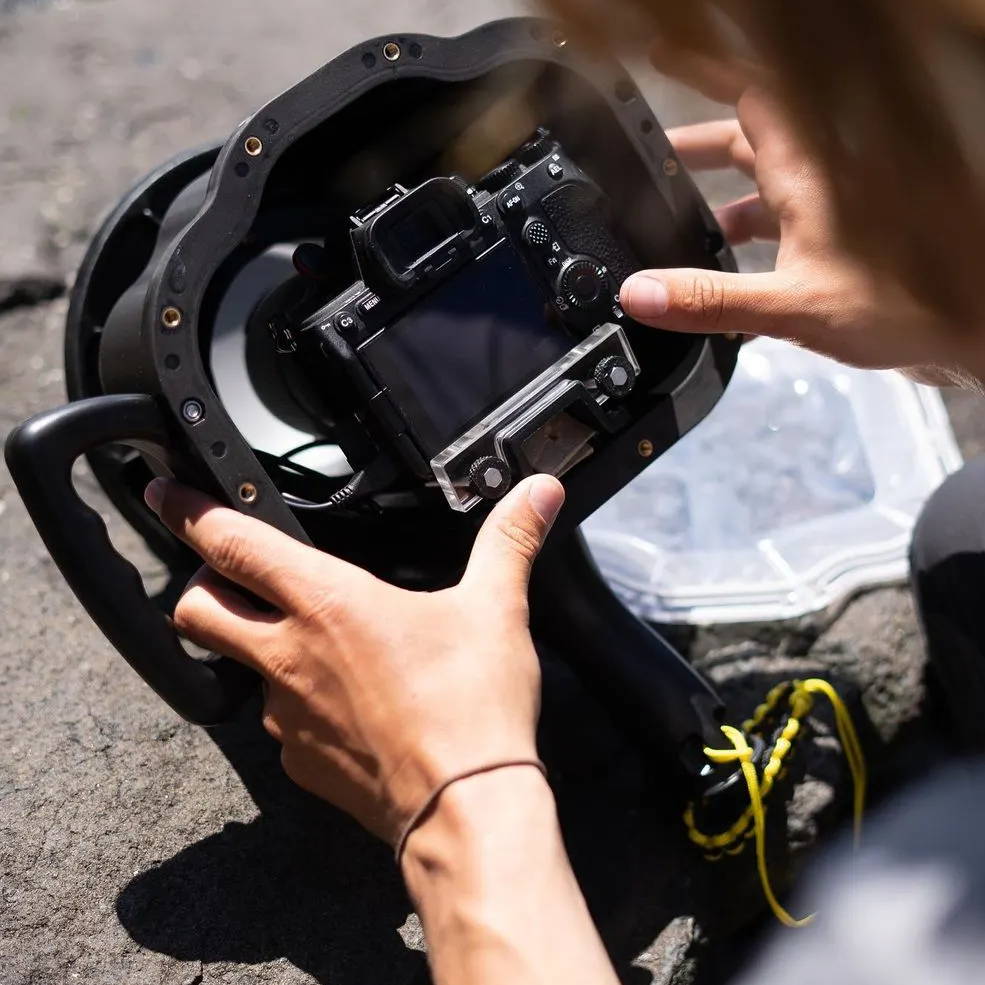 We have designed our housing to work with a number of different camera bodies and lenses.
As long as your camera has a wired shutter input and fits within the dimentions of our housing, it will work!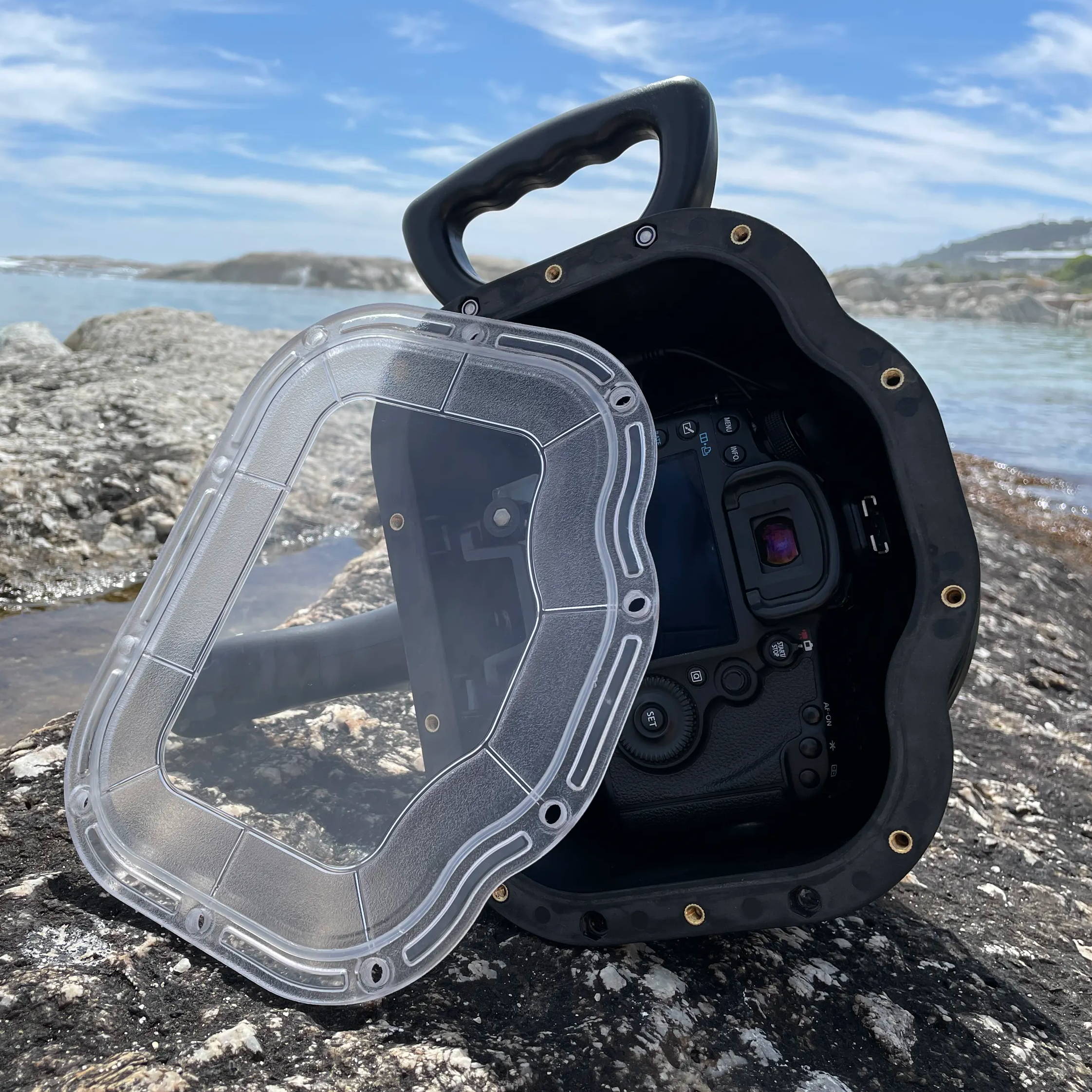 Looking to shoot in heavy conditions?
Our solid backdoor can take a beating with a metal hammer! So we know it will handle your local shorebreak!
Furthermore, we individually pressure test each housing with the solid backdoor to 18m.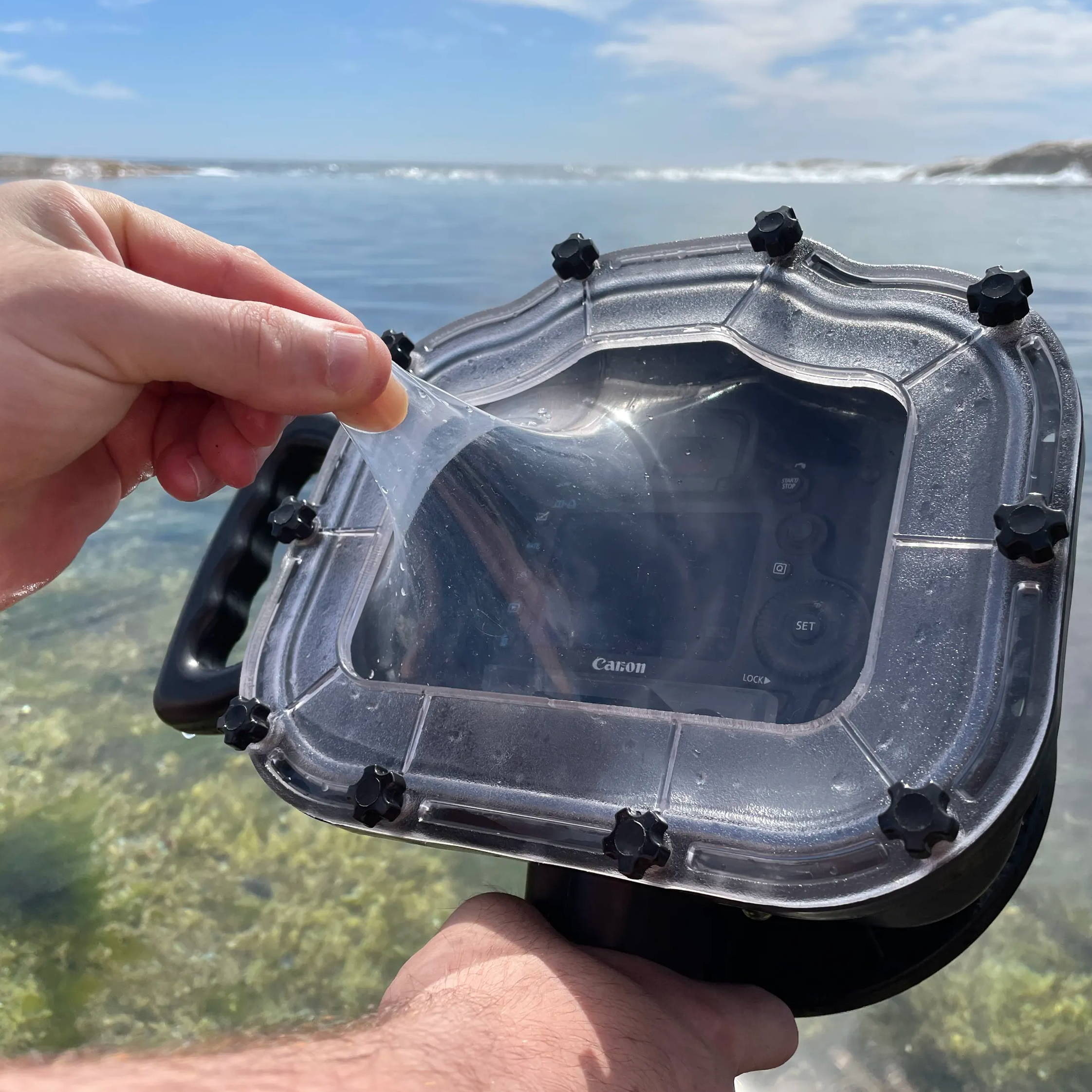 Need to adjust settings, preview shots or change the shooting mode?
No problem at all with full access to the back of your camera through our ultra flexible rear membrane.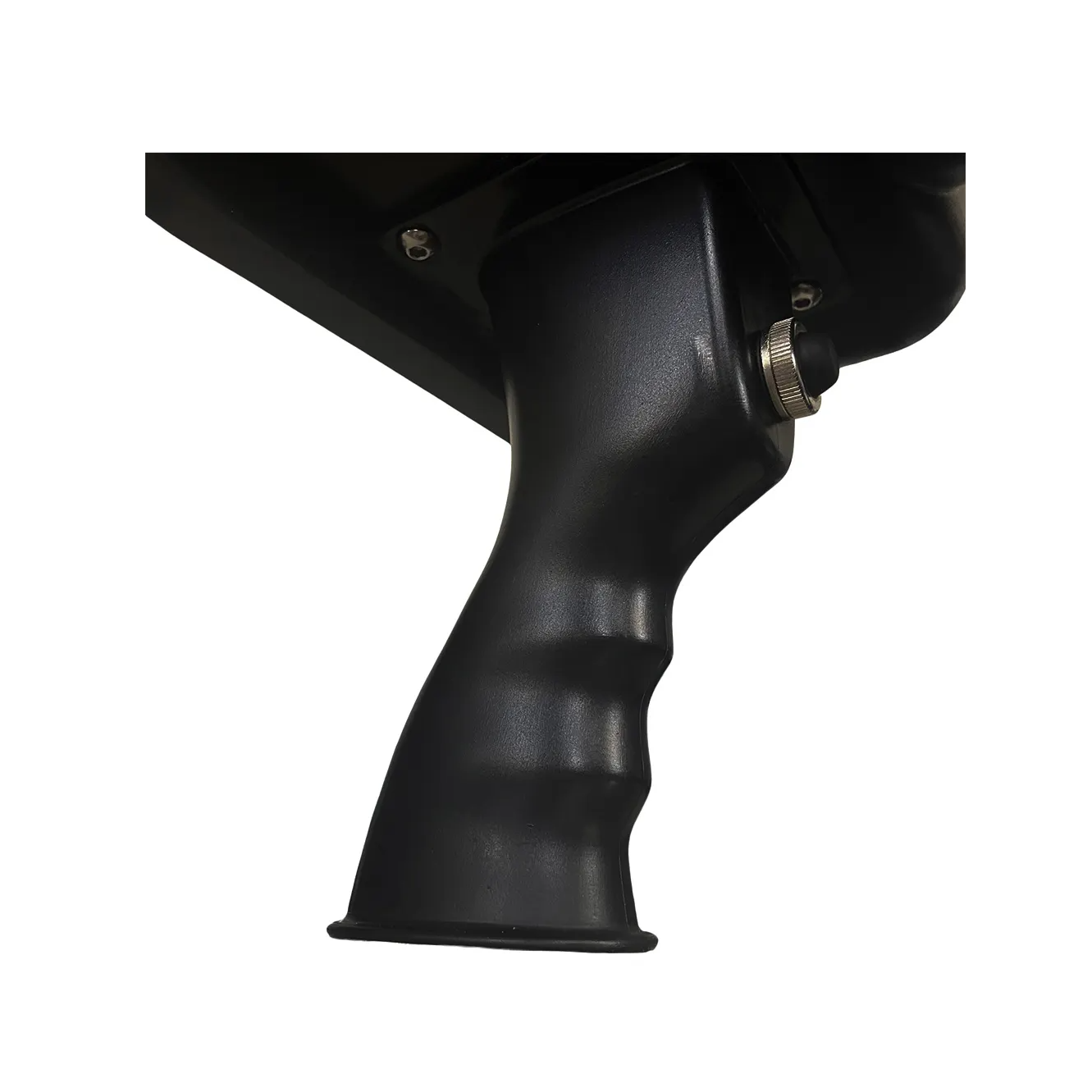 Our handle is fitted with a button that triggers the camera's shutter via a cable connected to the cameras 'remote' port.
A pistol grip allows you to hold (and trigger) the camera with only one hand, which makes it easier to swim with your housing especially in heavy surf conditions.
Comes with single stage pistol grip.
Featurring a 'one-press' button that focuses and fires the shutter with one press.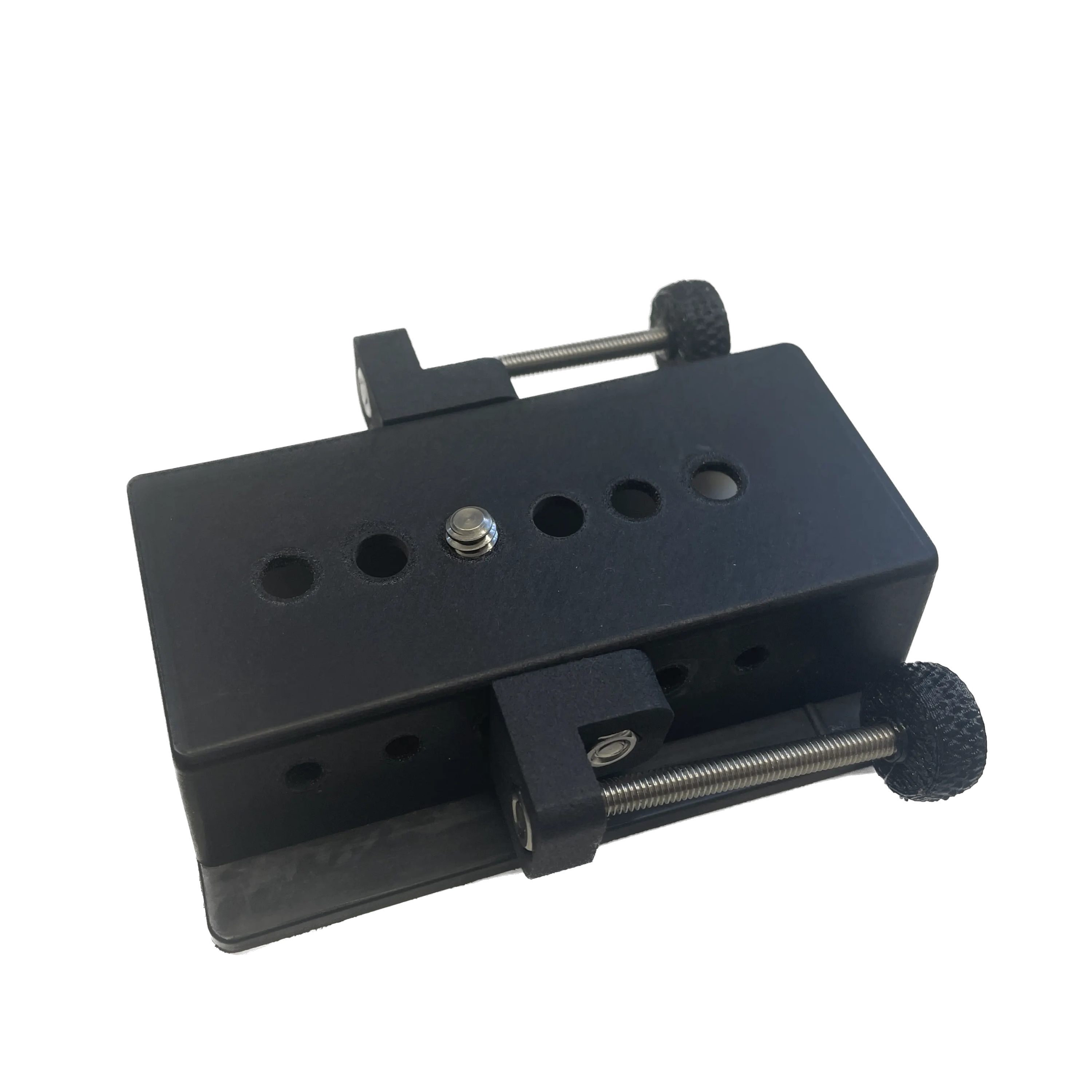 Our mounting plate has multiple holes that allow you to position the camera backwards and forwards.
As these are holes and not slots, the camera can not slide backwards or forwards in heavy surf conditions (like it would if it was a slot hole ddesign).
This allows the users to get the camera the adjust distance from the back of the dome or flat port.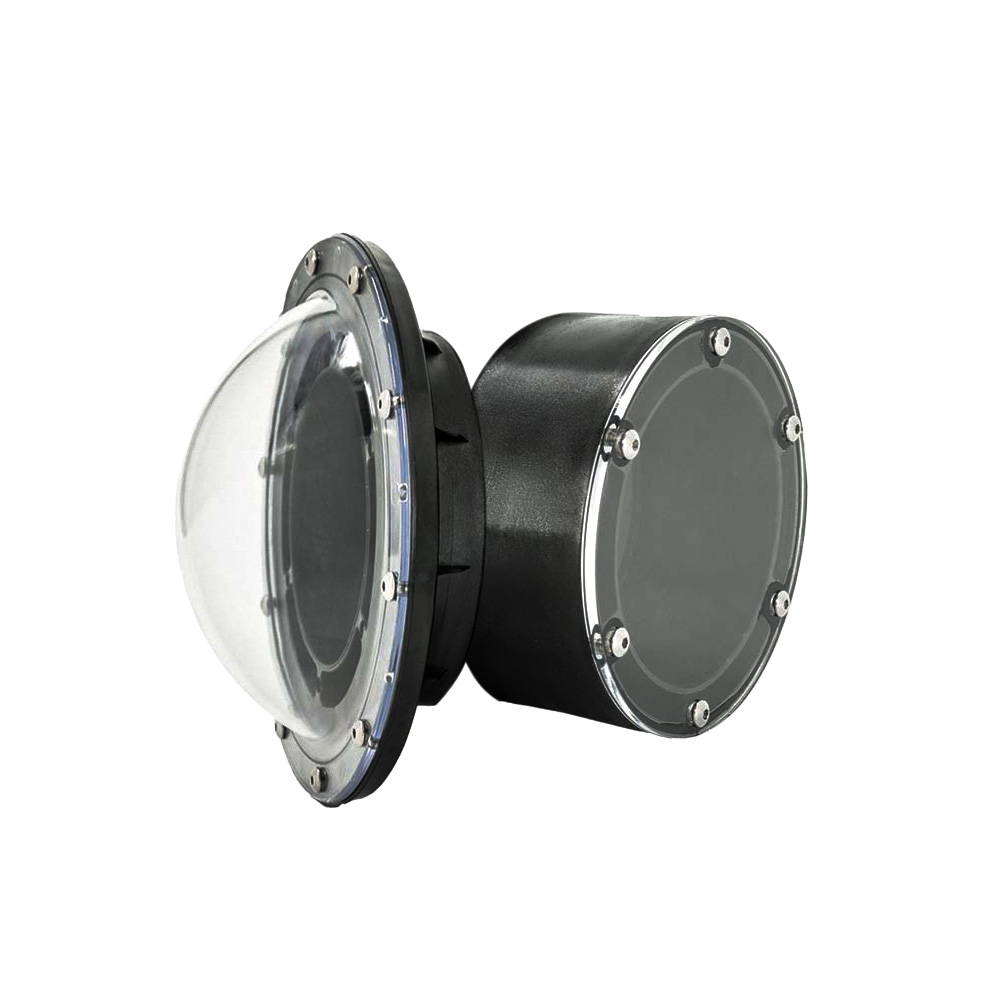 COME WITH DOME, FLAT LENS & PORTS
Looking to shoot the perfect split shot? Then you need our dome port.
Want a capable all rounder for the surf and underwater? Our 55mm port and flat lens are for you.
Unlike our competitors, we give you both ports and lens elements with your housing.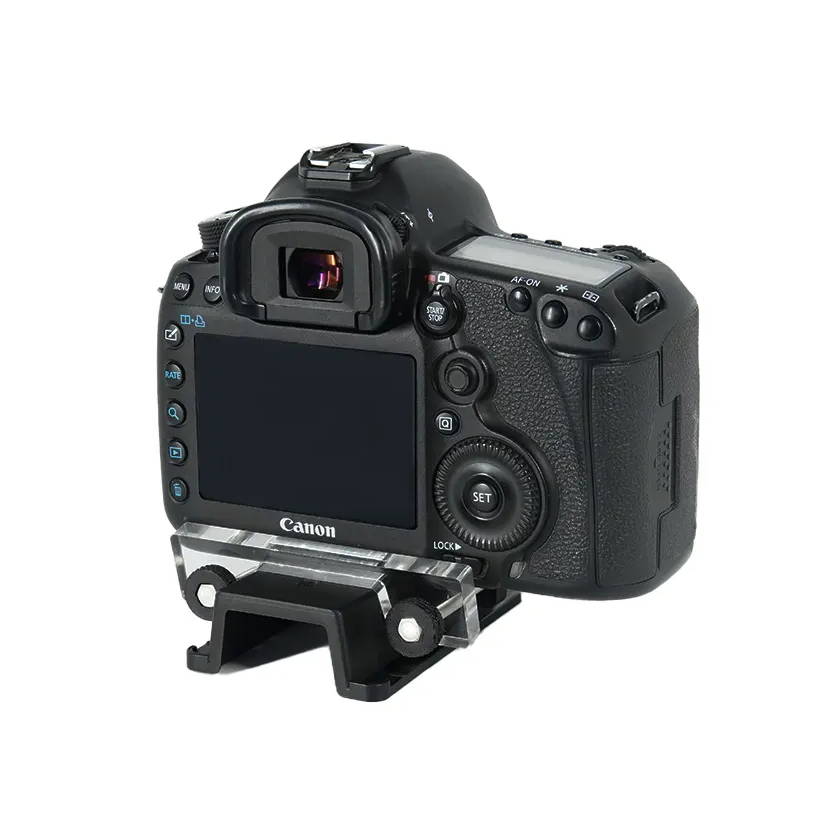 Ever taken a hit with a huge wave and your camera moves slightly off to the left or right?
Not with our rear anti-movement bar, it locks your camera in a horizontal plane. You don't have to over tighten the bottom baseplate screw or worry about your camera moving off plane while in the water.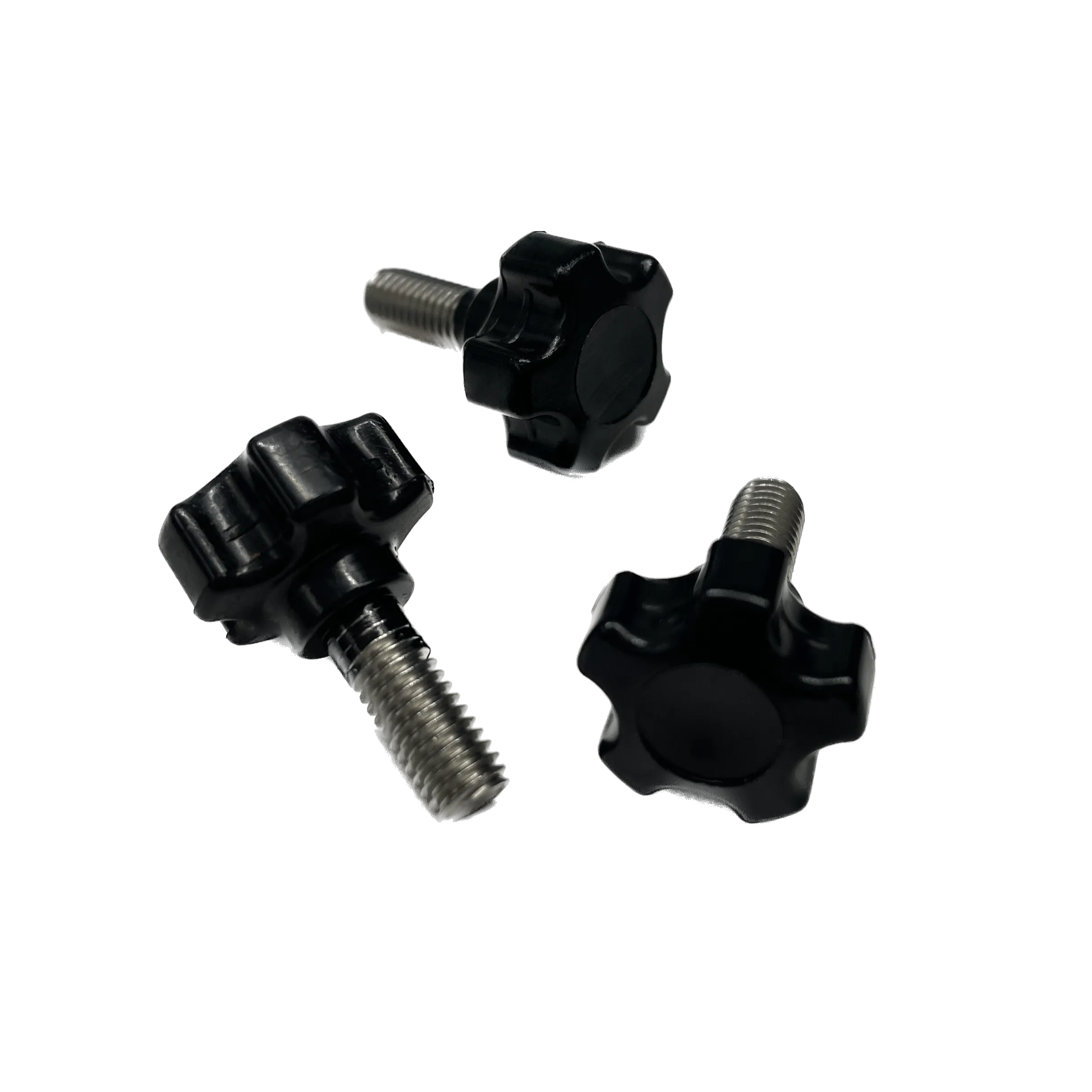 TOOL-FREE BACKPLATE THUMBSCREWS
Close and open you housing with our included tool-free thumbscrews for the XL's backplate.
We know how difficult it is to loosen thumbscrews with wet, cold hands, so we have included a lazer cut thumbscrew loostening tool for your convenience.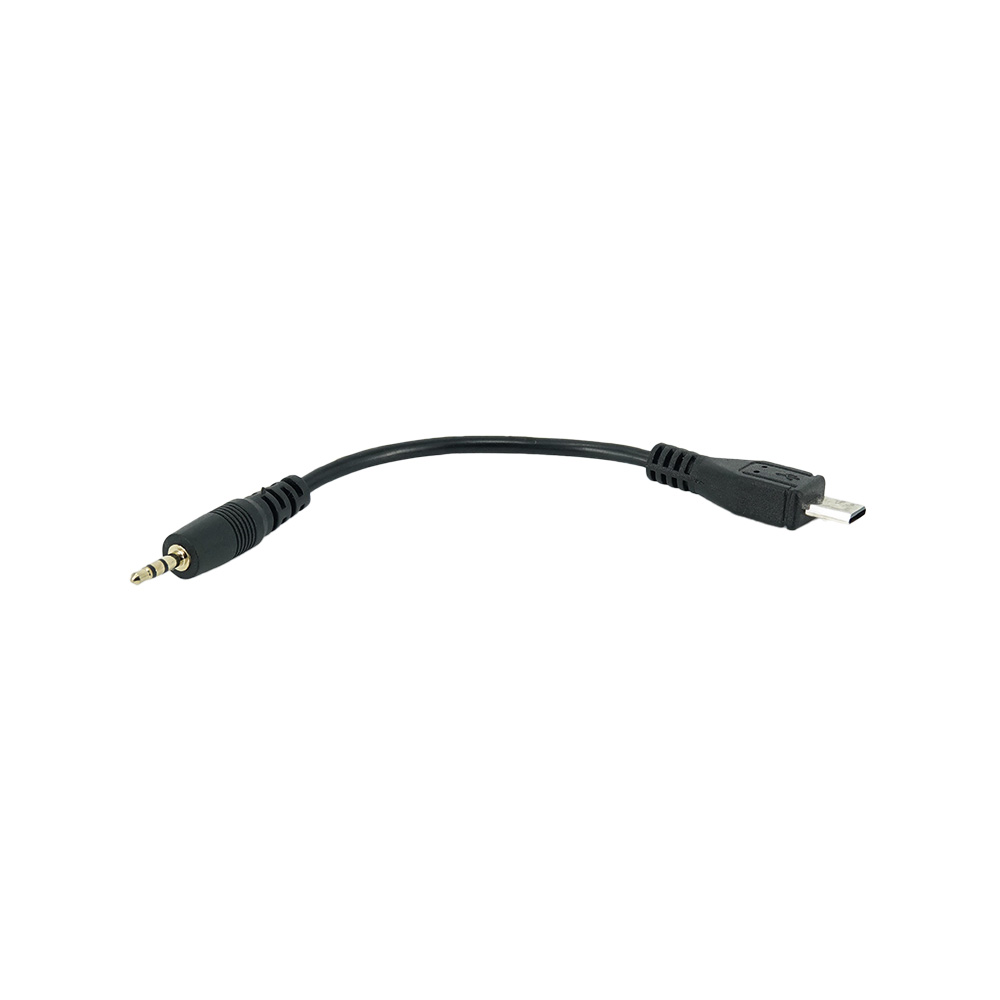 Firstly, we supply our housings with the cables that you need for your camera.
Ever want to change cameras? No need to import expensive proprietary cables, our trigger box take off-the-shelf 2 pin 2.5mm male jacks.
Our housings and ports are injection moulded with glassfilled nylon, which is one of the strongest engineering materials on the planet.

Our backplates are injection moulded from high impact policarbonate.

All of our bolts are 316 stainless steel to protect against salt water corrosion.
Our seals are custom moulded specifically for us from silicone. Silicone has close to zero memory, excellent resistance to weathering, UV exposure and lasts approximately four times longer than rubber.

We do not use glued seals in the GDome XL.

Clips are convienient and efficient, however, the bolts we use are failproof in rough conditions and cannot be accientally opened when in the water.
CAN YOU BELIEVE THAT THESE FREE ACCESSORIES ARE INCLUDED?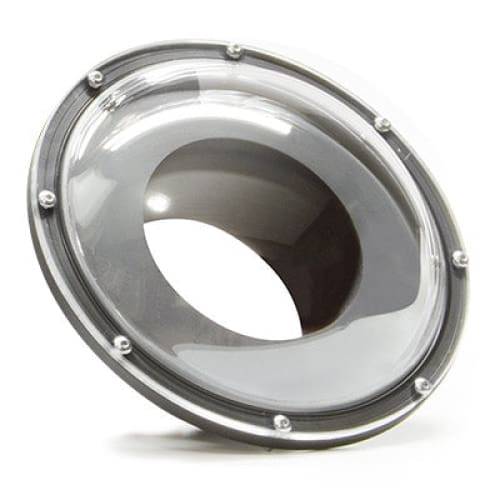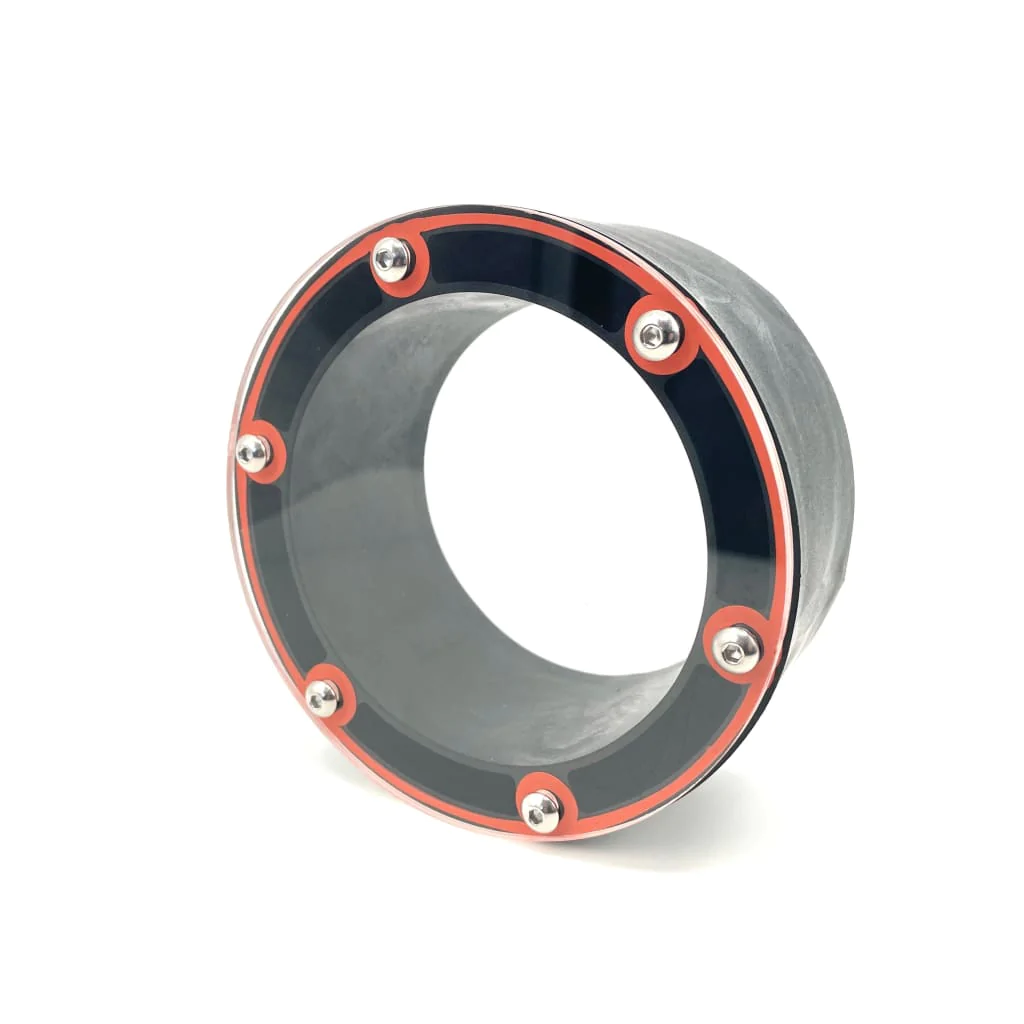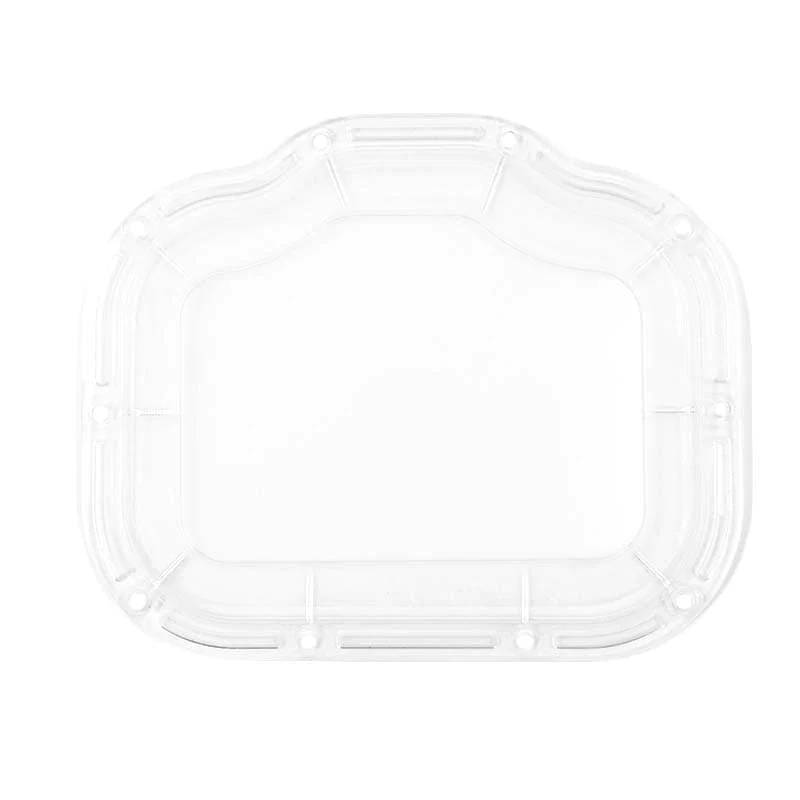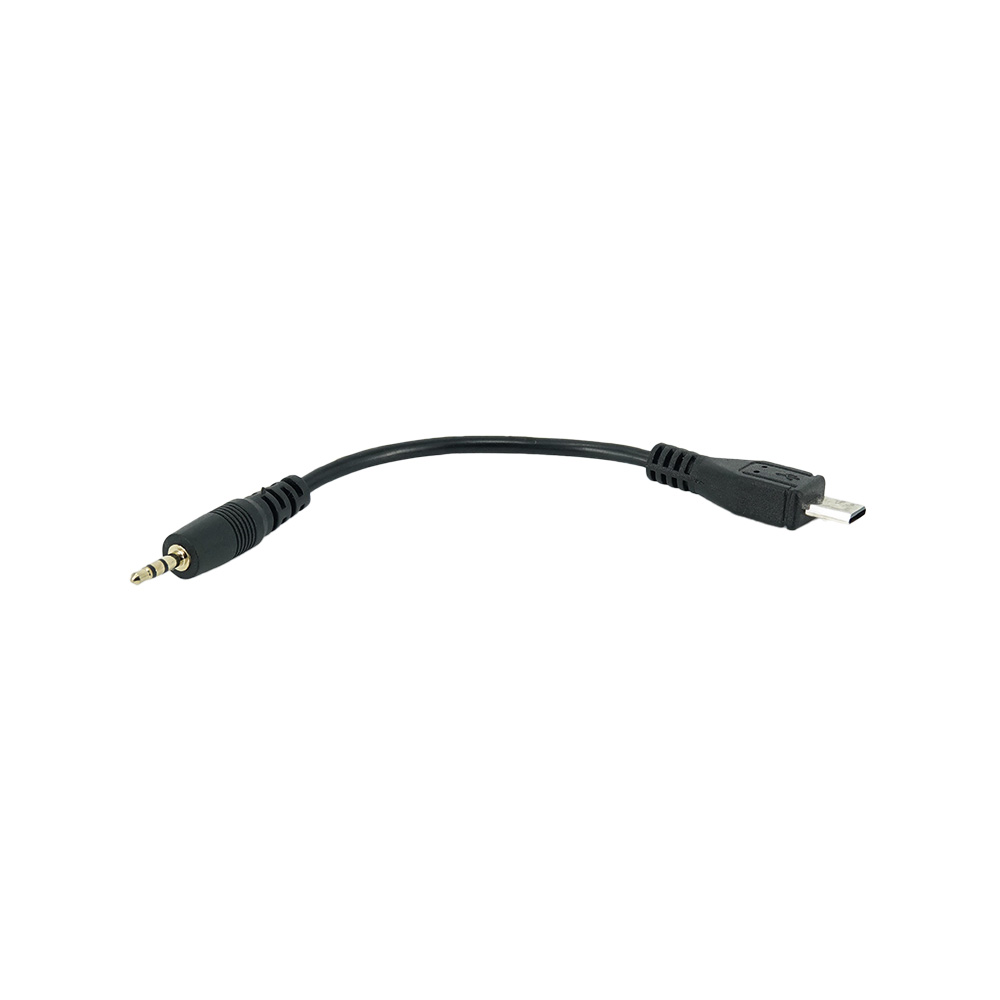 2.5MM CAMERA SHUTTER CABLES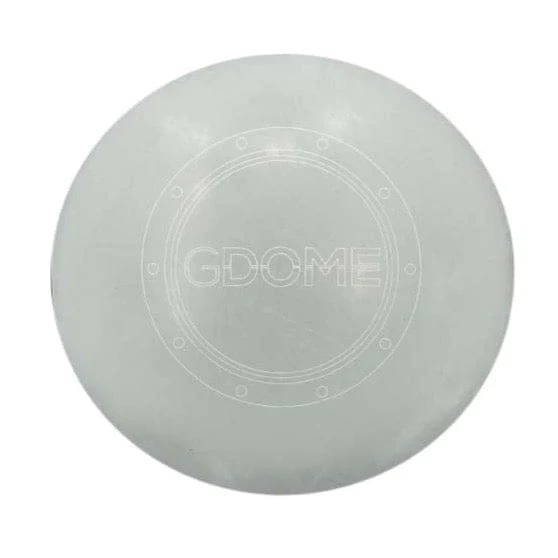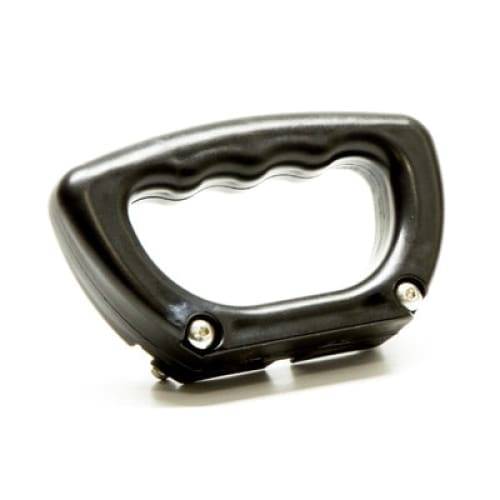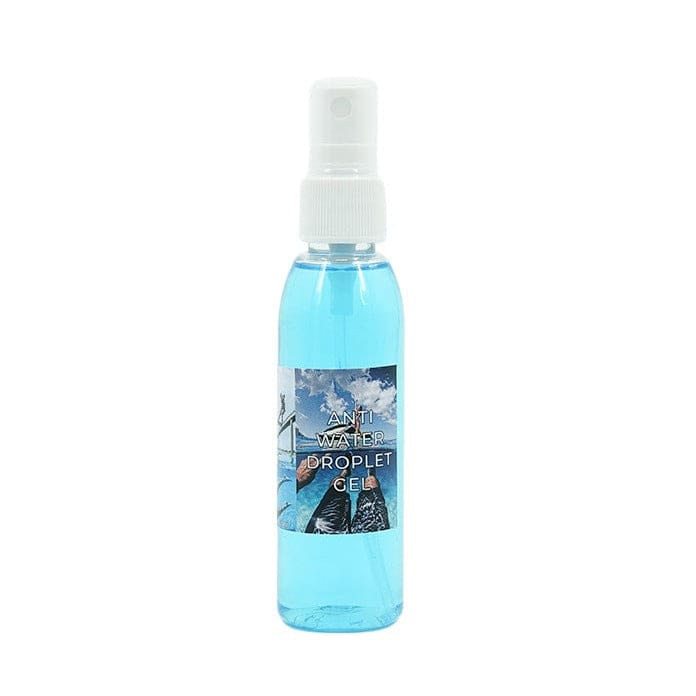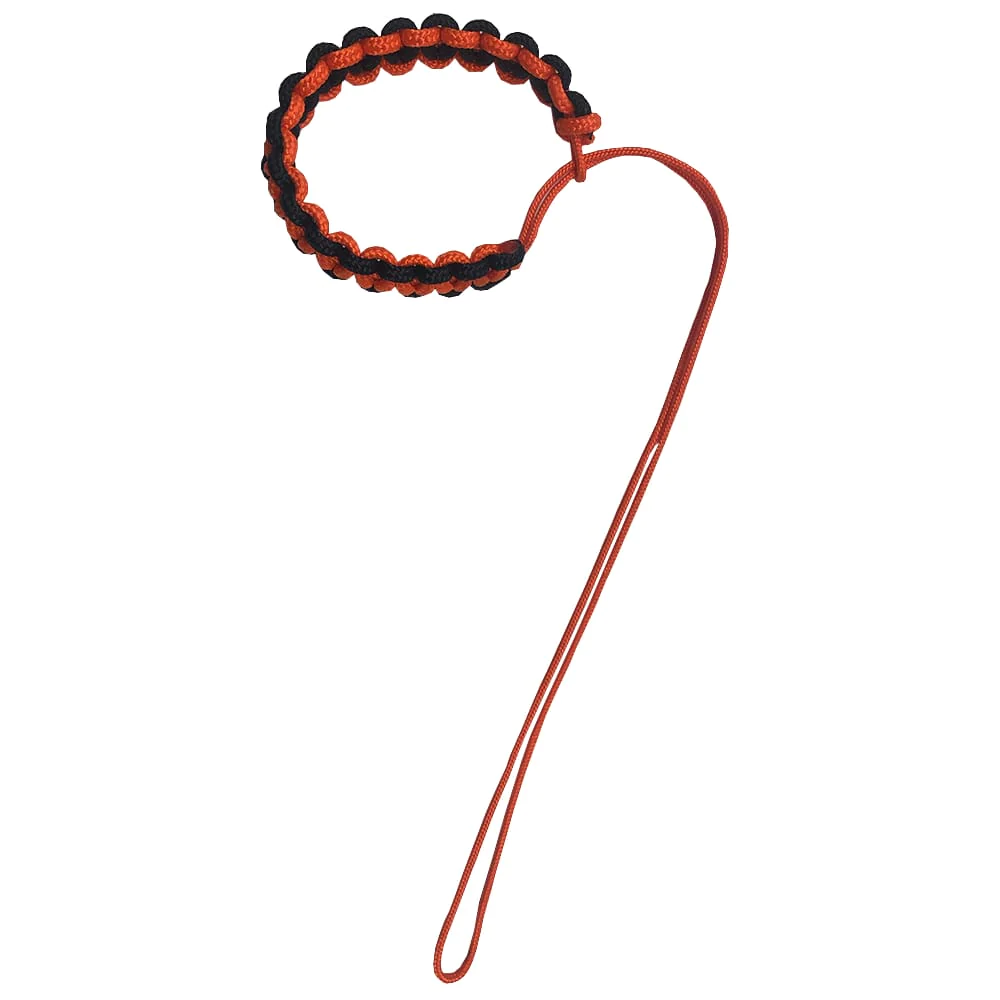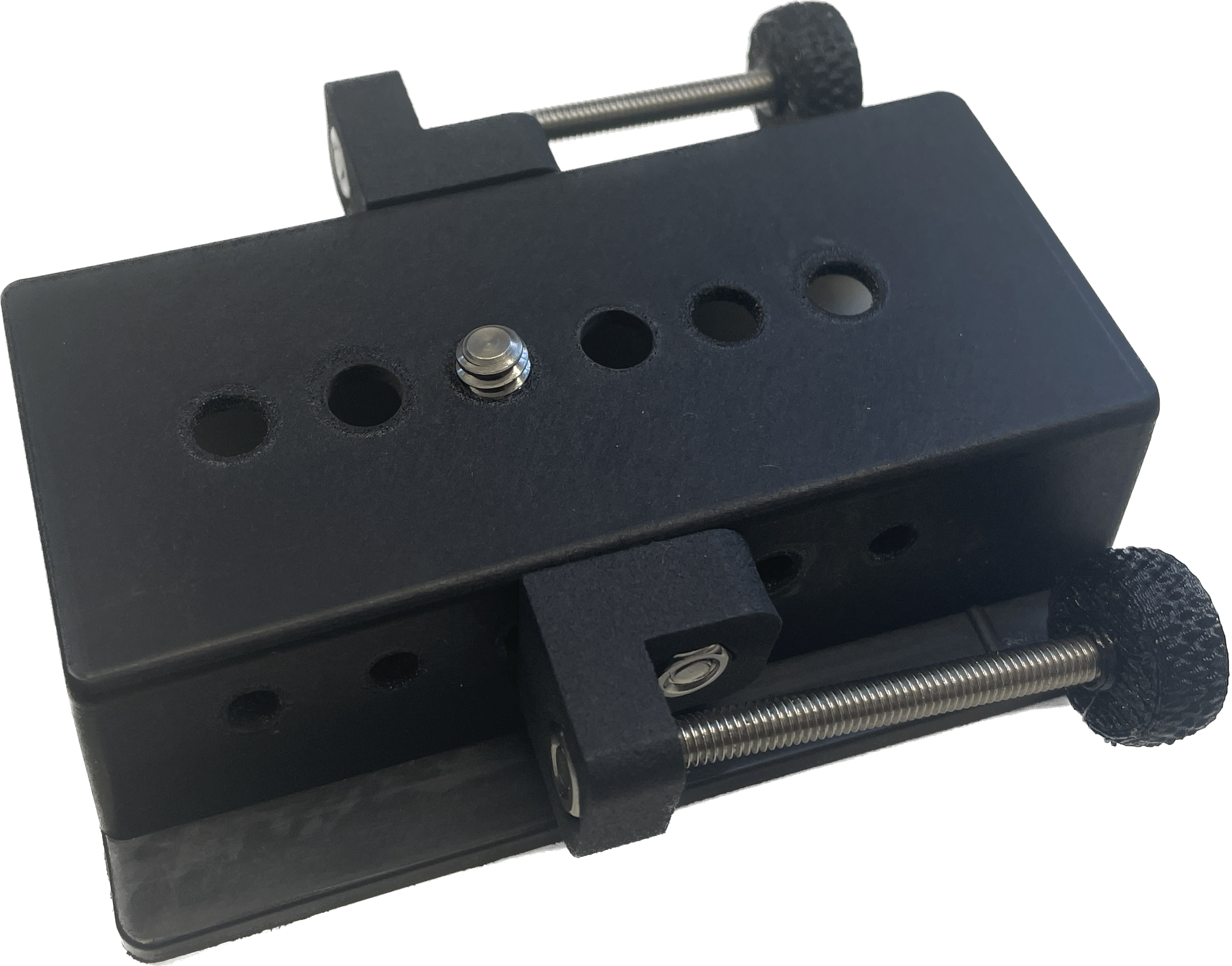 WHAT EXACTLY IS INCLUDED WITH YOUR XL SURF?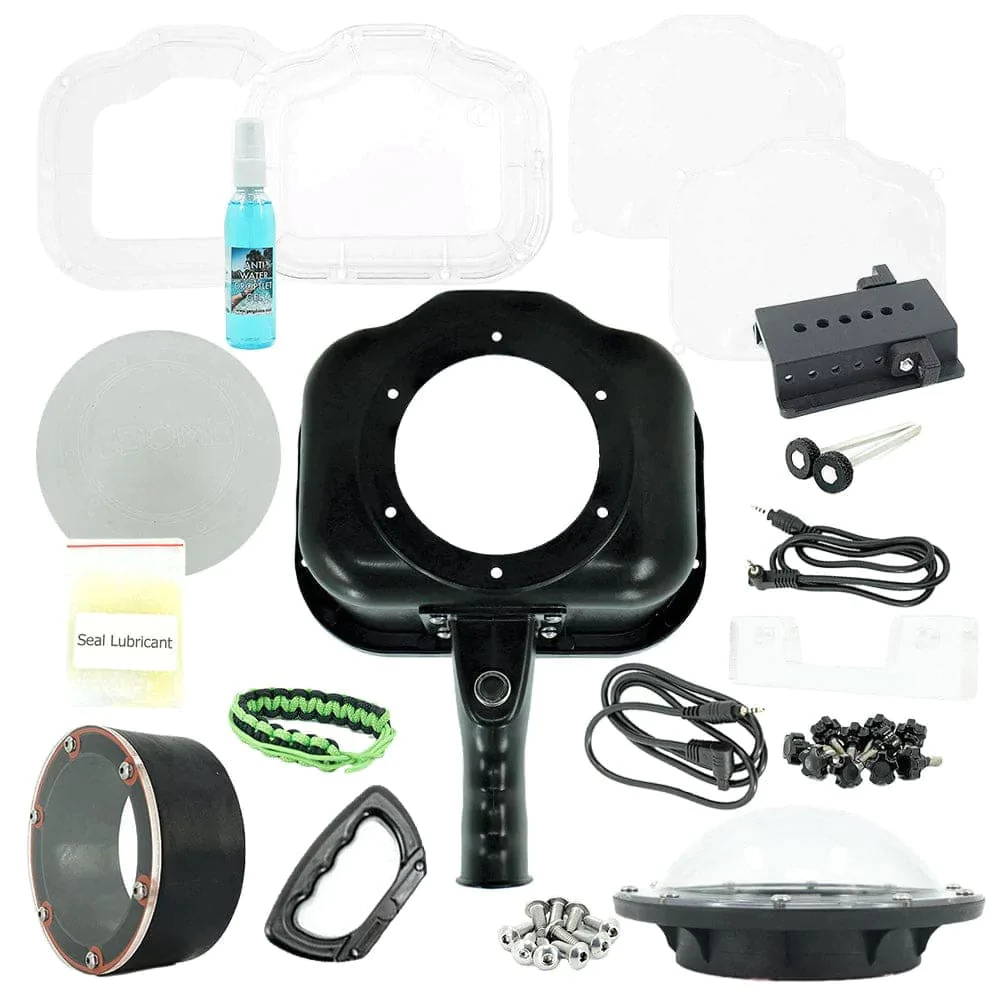 Items Included:
Camera housing with built in pistol grip and single stage shutter trigger

Dome port with dome lens element

Flat port with flat lens element

Solid backdoor

Flexible backdoor

2 x flexible membranes

GoPro Mount and saftey tether

Ambidextrous side grip

Anti-water droplet gel

Wrist tether strap

Removable baseplate with stabaliser wings

Dome lens cover

Anti-movement backplate

2.5mm camera shutter cables (we will contact you to confirm your camera and cable prior to shipping)

Finger thumbscrews for rear backplate

Finger thumbscrew loosening tool

Backplate stabaliser and thumbscrews

All the required seals and screws

Seal lubrication gel

Thank you card

Scannable QR code for instructions
LEARN MORE ABOUT THE GDOME XL HERE:
AN INTRODUCTION TO THE GDOME XL BY FOUNDER BRETT EAGLE
THE BEST ADD-ONS FOR THE XL
ATTACHING THE SHUTTER CABLE
FREQUENTLY ASKED QUESTIONS
WILL MY CAMERA & LENS FIT IN THE GDOME XL?
We have made a short list of some of the cameras that we know fit the GDome XL - there are many many more that fit! Please use the measurements below to see if your camera & lens will fit:
Sony
A7 / A7MarkII / A7MarkIII / A7R / A7RMarkII / A7RMarkIII / A7RMarkIV/ A7S / A7SMarkII / A7SMarkIII / A9 / A58/ A68/ A3000 / A3500 / A5000 / A5100 / A6000 / A6100 / A6300 / A6400 / A6500 / A6600 / HX50 / HX60 / HX80 / HX300 / HX400 / NEX-3N / RX10 /RX10MarkII / RX10Mark III / RX10MarkIV/ RX100 / RX100MarkII / RX100MarkIII / RX100MarkIV/ RX100MarkV/ RX100Mark VI / RX100MarkVII ... and more!!
Nikon
D7200 / D7100 / D7000 / D5500 / D5300 / D5200 / D5100 / D5000 / D3300 / D3200 / D3100 / D810 / D800 / D800E / D750 / D700 / D610 / D600 / D500 / D300 / D300s / D200 / D100 / D90 / D80 / D70s / P7700 / P7800 ... and more!!
Canon
EOS 1300D / 1200D / 1100D / 1000D / 650D / 550D / 500D / 450D / 400D / 350D / 300D / 90D / 80D / 70D / 60D / 50D / 40D / 30D / 20D / 20Ds / 10D / 7D Mark II / 7D / 6D / R5 / R6 / 5D / 5D Mark II / 5D Mark III / 5D Mark IV / SX50HS / Powershot G10 / G11 / G12 / G15 / G1x / G1x Mk II ... and more!!
Fujifilm
Finepix S1 / S3 PRO / S5 PRO / X30 / X70 / X100F / X100T / X-100V / X-A1 / X-A2 / X-A3 / X-A5 / X-A7 / X-A10 / X-E1 / X-E2 / X-E2S / X-E3 / XF10 / X-H1 / X-M1 / X-Pro2 / X-Pro3 / X-Q1 / X-Q2 / X-T1 / X-T2 / X-T3 / X-T4 / X-T10 / X-T20 / X-T30 / X-T100 / X-T200 .. and more!!
Pentax
K-5 II / K-5 IIs / K-5 / K-7 / K10 / K20 / K50 / K100 / K200 / K500 and more!!
Samsung
GX10/GX20 and more!!
Again, the general rule of thumb is if your camera body is the same size or smaller than a Canon 5D MK4 then it will fit the the GDome XL!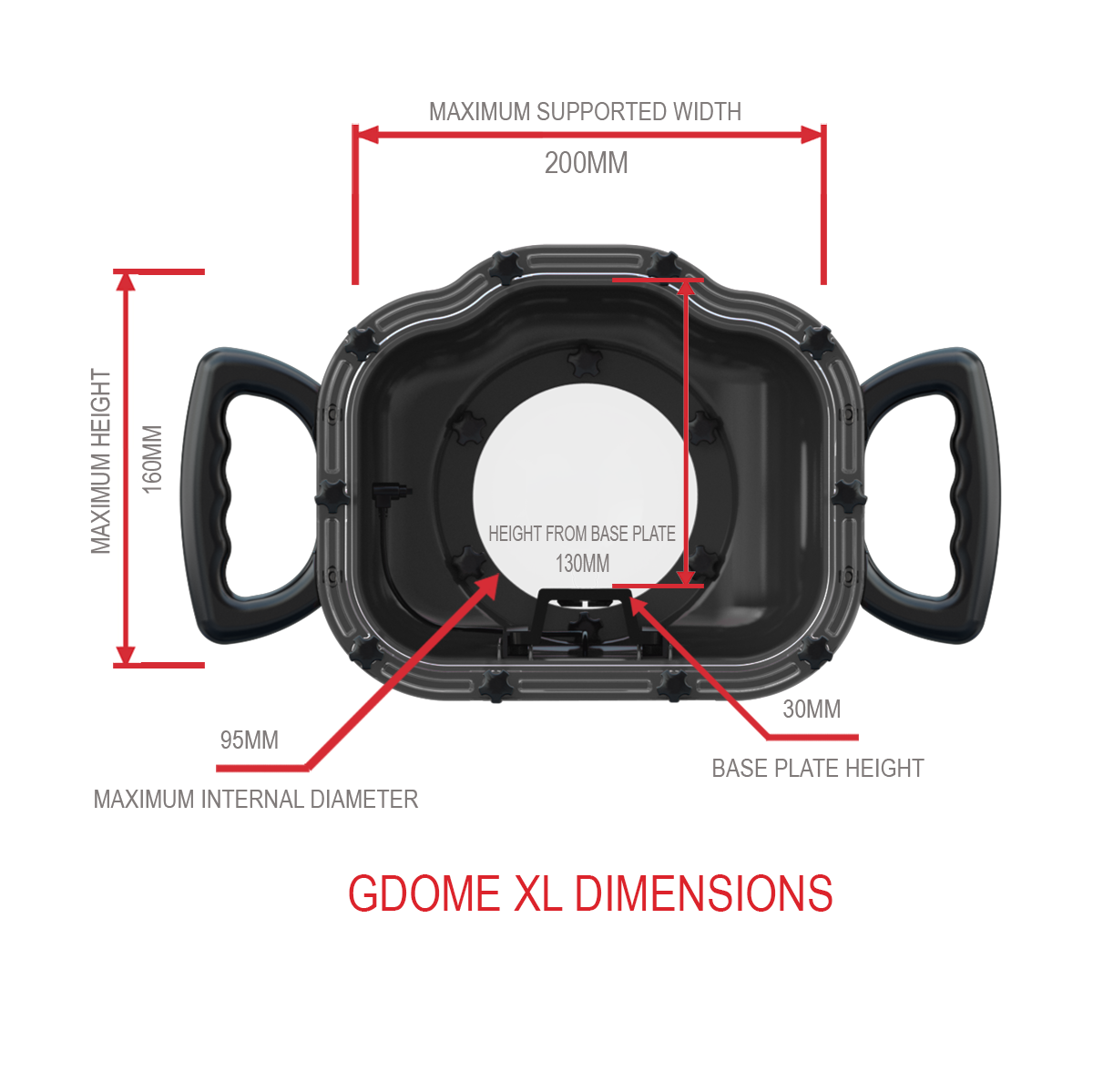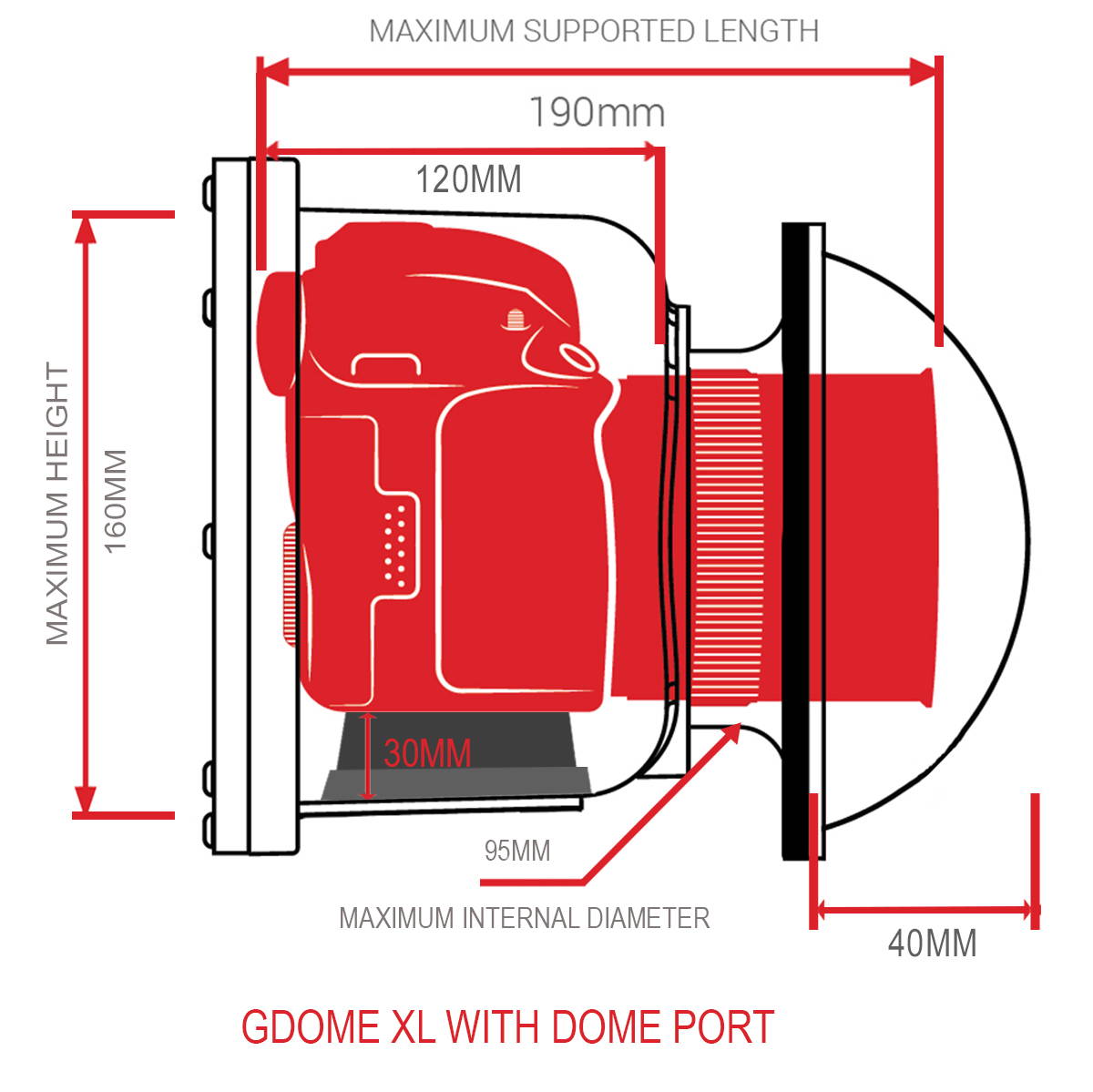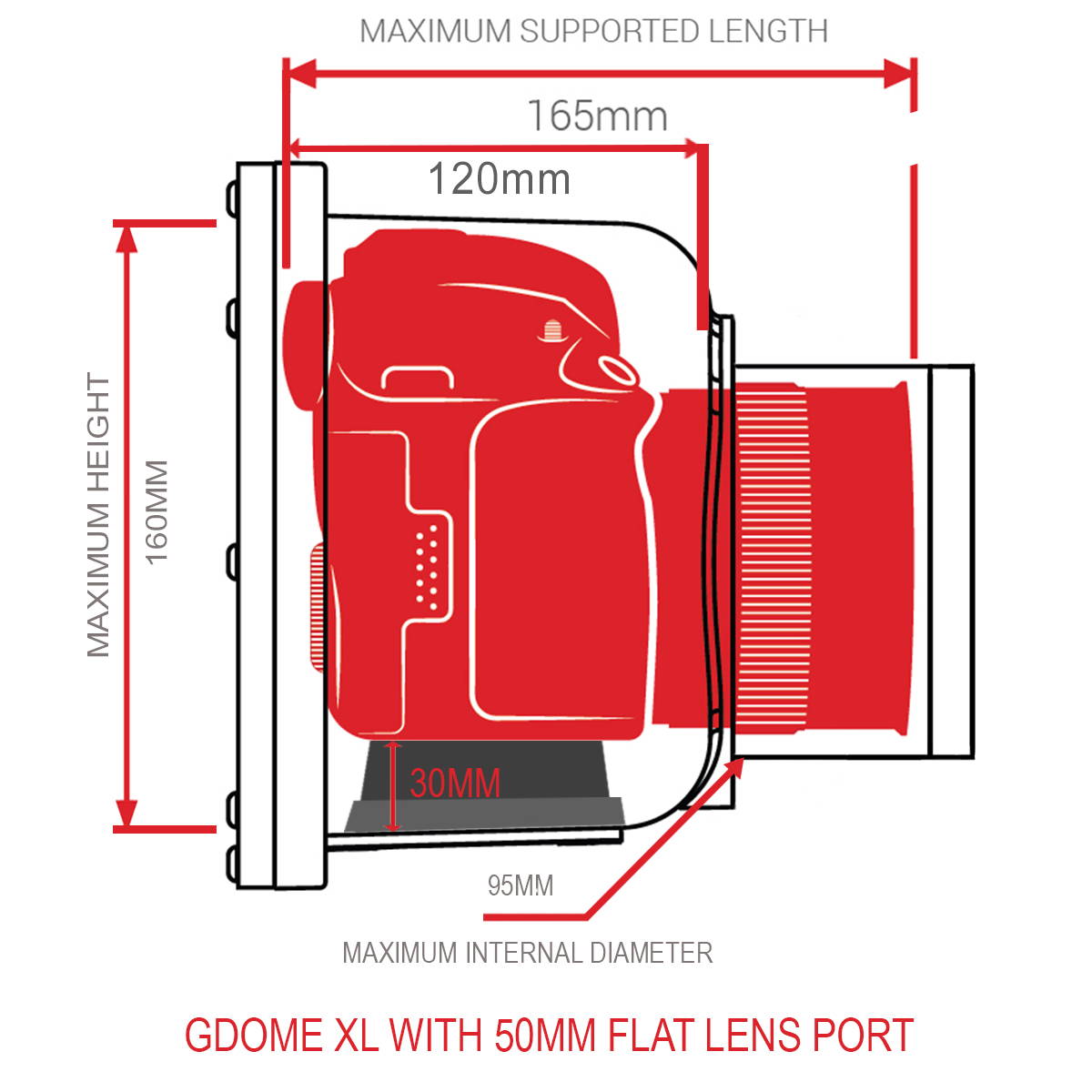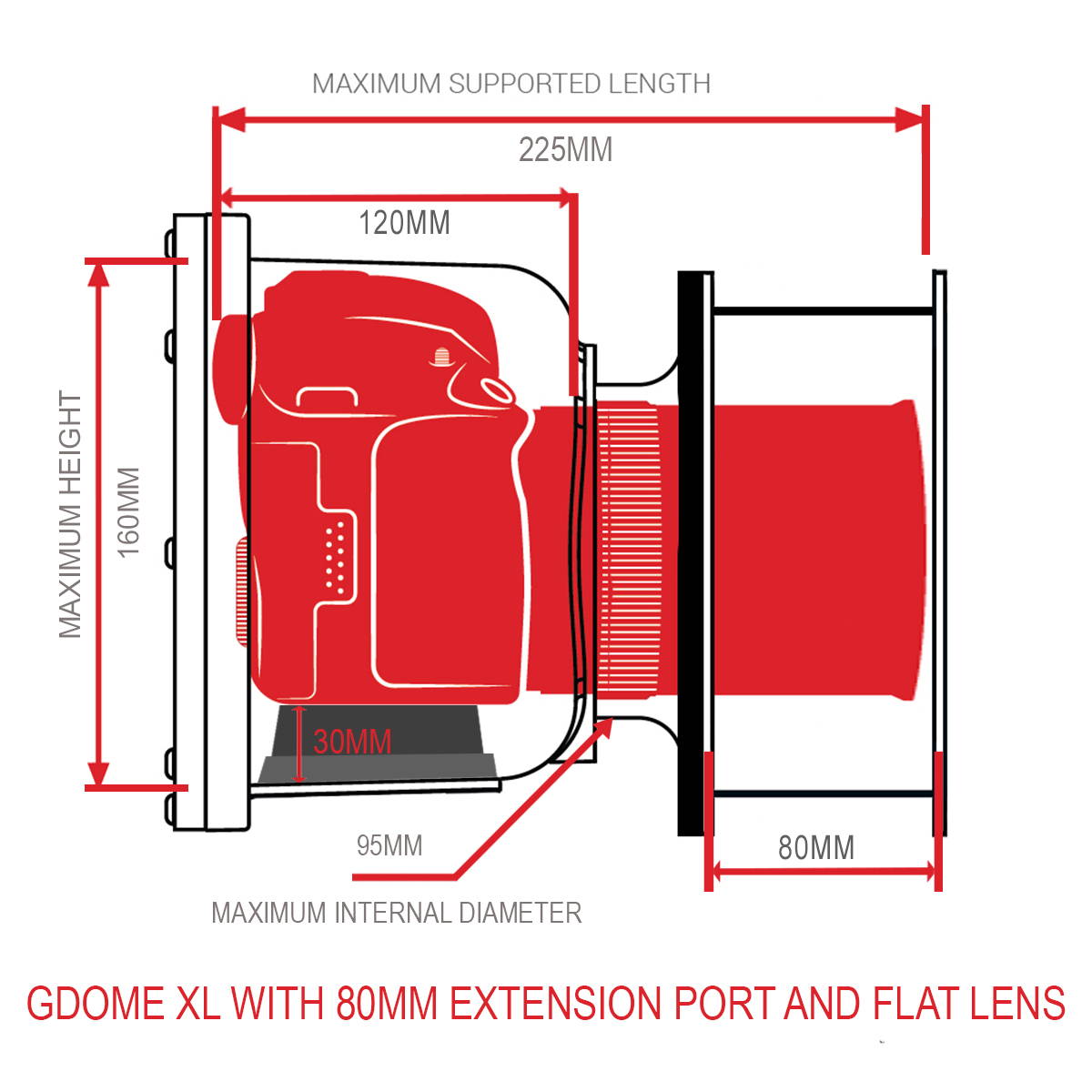 CAN I STILL ACCESS MY CONTROLS ONCE MY CAMERA IS IN THE HOUSING?
If you are using the flexible rear membrane screen, it will give the user full access to the camera's rear functionality.

If you use the solid back door, you will not be able to change settings. You will have to set up your camera before closing the backdoor.
WILL I BE ABLE TO USE VARIOUS CAMERAS & LENSES IN THE HOUSING?
As our housing is universal, you will not have to buy a new housing or ports as you upgrade your cameras and lenses (as long as they will fit in our housing).

We also have the 80mm extension ports available (these are stackable). If you need a longer port for your lens, we have you sorted.

If you change camera brands, you will simply need to get the correlating 2.5mm remote cable.
Although the XL waterproof housing is universal, remote cables are specific to your camera.
HOW DEEP CAN I GO WITH THE GDOME XL?
The GDome XL is rated to 5m/16ft housing with the flexible rear membrane.
The GDome XL is rated to 25-30 feet max depth with the solid backdoor.
We do individually pressure test each housing with the included solid backdoor to 18m / 59ft.
The GDome XL can handle any size surf you have the balls to swim into.
These are not dive housings and they should not be treated as such.
This housing is intended for surface use.
HOW DO YOU ENSURE THAT THE FRONT OF THE LENS IS THE CORRECT DISTANCE FROM THE BACK OF THE DOME? 
Our mounting plate has multiple holes that allow you to position the camera backwards and forwards.
Take a look at it here: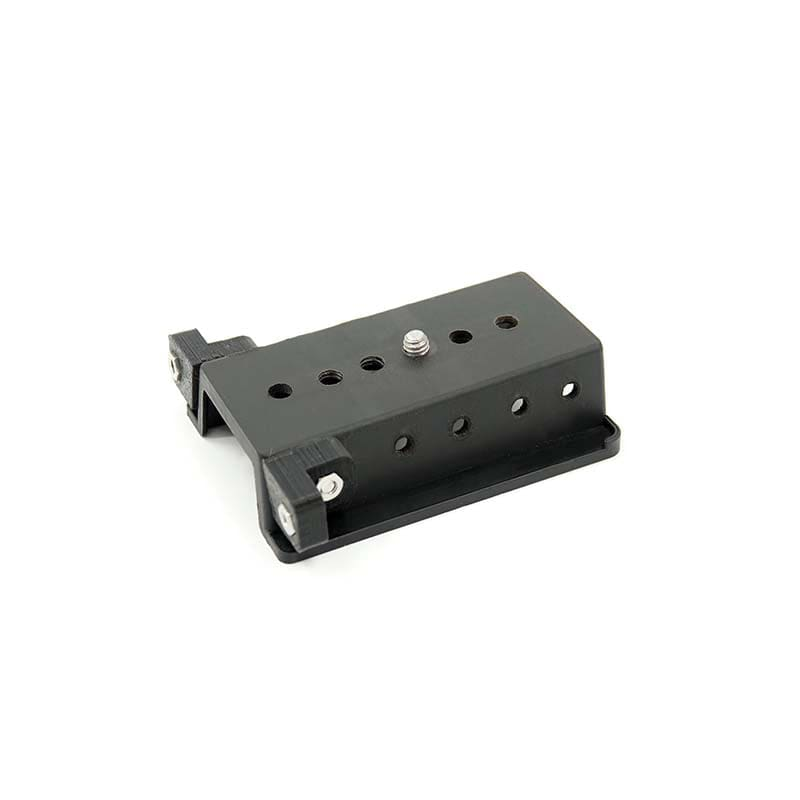 While a user might not get it correct to the micron, like you would for camera specific housings, the adjustability allows the users to get it pretty close, if not spot on with a bit of tinkering.
WHY USE A PISTOL TRIGGER GRIP?
What is a pistol trigger grip for surf photography?

A handle known as a pistol grip is fastened to the housing's base. A button on the handle activates the shutter of the camera by connecting a cable to the device's "remote" connection.
Why use a pistol grip trigger when shooting?

It is simpler to swim with your housing and to position yourself into key wave sections for the finest shots when you shoot with a pistol grip because you can hold (and trigger) the camera with just one hand.

With fisheye or wide-angle lenses, where you might not always be looking through your viewfinder when shooting, a pistol grip trigger is frequently employed. Even while some photographers prefer to utilize the top shutter button for a more comfortable hold when peering through the viewfinder, you can still use a pistol grip when using longer lenses.

What distinguishes a "single-stage pistol grip" from a "two-stage pistol grip"?

A "one-press" button is present on the single stage handgun grip. With a single press, this button activates focus and the shutter.

The "half-press to focus" and "full-press to fire" buttons are part of the two-stage pistol grip. With the pistol grip, it is quite simple to use one-handed autofocusing because there is a tactile click at the halfway point and another click at the full push.

Why would I want to use a pistol grip with a single stage trigger?

The single-pistol grip is the best choice if you shoot with a manual focus lens or when using the back button to focus. You won't ever miss a snap because to its incredibly quick shuttering time.

What happens if I pair auto-focus lenses with a single-stage pistol grip?

The shutter may fire with a slight delay if you have not disabled half-press focusing (also known as "AF with Shutter" on Sony cameras), as the camera will first try to focus.
As an alternative, the camera might begin to shoot but need a few frames to lock on focus. It is comparable to swiftly focusing your camera without first clicking the shutter button.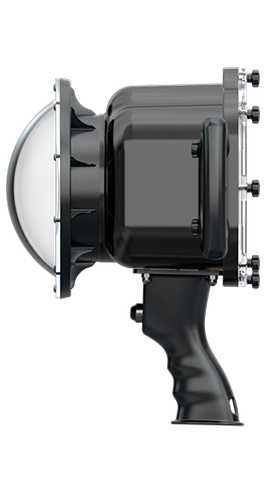 ⭐⭐⭐⭐⭐ 4.8 (134 Google Reviews)