How Much is Photoshop in 2023?
Back in the day, purchasing a copy of Photoshop wasn't cheap, but it was simple. One copy, one price. Things have gotten a little more complicated these days, with subscription models dominating the creative software industry. While underwater photographers may require a bingo card to figure out how much Photoshop would cost, there are many more advantages to purchasing a copy from your local computer store.

With the debut of Adobe's Creative Cloud subscription service in 2013, the industry switched from buying a new copy every few years to a monthly subscription model with significantly more frequent updates and for "free" (with updates bundled with the recurring cost). This was Creative Cloud's promise, and Adobe made it simple to sign up.

Take a look at Adobe's Creative Cloud programs for photographers who want to edit photos with Photoshop.
Table of Contents
The Apps-All-You-Can-Eat Plan

Adobe's All Apps package gives you access to over 20 Adobe Creative Cloud apps, including Photoshop, Lightroom, Premiere, and After Effects.

The All Apps package can be intimidating for the ordinary water photographer, and it's certainly not as good a bargain for simply snapping stills and post-processing them. However, at $54.99 per month for individuals, this is by far the best value for a content creator who does it all.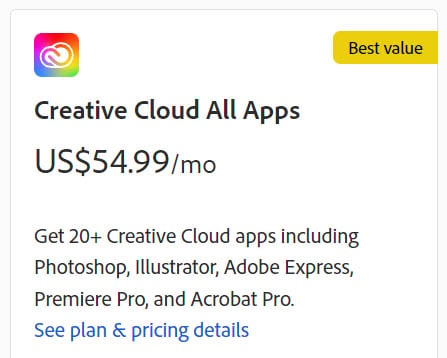 However, pricing is a little more difficult than Adobe's single monthly fee, which only applies if you subscribe for a full year with monthly paying.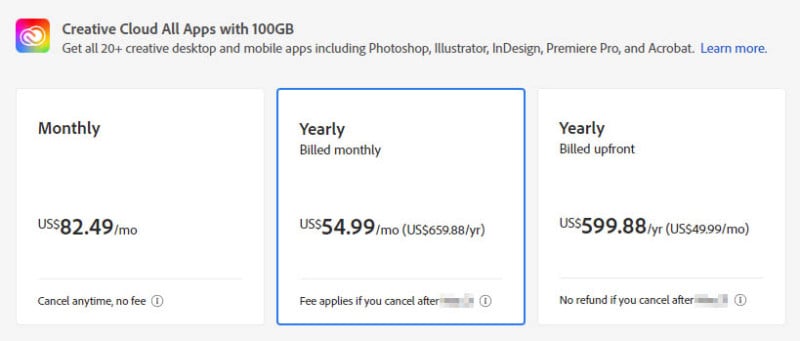 To gain access for $55 per month, you'll have to commit to a full year, which would cost $659.88 in total. You'll be charged a "early termination fee" if you cancel before the year is up, just like with annual subscriptions in other industries like cellular, Internet, and TV.

The All Apps plan will set you back $82.49 per month if you don't mind not being locked up for a year. If you want to save the most money and don't mind paying for a year in advance, you can pay $599.88 for a year in advance, which works out to $49.99 per month.

To summarize, the pricing for the All Apps plan is as follows:


$82.49 per month (pay monthly) 
$54.99/month if paid annually 
Monthly (pay in advance): $49.99 
You will be charged a different cost if you are not subscribing as an individual but as a business. Business subscriptions cost $84.99 per month per license (whether paid monthly or in advance) or $34.99 per month for a single app subscription.

In addition, the Business Plan includes 1TB of cloud storage per user, compared to 100GB for the individual plan.

Adobe also offers student and teacher discounts, with the all-you-can-eat subscription costing $19.99 per month (regardless of if you pay monthly or upfront). The savings are calculated using a one-year annual rate of $239.88. Unless the service is discontinued, the usual subscription renewal fee of $359.88/year (or $29.99 per month) is charged at the conclusion of that period.
The Photography Plan(s)
The Photography Plan for still photographers includes Adobe Photoshop and Adobe Lightroom for $10 per month (with no annual contract involved). Adobe Photoshop, Adobe Lightroom, and Adobe Lightroom Classic are included in the Photography Plan, as well as mobile versions of both programs and Adobe Portfolio. Oh, and it comes with 20GB of Adobe Cloud storage.

Water photographers have two more options in addition to the basic photographic package. First, instead of paying $9.99 per month, you can upgrade to 1TB of cloud storage for $19.99 per month. If you don't require Photoshop, Lightroom with 1TB storage is available for $9.99 per month.

The following is a list of the photography plans:


$9.99/month for Photoshop, Lightroom, and 20GB storage 
$19.99/month for Photoshop, Lightroom, and 1TB storage 
$9.99/month for 1TB of Lightroom storage 
When you consider that the previous stand-alone edition of Photoshop, Adobe Photoshop CS6, cost $699, it's easy to see the value when you do the math and understand that updates will be provided twice a year at no additional cost.
Even if the photographer isn't a Lightroom user, the Photography Plan includes Adobe Lightroom, making it an even better value.
The Single App Plan for Photoshop
It's tempting to stick with the Single App Plan. After all, the topic of this tutorial is Photoshop. A single app subscription from Adobe costs $21 per month. If a photographer chooses to subscribe simply to Photoshop rather than one of the photography plans, they will be paying $11 extra per month for half the capability. That is not an acceptable price.

But what if you don't want to pay a monthly charge to yet another subscription service? You're out of luck at this point, as Adobe has long abandoned perpetual licensing in favor of the subscription model. If you don't require Photoshop enough to justify paying a subscription cost, one of the prominent Photoshop alternatives on the market, which are usually either free or come with a permanent license, may be your best solution.
Another Alternative: Photoshop Elements
If sandboxing is the goal, however, Adobe Photoshop Elements, a stripped-down version of Photoshop, is still available. It includes over 80% of Photoshop's functionality, with new features trickling down from Creative Cloud every year. However, there are a few that are glaringly absent.

Photoshop Elements is unable to export files in CMYK format, which complicates print printing. Photoshop has 16-bit and 32-bit picture support, as well as chromatic aberration treatment, which Elements lacks. There are no Lens geometry profiles, Lab, Duotone, or Multi-Channel color modes, and Elements lacks Adobe Bridge, which includes capabilities like moving files to dedicated folders, using other apps to continue processing without shutting out, and resizing without sacrificing quality.

Still, for $99, it's a good deal for new photographers who want to improve their raw still photographs in post. But why should we stop there? Adobe Premiere Elements is also available in a two-app bundle for $149, which allows users to edit video as well.

Both Photoshop in Creative Cloud and Photoshop Elements are excellent tools, and customers can download a 7-day free trial to see which one they prefer.
How Much is Photoshop's Early Termination Fee?
If you select for a yearlong membership with monthly paying for either the All Apps plan or the Single App plan, you will save a lot of money over the course of the year, but you will be charged an early cancellation fee if you cancel before the year is out.

There is no cancellation charge and you will receive a full refund if you cancel within the first 14 days of your first payment. The first two weeks are regarded as a trial period during which you can evaluate the app (s).

However, once that 14-day period has passed, you will be responsible for a cancellation cost of 50% of the contract's remaining amount. This implies that if you sign up for a year and then decide to stop paying monthly after three months, you will still owe Adobe 50% of the remaining nine months.

Here's a chart that shows you how much you'll have to pay in early termination fees based on which month of the year you cancel:
Here's how the cancellation fee schedule might look if Adobe offered you an annual discount on the 20GB Photography plan:
Your Creative Cloud membership will be automatically converted to a free membership upon termination, and your access to the paid apps will be terminated. Your Adobe Cloud storage limit will be reduced to 2GB, and you will have 30 days to save any surplus data before it is permanently erased.
Conclusion
If you're a photographer thinking about signing up for an Adobe Creative Cloud account so you can start altering photographs in Photoshop, we hope this guide to the current Photoshop pricing proved helpful. If you're still undecided or have determined you can't afford it, check out our list of the greatest free photo editing applications and free raw photo editors available right now.