We've put together some commonly asked questions to give you more information about GDome and our products
I live overseas, will you be able to ship to me?
Yes, we ship WORLDWIDE to every country other than Brazil, Russia, Belarus
We do not ship to Russia, Belarus and Ukraine due to the current war.
If you are in one of these countries, we suggest ordering from Amazon.
We have already sent packages to some pretty awesome countries all around the world.
*If we can not for any reason ship to your location, we will contact you to see what options are available.
If we cannot find a solution we will give you a FULL REFUND.
How long does shipping take?
We use DHL for all of our EXPRESS shipping, which averages 3 - 9 working days.
Free shipping is available to select countries, we cover up to the first $30 of this shipping*
Free shipping average 10-20 working days for delivery.
Please note during busy periods it can take us 24-72 hours to prepare your order.
How do I change my shipping address?
With DHL shipments, this can be done at any time via the DHL website using your tracking number. If you are making a drastic change, such as country or state, this must be done before we ship the product out.
How do I track my package?
When we ship off your order, we have live shipping with DHL and FedEx, they send you everything you need to know regarding your package.
www.dhl.com
Will there be duties or taxes for my package I order?
For our USA and Australian customers there are NO taxes or duties on your orders!!
For other countries (we have shipped to hundreds of others around the world!) there may be taxes and duties.
Please use the following tax & duty calculator for a rough estimate https://www.simplyduty.com/import-calculator/
*Disclaimer*
SimplyDuty makes every attempt to provide up to date & accurate information in all their services. As they rely on data from a multitude of sources including Governments' Customs, WTO, WCO and 3rd part data suppliers we cannot be held responsible for any loss material or financial in the off chance data is not 100% accurate.
Please note, all parcels are shipped from South Africa
Please note that duties & taxes depend on your country, we (GDome) make no money from these charges, taxes and duties are charged buy your local revenue services and unfortunately we are not able to change or control these charges.
IMPORTANT!!! We do not cover any of your local duties or taxes (if there are any) - this is for your own account.
Please ensure check and understand your local duties and taxes before placing your order, again we will not pay for your local taxes or duties.
You will forfeit your order if you choose not to pay your taxes / duties.
If you choose to not accept the duties or taxes after your package has left our premises, if the package is returned to us, you will be liable for all direct costs we incur, including but not limited to packaging, shipping, local vat and duties, often these packages are destroyed meaning you will be liable for the full amount. Please make sure you are happy to pay the local taxes and duties before ordering from our site.
Which GDome Should I Choose?
Will the GDome Mobile V1 / V2 Pro Fit my phone?
The GDome Mobile V1 and GDome Mobile Pro Edition V2 will fit with ALL iPhone Models to date, including the iPhone Pro, Max and Plus variants.
iPhone | iPhone 3G | iPhone 3GS | iPhone 4 | iPhone 4s | iPhone 5 | iPhone 5s | iPhone 5C | iPhone 6 | iPhone 6 Plus | iPhone 6S | iPhone 6s Plus | iPhone SE | iPhone 7 | iPhone 7 Plus | iPhone 8 | iPhone 8 Plus | iPhone X | iPhone XR | iPhone XS | iPhone XS | iPhone XS Max | iPhone 11 | iPhone 11 Pro | iPhone 11 Pro Max | iPhone SE (2nd generation) | iPhone 12 mini | iPhone 12 | iPhone 12 | iPhone 12 Pro | iPhone 12 Pro Max | iPhone 13 mini | iPhone 13 | iPhone 13 Pro | iPhone 13 Pro Max | iPhone 14 Pro Max | iPhone 14 mini | iPhone 14 | iPhone 14 Pro | iPhone 14 Pro Max | iPhone 15 Pro Max | iPhone 15 mini | iPhone 15 | iPhone 15 Pro | iPhone 15 Pro Max.
The GDome Mobile is also compatible with 99.99% of all Samsung and Huawei phones and many, many more phones and brands!  
We know that there are thousands of different phone models and brands, the GDome Mobile should fit almost all of them! Use this diagram if you would like to confirm if your phone, external lens, action camera ect will fit in our dome housing.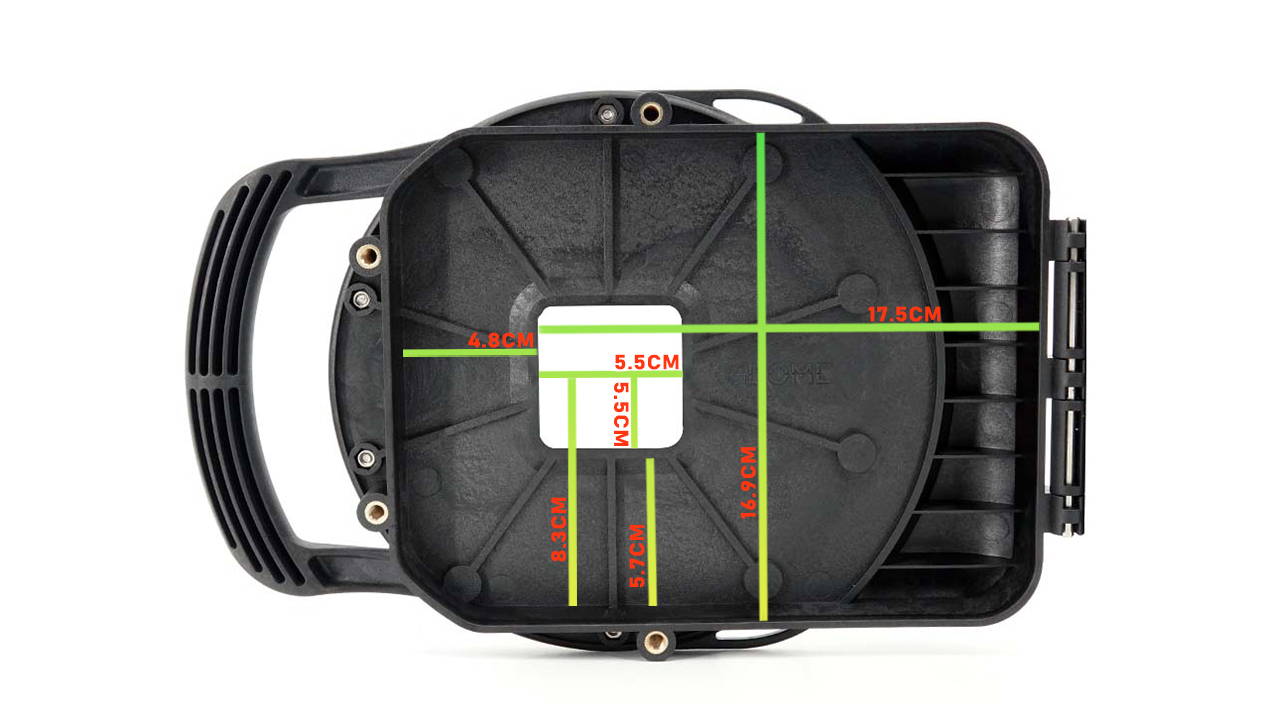 Above Is the Mobile Pro Edition V2, below is the Mobile V1.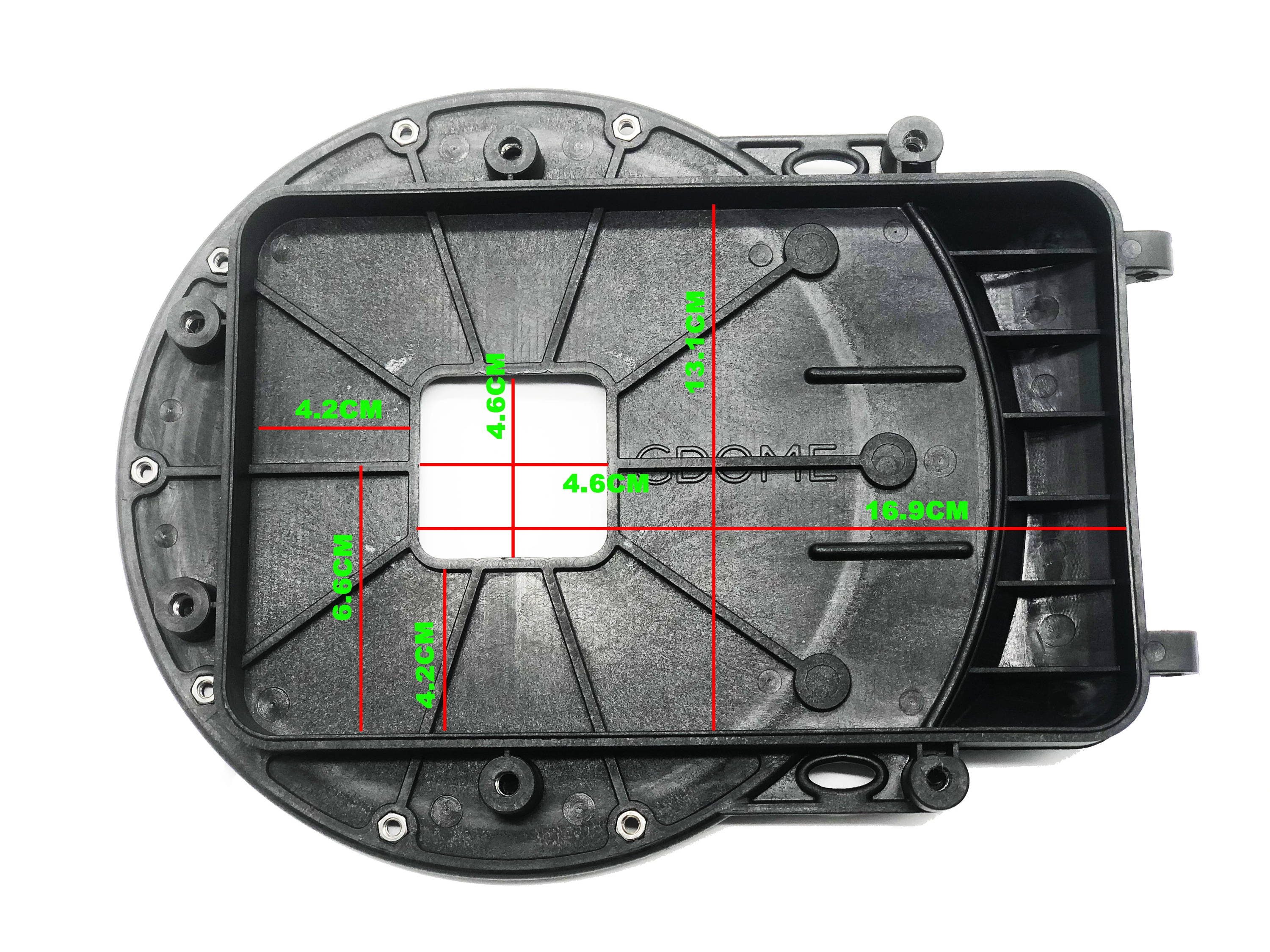 Will the GDome XL Water Housing Fit My DSLR or Mirrorless Camera?
Here is a shortlist of cameras that the GDome XL underwater housing should be compatible with (please note that there are MANY MANY more compatible camera bodies! We simply can't list them all! The GDome XL will most likely work with your camera if it is not on this list, please have a look at the measurement diagram to ensure that it will be compatible with your camera body and lens configuration before ordering!). The general rule of thumb is if your camera body is the same size or smaller than a Canon 5D MK4 then it will fit the the GDome XL!
Optional Extra: 80mm Extension Port With Flat Lens
Sony
A7 / A7MarkII / A7MarkIII / A7R / A7RMarkII / A7RMarkIII / A7RMarkIV/ A7S / A7SMarkII / A7SMarkIII / A9 / A58/ A68/ A3000 / A3500 / A5000 / A5100 / A6000 / A6100 / A6300 / A6400 / A6500 / A6600 / HX50 / HX60 / HX80 / HX300 / HX400 / NEX-3N / RX10 /RX10MarkII / RX10Mark III / RX10MarkIV/ RX100 / RX100MarkII / RX100MarkIII / RX100MarkIV/ RX100MarkV/ RX100Mark VI / RX100MarkVII ... and more!!
Nikon
D7200 / D7100 / D7000 / D5500 / D5300 / D5200 / D5100 / D5000 / D3300 / D3200 / D3100 / D810 / D800 / D800E / D750 / D700 / D610 / D600 / D500 / D300 / D300s / D200 / D100 / D90 / D80 / D70s / P7700 / P7800 ... and more!!
Canon
EOS 1300D / 1200D / 1100D / 1000D / 650D / 550D / 500D / 450D / 400D / 350D / 300D / 90D / 80D / 70D / 60D / 50D / 40D / 30D / 20D / 20Ds / 10D / 7D Mark II / 7D / 6D / 5D / 5D Mark II / 5D Mark III / 5D Mark IV / SX50HS / Powershot G10 / G11 / G12 / G15 / G1x / G1x Mk II ... and more!!
Fujifilm
Finepix S1 / S3 PRO / S5 PRO / X30 / X70 / X100F / X100T / X-100V / X-A1 / X-A2 / X-A3 / X-A5 / X-A7 / X-A10 / X-E1 / X-E2 / X-E2S / X-E3 / XF10 / X-H1 / X-M1 / X-Pro2 / X-Pro3 / X-Q1 / X-Q2 / X-T1 / X-T2 / X-T3 / X-T4 / X-T10 / X-T20 / X-T30 / X-T100 / X-T200 .. and more!!
Pentax
K-5 II / K-5 IIs / K-5 / K-7 / K10 / K20 / K50 / K100 / K200 / K500 and more!!
Samsung
GX10/GX20 and more!!
Again, the general rule of thumb is if your camera body is the same size or smaller than a Canon 5D MK4 then it will fit the the GDome XL!
What is the Difference Between the GDome Mobile V1 and V2 Pro Edition?
1) The V2 Pro is significantly quicker to install with a NEW side seal system and 2 fewer thumbscrews to seal up the unit perfectly every time without using tools or force.  
2) The V2 Pro has drastically improved touch functionality with full responsive touch on capacitive touch screens as found on the newer iPhones such as the 12 or 13, if you have a capacitive touch screen, definitely go for a V2 Pro! This is one of the biggest upgrades on the V2 Pro.
3) Improved screen clarity - making it easier to frame your shots in bright sunlight with increased internal phone storage capacity (will now fit phones up to 7.3 inches* without making the housing's footprint any bigger).
4) The V2 Pro also has a NEW ultra-sleek handle compatible with dive gloves.  
To summarise, the V2 Pro is an overall better product and drastically better user experience.
What is the difference between the "Advanced" and the "NAKED" GDome
The "Naked" GDome has a front viewing window so you will be able to view your front screen, this screen shows shooting modes, available space and more.
The "Advanced" GDome does not have the front viewing window but keeping in mind that you will be able to view everything on your screen on the back of the camera.
What is the difference between the "SS" and the "SuperDive & LENS ON" GDome
With the SS GDome you will have to remove the front lens of the GoPro before placing the camera into the housing, the SuperDive & LENS ON GDome you can put the full camera (with lens) into the housing, which goes into the GDome.
Why choose a GDome for your Hero 12/11/10/9/8/7/6/5 that comes with a housing vs one that works with the camera naked?
The GDome units that don't come with dive housings are obviously cheaper, they have exactly the same performance and will get equally good split shots.
The Superdive and Lens On GDome will allow you to go to greater depths as they are in fact removable dive housings.
If you plan on shooting in heavy surf breaks we also suggest that you go for a unit with a dive housing as it will give your camera extra protection from impact and sand particles.
If you plan on going deeper than 10m or plan to get close to that depth, make sure you choose a GDome that comes with a dive housing.
Cleaning your membrane after every use
There is currently no known safe treatment to make silicone stain-proof or stain-resistant. Since we use the highest-grade silicone for our membranes, and because silicone is a naturally porous material, the natural dyes found in pigmented soaps like dishwashing liquid can cause discoloration. Chlorine can also affect the membrane clarity, so we recommend immediately rinsing your housing with fresh water after use.
A similar situation would be tomato sauce staining your Tupperware.
Because your phone's or camera's safety is our #1 priority, we choose not to use any chemical coating that could potentially weaken our silicone membrane.
To help avoid staining, we recommend washing immediately after each use, do not use any soap or chemicals, Do not use the Anti Water Droplet Gel to clean the membrane! For more stubborn stains, we recommend soaking the item in a solution of baking soda + water or white vinegar + water for several hours.
If you are still unable to lighten the stains, try soaking in the solution at full strength (just white vinegar or baking soda) without diluting with water.
As fibers stick to silicone, we do not recommend whipping the screen with a fibrous cloth.
Rinse your gear in fresh water after every use
Rinse your GDome in fresh water after every use, salt and sand are not good for our gear.

Keep the camera / housing in the GDome unit to prevent water / moisture from entering the dome.

You want to keep moisture out of the dome port to ensure that your GDome does not fog up when in use.
Keep seals lubricated and check for any damage
Make sure that all seals are lubricated, especially the O-Ring that seals the front lens of the camera to the dome as this takes constant friction when putting the camera / housing in and out of the dome.
We use a silicone aerosol spray to lubricate our seals which is available from any hardware store, apply it to your finger and rub it generously to the seal.
Regularly check the lens seal for any damage, pushing the camera / housing in can damage / stretch / bend the seal.
We provide a replacement seal kit with all of our dome housings.
If a seal is damaged, replace it with a new lubricated unit.
Keep your GDome out of direct sunlight
Try keep the GDome out of direct sunlight when not in use, this is to prevent the seals from getting damaged.
How to cut out the GDome Mobile V2 & V1 foam
How to control focus and depth of field on your iPhone camera
The way your iPhone and a large camera like a DSLR focus and manage depth of field is one of the most obvious distinctions between the two. A DSLR's depth of field is easily controlled by adjusting the aperture; for example, a big aperture like f/4 produces a field of focus that is relatively narrow, but a small aperture like f/20 produces a deep depth of field where the majority of the image is in focus.

The iPhone and other smartphones, however, typically don't offer that kind of adaptability. You have minimal control over your depth of field without an aperture dial. And because of the laws of physics, most of your images have a deep depth of field due to the small sensor.

However, you don't have to be content with it. Control the focus on your iPhone to get the photographs you're going for.
Have a iPhone 13 Pro?
Swipe to Cinematic mode after opening the Camera app. To change the depth of field, tap the Depth Control button and move the slider. On the iPhone 13 Pro and iPhone 13 Pro Max, tap the 1x button to enter Telephoto mode. Press the button once more to return to Wide

Name the focus.
Most iPhone users, with the exception of complete beginners, are aware that you can instruct the device where to focus by touching on the screen. Tap on something close to the camera if you want the foreground to be in sharp focus. You want the background to be sharp. Click on a background topic. This won't matter very much if the majority of the objects and people are close to you and you can rely on the phone's autofocus to take care of the task for you. However, you can definitely change what is in focus if you have something that is both very close and fairly distant.
Separate your exposure and concentration.
The issue with that typical technique is that the iPhone simultaneously sets exposure and focus. If the foreground subject is also dark, the picture can wind up being overexposed. Install a better camera app to fix the issue; two favorites are Camera+ ($2) and Top Camera ($3). With either of these apps, you may tap independently to alter the exposure and focus. The end result: You are no longer forced to accept images that are either underexposed or overexposed just because you choose where to put the focus.

Afterfocus
You can later modify the areas of the image you want to concentrate with AfterFocus.

It's not necessary to download a new camera app to benefit from this sophisticated focusing technique: Similar to how holding the shutter release button halfway down locks focus on a conventional digital camera, you can lock the focus on an iPhone. When you see a yellow box flashing around your finger, tap and hold that location on the screen for a short period of time. The screen will display "AE/AF Lock" if you release your grip. The focus and exposure will hold steady while you recompose the shot up until you press the shutter release button.

Recreate the depth of field of a DSLR.
The depth of field that a camera produces increases with the size of the image sensor. That is why when it comes to taking pictures with romantically blurred backgrounds, smartphones and small digital cameras fall short of digital SLRs. Help is available, though. Utilize a $1 app like AfterFocus. Open an old image or take a new one, and then draw a line over the parts you want to be in sharp relief and out of focus. The background is then automatically blurred by the software, giving you a realistic photo with fake depth of field.

After the fact, you can adjust depth of field.
A camera known as Lytro is one of the wonders of contemporary engineering; it makes use of a complex network of sensors to simultaneously capture crisp focus throughout the whole picture.

After that, you can easily switch the focus point by clicking while using specific software. Want the foreground to be fuzzy and the background to be sharp? You can complete it with a single click and change your mind as frequently as you'd like. FocusTwist ($2) lets you replicate the effect on your iPhone. With this software, a scene is captured in a brief video and then shown as a still photograph. When you tap an area of the image, the scene adjusts to put that area in focus.
You can read more here
How to clean the GDome Lens
Only use clean wet microfibre cloths to clean the lens.
Ensure the cloth is completely clean with no debris.
If you do not have access to a completely clean cloth run the dome lens under fresh water.
We like to coat the dome with our Water Droplet Preventer 
Do you always have that one water droplet in your shot?
We have introduced a special gel to assist you in keeping a clear dome and camera lens!
Instructions:
Add a few drops onto your GDome and spread it with a clean hand.
Dunk the GDome into water, washing off the gel.
Repeat two or three times as desired.
Add one more coat and let it dry for at least two hours.
With this method, you won't have any water droplets on your GDome when shooting your favourite shots!
How to install the flat lens element onto your GDome
Remove the existing bolts
Take note of the 3 shorter screws and where they go in (do not use longer screws, it could puncture your housing or cause the dome not to seal correctly).
Keep the seal in the seal groove, make sure the seal does not slip out or get pinched out of place.
Place the flat lens down and finger tighten the screws (do opposite sides so the lens does not push up).
Make sure the short screws are used in the correct holes!!
Tighten down all screws using the Allen key provided.
Make sure that you can see that the seal has been properly compressed.


How to install the GoPro into the new V5 domes
How to fix a scratched dome lens?
Q: Can I replace my scratched dome?
A: Yes you can, you can simply order a new one from us, we suggest buying a spare in case.
Our domes also polish light scratches out really easily, we use a super fine liquid polish and fine polishing foam.
Most car panel beaters will be able to do an awesome job for you as it is almost identical to buffing car lights.
How to connect your XL Surf Edition V2 Trigger to your camera?
Trouble Shooting
Blank back screen on your camera or unable to live view previous shots when connected to the trigger of the housing?
This could be your camera setup.
The setup of your camera could be set to only take a light meter reading and not to autofocus. By reprogramming the shutter release to both take the light reading and the AF (which is the default setting for that button), it will fix the problem, and your back screen on your camera will no longer turn off.
How to install the Snap On Saver Cover
How to install the lens extension port
How to replacing seals on your GDome
- Remove old seals

- Lubricate new seals

- Insert new seals into old seal slot, with the camera lens seal you may need to massage the seal in place for a few minutes to ensure it seats correctly and no corners are sticking out.

-  




For the Dome to Backplate seal, place seal in the groove, start putting the dome on from bottom to top, tighten bolts lightly as you go ensuring that the seal is in place in the groove. towards the top, If the seal is sticking out / looks too big, use a flat object to push the seal into the slot, once in place, pinch with your fingers and continue to tighten up all bolts till you can visibly see the seal being squashed by the dome lens the entire way around the unit.



How deep can I go with my GDome?
How deep can I go with my GDome?
With the SuperDive, Session, SS, and the LENS ON, Hero 4, OSMO GDome, you can go to the depth of 30m / 4 BAR.
The GDome Mobile and the GDome Mobile PRO Edition are rated to 5m.
Naked & Basic GDome's are made to go to the recommended IXP of the housing/camera when without housings which is 10m.
We individually pressure test every single GDome to the rated depth before shipping.
Please note that as we are not able to activate the buttons while pressure testing in our pressure tank, we insist that you take your GDome with out a camera down to the maximum planned depth and test the button functionality to ensure there are no leaks.
How do I keep water off the Dome lens?
Water Droplet Preventor for GDome
Make sure you buy yours here
Do you always have that one water droplet in your shot? We have introduced a special gel to assist you in keeping a clear dome and camera lens!
Instructions:
1. Add a few drops onto your GDome lens and spread it with a clean hand.
2. Dunk the GDome into water, washing off the gel.
3. Repeat two or three times as desired.
4. Add one more coat and let it dry for at least two hours.
With this method, you won't have any water droplets on your GDome or GoPro when shooting your favourite shots!
Some of our clients have successfully used RainX to make water droplets run off our dome lens.
We prefer keeping water on the lens vs getting it to run off, but this technique may be worth a shot.
Make sure the Lens is completely clean and has been treated with our Water Droplet Preventor.
Dunk the camera under the water, slowly bring it up, a thin layer of water should remain on the dome lens. This will keep your dome lens droplet free.
How to prevent reflection from the dome
HOW TO PREVENT REFLECTION
There are several shooting tips you should keep in mind to help you get that perfect eye-catching split shot! A dome port is a highly reflective surface and you need to keep a few things in mind in order to capture the perfect content without any reflection.
The biggest tip that any professional will tell you, is to avoid shooting directly into the sun. We love capturing light rays, but any dome housing is prone to reflections, if you have a reflective lens or surface (such as the back of your phone - especially if it is white.. you will need to make a simple matte tape mod to help you get the shot).
The GDome has a matte finish on the front face to prevent reflections, but occasionally I'll see the reflection of the camera lens(s) in the centre of your shots with certain angles and light conditions.
If you have a white phone with a glass back, we highly suggest getting a black silicone cover that blocks out the high gloss white of the phone and lens area.
These two are great options as you can see they completely remove the white back of the phone and lens area. We do suggest trying to cover the silver reflective circle around the lens in order to maximise the reduction of any reflective parts on the phone.
If you can't find a case that blocks the reflective lenses you can also look at lense protectors like this.
One technique to combat this is to have a subject block out the light source.   You can also make a custom matt sticker or use water-based matte paint that will prevent reflection from your camera's reflective surfaces (see the below video).  
With the GDome Mobile, some clients have drastically offset their camera lens away from the centre point of the dome, this can actually reduce reflection when shooting in non ideal light conditions.
IMPORTANT THING TO NOTE:
Do not allow any gap between the phone/action camera and the foam, this will allow light into the dome and is a sure way to get reflection in your footage. Other than these tips, you will need to play with angles if you want to shoot directly into the sun or in poor lighting conditions.
Taping up your lenses to prevent Lens Reflections
Some smartphones and GoPro Cameras have a highly reflective lens/back screen that can cause reflection in your footage. By taping up the rear of your phone/lens area with matte tape or using a silicone cover to block out these reflective surfaces, you will immediately notice a drastic reduction in the reflection in your footage.Here is a short video showing you how to do the modification.  
With the GDome Mobile, some clients have drastically offset their camera lens away from the center point of the dome, this can actually drastically reduce reflection when shooting in non-ideal light conditions.
IMPORTANT THING TO NOTE:
Do not allow any gap between the phone/action camera and the foam - this is a sure way to get reflection in your footage.  
In some tropical destinations your phone can overheat in the sealed off housing, we suggest keeping the GDome out of direct sunlight (wrapped in a towl) until you are ready to put it in the water, if yoou are struggling with over heating, we suggest that you close all apps and turn your phone onto flight mode.
On your phone find "Guided Access" in settings, we use this to lock the phone in certain apps. We find this extremely useful. Once this is activated you will triple-click the side button in the app you want to use. Make sure you keep the volume button activated as it is what fires the shutter with the Bluetooth remote. We like this as we can lock in all the setting we want to use when in the water.
The latest Android phones (specifically, handsets running on Android 5.0 "Lollipop" or better) make it easy to lock—or as Google puts it, "pin"—an app onto the screen, disabling the Home, Back and multitasking controls until you tap the right combination of buttons.
Please remember to turn off all functionality other than the volume button (this must be turned on!) You can play around with using different camera apps our two favourites are Moment & Lightroom available for IOS and Android.
With Moment you get the following:
  The filmmaker features we need, not the ones we don't. We rely on manual controls, color profiles, crisp audio and settings you can change quickly. And with Anamorphic support this is the cleanest way to shoot video on your phone.
CAPTURE CINEMATIC VIDEO
Dial in your video settings, quick and easy.
COLOR PROFILES
Select from default, flat, or log color profiles.
WAVEFORM MONITOR
Evaluate brightness and exposure across your video.
RGB HISTOGRAM
Dial in your video color, balance, and exposure.
MULTIPLE BITRATES
Get precise control over your video quality.
ANAMORPHIC SUPPORT
Desqueeze your shots.
TIMELAPSE
Manual controls for shooting 4K time-lapses.
https://apps.shopmoment.com/pro-camera.
We have also played with the Watershot and DiveHelper app - feel free to give these a try.
FEEL FREE TO USE A BLUETOOTH REMOTE IN YOUR HOUSING!
There are many options available online for you to choose.
How to prevent you dome from fogging up?
Try to put your camera into the GDOME in an environment such as a car or indoors that is away from moist/humid conditions.
We like to blow air-con (any air-conditioning) directly into the dome before putting the camera into the GDome.
We have also successfully used the cold air from a refrigerator.
You can also use Anti Fog Inserts inside the dome port or camera housing.
How to stop you phone from falling out of the foam
What are the best shooting modes to use the GDOME with?
Best Modes to use the GDOME with?
Use the burst mode, 30/3 (30 photos in 3 seconds), 12MP wide is always the best option for taking photos.
Protune has proved to be very useful with GDome shots.
We also like the HDR feature of the New GoPro Hero 7
For video – high frame rates are key so you can slow down the footage.
Can I attach any pole or grip to my GDome?
Best Modes to use the GDOME with?
Yes, as the GoPro Housing / Frame is fully exposed, you can attach almost any pole, grip or accessory can attach to you housing and thus GDome.
What Guarantee does my GDome come with?
What Guarantee does my GDome come with?
You will get a FULL 1 YEAR INTERNATIONAL GUARANTEE with your GDome.
We guarantee that your dome will not leak and that our products will work as described.
We will ship out any replacement parts at our expense if your GDome leaks or does not work as described.
What currency is the GDome site in?
We have implemented a currency converter, so the site should automatically change to your local currency.
On checkout you will be billed in US Dollars.
How do I make payment for my GDome?
We use PAYPAL and Stripe on the GDome Site.
What is your return policy?
What is your return policy?
We do accept product returns.
The returned product must be in the original condition as sent.
The returned product must come with original packaging.
You are responsible for getting the product back to us.
Once we get the gear back, we will refund you in full less any shipping costs / duties we have had to pay.
GDome was founded in 2015.
Trading as Action Distribution PTY LTD, we started our business distributing imported accessories for GoPro cameras into major retailers across South Africa.
Our brand, Xtreme Xccessories was the first company to start selling a complete high-end range of after-market accessories for GoPro into mainstream retail stores.  
Fast forward to 2016
Xtreme Xccessories purchased a 3D printer and started working on some of our own products.
The first product developed was the Xtreme Kite Line Mount. After selling 2000 units world wide, Xtreme started looking at local product development and manufacturing.
Enter the GDome
After months of development, Xtreme Xccessories managed to successfully develop a professional dome system referred to as a GDome.
This product took the international market by storm and is currently the best dome system in its class WORLDWIDE.
2022 - Now with over 400 unique products in stock, key distribution partners, including ORMS, Cape Union Mart, Takealot, Kameraz, Camera Land, Outdoor Photo, Kloppers and more, Action Distribution is the drone and action camera accessory market leader in South Africa.
Backed by trusted international support & guaranteed service, GDome is your one-stop shop!
Call us any time for free advice and assistance.
(+27) 021 001 8852
sales@getgdome.com
If you are interested in distributing our products, please mail:
brett@adza.co.za