Will my device fit / work in the GDome Underwater Housing 2023?
Will my Smartphone / Action Camera / DSLR / Mirrorless Camera / Camera Lens fit? 
1) GDome Mobile & Mobile V2 Pro
The Mobile Pro Edition will fit with ALL iPhone models to date, including the iPhone Pro, Max, and Plus variants.
iPhone | iPhone 3G | iPhone 3GS | iPhone 4 | iPhone 4s | iPhone 5 | iPhone 5s | iPhone 5C | iPhone 6 | iPhone 6 Plus | iPhone 6S | iPhone 6s Plus | iPhone SE | iPhone 7 | iPhone 7 Plus | iPhone 8 | iPhone 8 Plus | iPhone X | iPhone XR | iPhone XS | iPhone XS | iPhone XS Max | iPhone 11 | iPhone 11 Pro | iPhone 11 Pro Max | iPhone SE (2nd generation) | iPhone 12 mini | iPhone 12 | iPhone 12 | iPhone 12 Pro | iPhone 12 Pro Max | iPhone 13 mini | iPhone 13 | iPhone 13 Pro Max | iPhone 14 | iPhone 14 Plus | iPhone 14 Plus | iPhone 14 Pro | iPhone 14 Pro Max | iPhone 15 | iPhone 15 Plus | iPhone 15
The GDome Mobile and Mobile V2 Pro is also compatible with 99.99% of all Samsung and Huawei phones and various 360 cameras.
We know that there are thousands of different phone models and brands, the GDome Mobile should fit almost all of them! Use this diagram if you would like to confirm if your phone, external lens, action camera, 360 action cameras that will fit in our dome housing.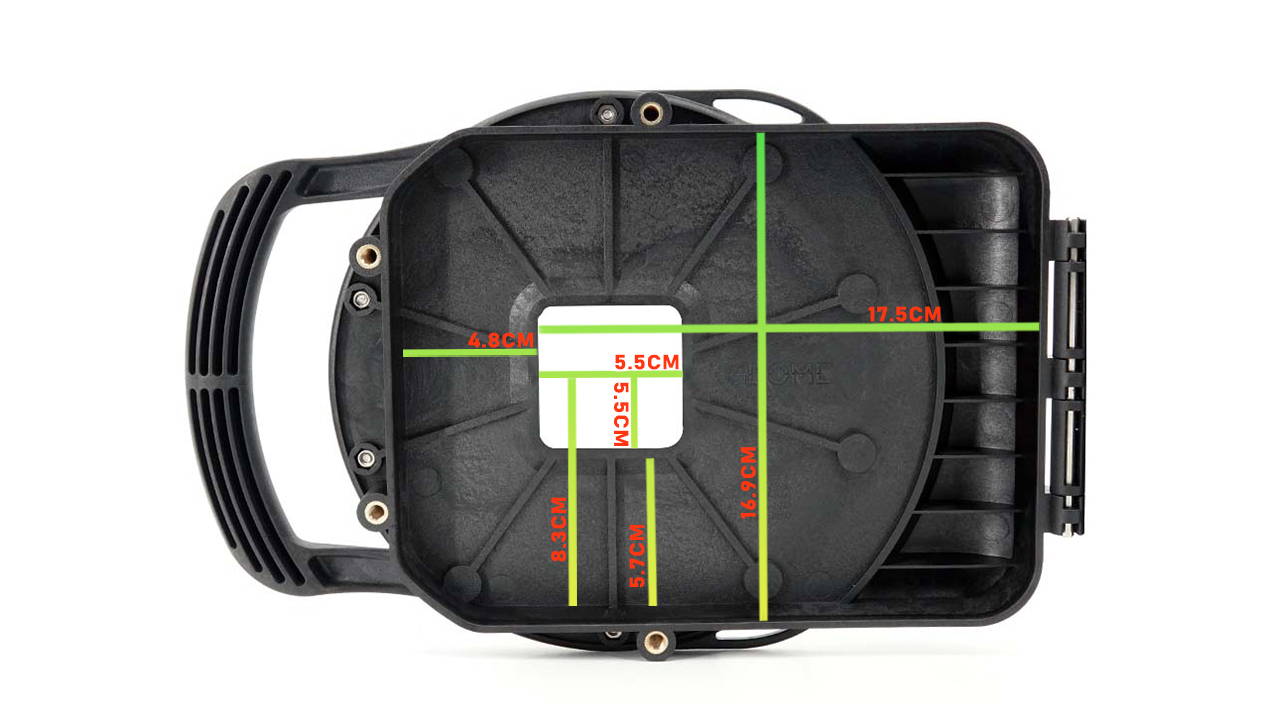 Above Is the Mobile Pro Edition V2, below is the Mobile V1.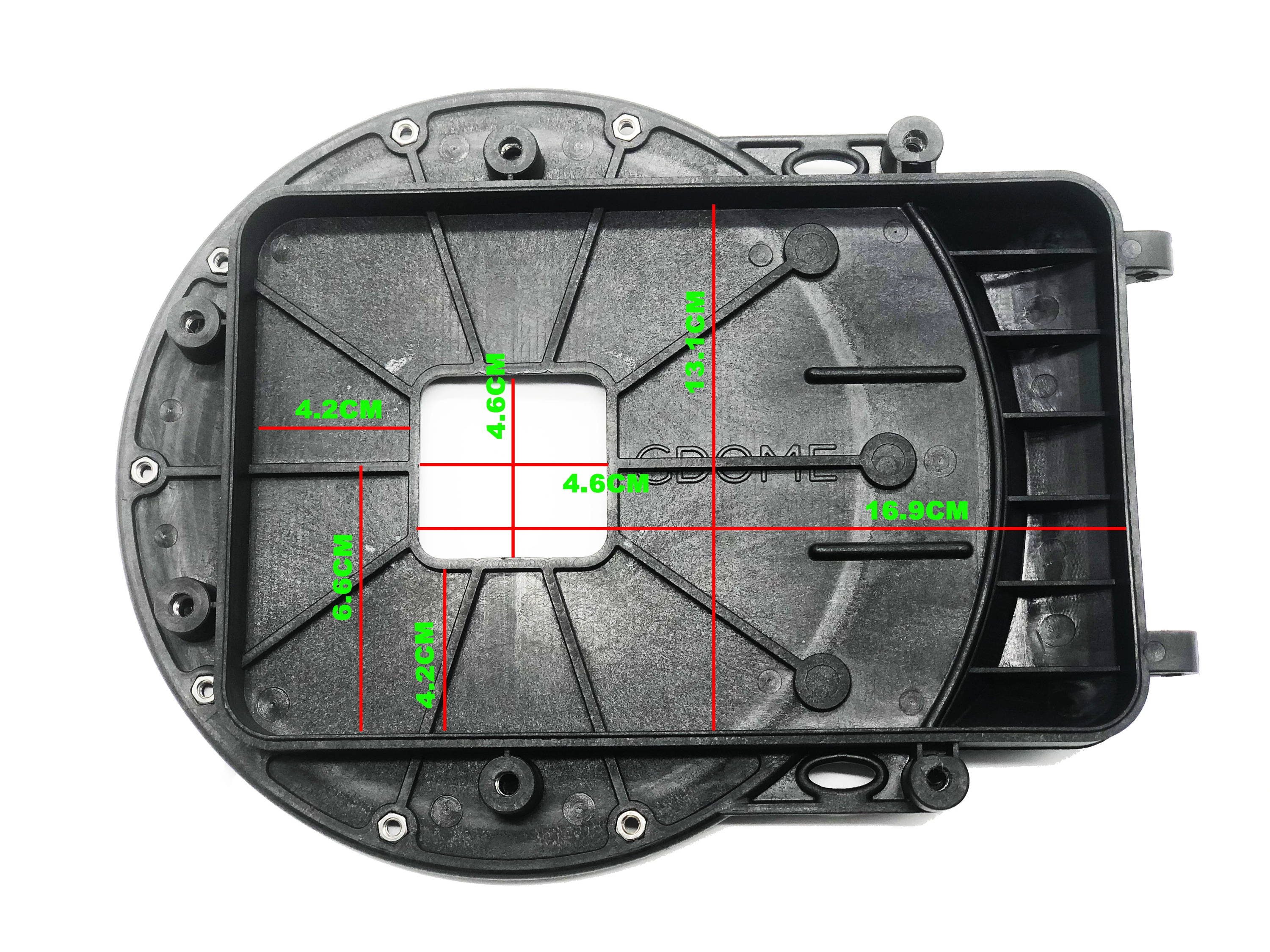 2) GDome XL Surf / XL
IF YOU WANT TO USE THE 2 STAGE TRIGGER, please ensure that your camera has a wired remote shutter port.
In order to use our 2-stage tigger system, your camera will have to have a wired remote trigger shutter port. This allows your camera to be triggered via the pistol trigger using a shutter release cable. The connectors used for the external release have rather different shapes.
Side note: You can always use the flex backdoor and assign a custom button to shoot if your camera is not compatible with our trigger. You can also use a wireless remote and our remote backplate.
We have a number of types of cables to support more than 300 camera models, we do not stock or sell certain proprietary cable. You will find our available cables here: https://getgdome.com/products/xl-2-5mm-camera-shutter-cables
NB: When you get a new compatible* camera, if it is different, you will only need to get a new camera cable to keep using your GDome XL Trigger!
We have made a short list of some of the cameras that we know fit the GDome XL - there are many more that fit! Not supported means that your camera may not have the wired shutter port.
2-Stage Trigger Compatibility:
Sony
A100, A200, A300, A33, A35, A350, A37, A400, A450, A500, A55, A550, A550V, A560, A57, A580, A65, A65V, A700, A77, A77 II, A77V, A850, A900, A99, A99 II, A3000, A3500, A5000, A5000L, A5100, A6000, A6300, A6400, A6500, A6600, A1, A7, A7 II, A7 III, A7 IV, A7S, A7S II, A7S III, A7R, A7R II, A7R III, A7R IV, A9, A9 II, HX300, HX400, HX50V, HX60, HX80, HX90, HX90V, NEX 3N, A58, A68, RX10, RX10 II, RX10 III, RX10 IV, RX100 II, RX100 III, RX100 IV, RX100 V, RX100 VI, RX100 VII, RX100 Platinum, NEX-3NL
Not supported: A7C, A230, A290, A330, A330TT, A380, A390, A3000, NEX-3, NEX-3C, NEX-5, NEX-5T, NEX-5R, NEX-5N, NEX-5C, NEX-6, NEX-7, NEX-C3, NEX-F3, QX 10, QX 100, RX1, RX1R
Nikon
D100, D200, D300, D500, D700, D800, D800 E, D810, D850, F90, F100, D70S, D80, Z5, Z6, Z6 II, Z7, Z7 II, D750, D780, D3100, D3200, D3300, D5000, D5100, D5200, D5300, D5350, D5500, D5600, D600, D610, D7000, D7100, D7200, D7500, D90, Df, Coolpix P7700, Coolpix P7800, Coolpix A, Coolpix P950, Coolpix P1000 ... and more!!
Not supported: 1 AW1, 1 J1, 1 J2, 1J3, 1 S1, 1 V1, D40, D40X, D50, D60, D70, D100, D3000, D3400, D3500, L840, P610, P900, Z50, Z fc
Canon
EOS 1300D / 1200D / 1100D / 1000D / 650D / 550D / 500D / 450D / 400D / 350D / 300D / 90D / 80D / 70D / 60D / 50D / 40D / 30D / 20D / 20Ds / 10D / 7D Mark II / 7D / 6D / R5 / R6 / 5D / 5D Mark II / 5D Mark III / 5D Mark IV / SX50HS / Powershot G10 / G11 / G12 / G15 / G1x / G1x Mk II ... and more!!
Not supported: EOS M, EOS M3, EOS M50, G7, G9, Powershot N, S90, S95, S100, S110, S120, SX510 HS, XC10, 4000D 
Fujifilm
Finepix S1 / S3 PRO / S5 PRO / X30 / X70 / X100F / X100T / X-100V / X-A1 / X-A2 / X-A3 / X-A5 / X-A7 / X-A10 / X-E1 / X-E2 / X-E2S / X-E3 / XF10 / X-H1 / X-M1 / X-Pro2 / X-Pro3 / X-Q1 / X-Q2 / X-T1 / X-T2 / X-T3 / X-T4 / X-T10 / X-T20 / X-T30 / X-T100 / X-T200 .. and more!!
Not supported: HS10, HS11, S1 Pro, S2 Pro, X-Pro1, X100, X100S, XF-1, X-S10
Panasonic
GH6 / GH5 / GH4 / GH3 .. and more!!
Not supported: FZ35, FZ45, FZ70, FZ72, FZ80, FZ82, GF2, GF3, GF5, GM1, LX5, LX7, GX9, GX80, GX85
Pentax
K-5 II / K-5 IIs / K-5 / K-7 / K10 / K20 / K50 / K100 / K200 / K500 and more!!
Not supported: K-m, K-r, K-S2, K-x, MX-1, Q, Q-S1, K3 III
Samsung
GX10/GX20 and more!!
Not supported: NX-200, NX-210, NX3000
Checking the camera and lens fit
he general rule of thumb is if your camera body is the same size or smaller than a Canon 5D MK4 then it will fit the the GDome XL. Cameras with built in battery grips like the 1DX will be too tall unfortunately.